The self-styled daredevil who destroyed a $300,000 sculpture on Wellington's waterfront has pleaded guilty to intentional damage.
Hunter Laurie Browne Macdonald, 28, had his second appearance in the Wellington District Court today, where he pleaded guilty to the charge, laid after he was filmed climbing and snapping the Len Lye Water Whirler last month.
Police prosecutor Gary Hilsdon said Macdonald was on the waterfront near Frank Kitts Park on October 8 when he began doing "gymnastic-type movements" on the sculpture.
He climbed the pole until it bent over, suspending him above the water, and then snapped, sending him plunging into the harbour.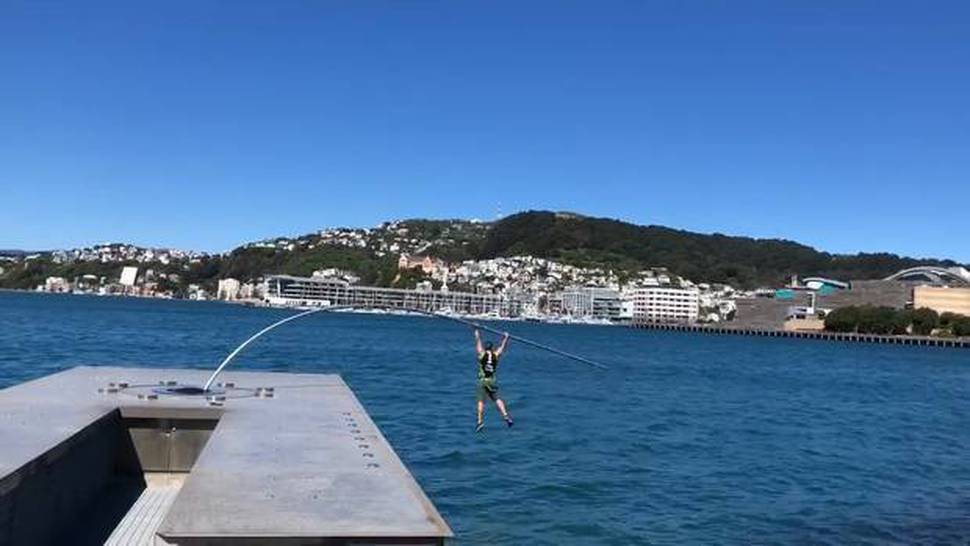 In an explanation to police, Macdonald said he was trying to climb out to the end of the pole and intended to climb back again, "believing this would look impressive to the crowd", Hilsdon said.
Another "motivation" was that he had never seen anyone else climb it, and thought he would be the first.
He told police he didn't see any signs warning not to climb the sculpture, and he believed it would support his weight.
Macdonald earlier publicly admitted to being the person in the video shared across social media, which showed the sculpture bending as he climbed it, until it snapped at the base and hit him on the head as he fell into the water.
He was taken to hospital with a gash on his head after the incident.
Macdonald will be sentenced on March 6.
Outside court, when asked if he wanted to say anything, Macdonald said "sorry, yeah, nah, nothing", before walking away.
At the time of the incident, Wellington Mayor Justin Lester labelled the behaviour "an act of utter stupidity".
"I encourage people to think twice about doing something this silly.
"I've seen some pretty silly acts in my time ... this was certainly a very negligent act of a public display of bravado which really backfired quite seriously, but he shouldn't have been there in the first place."
The Len Lye sculpture had been undergoing maintenance following damage caused during the Kaikoura earthquake when the sea water got into it and fried the electrics and was due to be back in action this month.