A teen motorsport hopeful was back on the track at the weekend - just two months after the tragic death of his much-loved and supportive dad.
Auckland 15-year-old Brock Gilchrist had signed up for the highly competitive Toyota 86 Championship prior to the tragic death of his father, Brent Gilchrist.
Brent was just 51 when he died on August 19.
Losing his dad - the driving force in an expensive and competitive sport - could have spelled the end for Gilchrist's motorsport career.
But with family support and a tight-knit team behind him, Gilchrist is determined to fulfil his dream.
That continues this weekend on the track at the Pukekohe round of the Toyota 86 Championship - one of the support classes to the glamour Australian Supercars Championship.
"Dad would be blown away with how amazing the motorsport community have been," Gilchrist said.
"They are supporting mum and giving her a crash course in the various aspects of motor racing."
Brock's mum Ursula Gilchrist said putting her son's racing dream on hold after the family tragedy was never an option.
"Brent had a passion for two things - his family and motorsport. In Brock he found both of those things," Ursula said.
"Brent dedicated every spare minute to the brand Brock Gilchrist Motorsport. He had a dream and he was determined to get his boy there."
The weekend was the culmination of years behind the wheel, whether it be a battery-powered Ford Bronco at 2, quad bikes at 4 or go-kart from age 7.
A hot lap with Kiwi driver Shane van Gisbergen when he was 11 convinced Gilchrist his future lay in the Australian Supercar Championship - and it has been non-stop since then.
Van Gisbergen has been a huge inspiration for Gilchrist.
Mike Lightfoot from Nexus Logistics saw a bright future for Gilchrist and became a major sponsor.
"For such a young driver he has a lot of talent and fits right in with the older guys," Lightfoot said.
"We are expecting great things from him."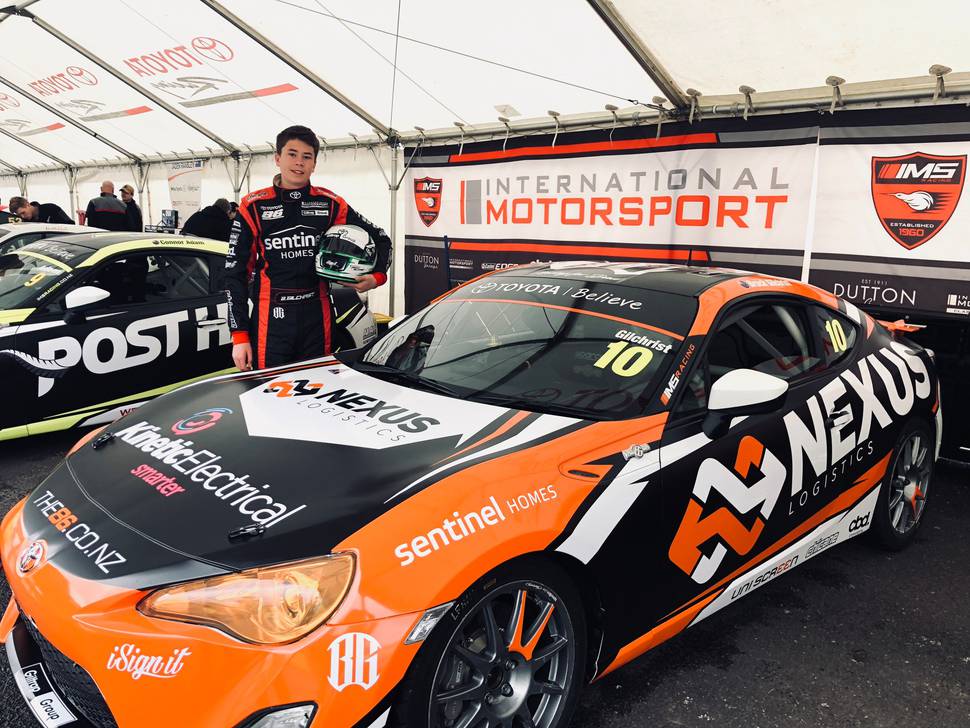 Ursula said seeing her young son drive at speeds of about 190km was nail-biting stuff.
"Watching Brock is a feeling of nervous excitement. I want him to win but am very aware of the possible risk," she said.
She also had trust in her son's skill and level head.
"Brock has a very quiet and considered style," she said.
"When he is behind the wheel he is at home and in his happy place."
And that happy place is driving fast.
"My dream is to be the Toyota 86 Rookie of the Year," Gilchrist said.
"All the cars are built the same, giving every one of us a chance - the skill is in driving."
Gilchrist also had a huge amount of support from other friends in motorsport.
Richard Giltrap of Giltrap Group and Owen Evans of Evans European Panel and Paint are providing ongoing support.
Geoff Short from Toyota NZ said the young drivers in the 86 series were the future of Kiwi motorsport.
"It's where the young drivers head who have made it through the elite academy," he said.
"They can make an impression on the V8 supercar teams."
Gilchrist is driving with his dad's name signwritten on the roof of his Toyota 86 this weekend.
"It's my way of having dad with me," Gilchrist said.
"It says Racing for Dad."
>> To help Brock keep racing, visit: https://givealittle.co.nz/cause/let-the-dream-continue