The Duke and Duchess of Sussex have paid a visit to a charity dedicated to supporting the children of prisoners through mentoring schemes and in-home support.

In May, the couple requested that in lieu of wedding gifts, donations be made to charity. The New Zealand Government gifted $5000 to Pillars, due to the couple's interest in programmes that support vulnerable children.

Pillars, which celebrated its 30th anniversary this year, is the only New Zealand charity dedicated to supporting children of prisoners.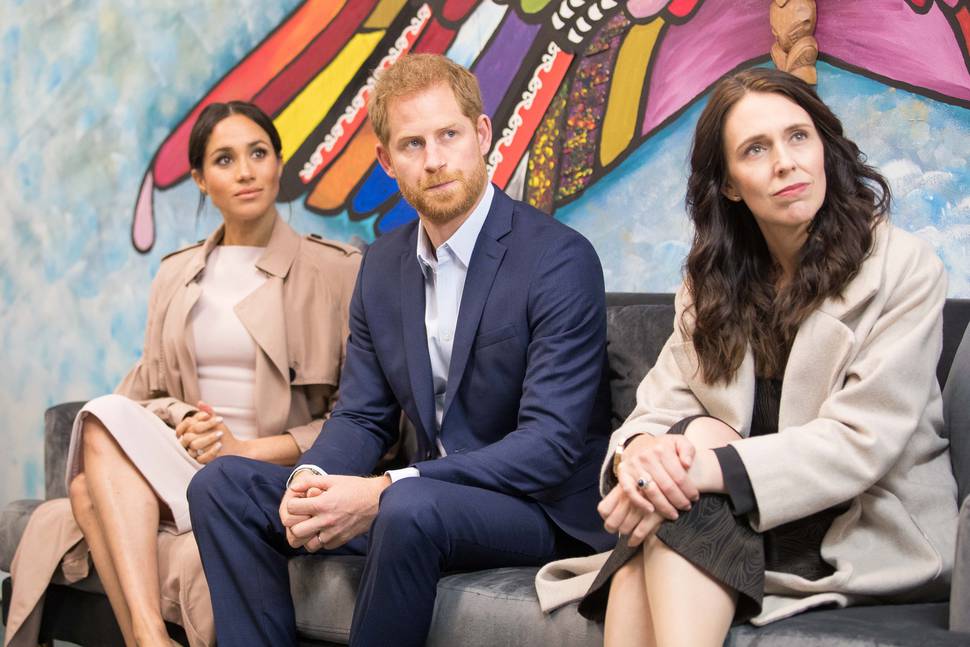 More than 23,000 New Zealand children have a parent in prison.

The Royal couple were welcomed with a karanga and were taken for a tour of the organisation to learn more about what they do.

About 200 people, including children, their families and supporters of Pillars were waiting excitedly downstairs in the auditorium for the Royals to appear.

When they did, the Duchess - wearing a soft pink Brandon Maxwell dress and Burberry jacket - was handed a bunch of flowers by young girl dressed in a white dress.

The girl hid behind a chair after handing Meghan flowers.

The Prince walked over to her, squatted down to say hello and shook her hand, before she ducked behind the legs of media.

There were excited murmurs from the auditorium filled with children and their families as the Royal couple walked in.

Everyone stood in unison as the pair were greeted by the Pillars Board.

Sir Pita Sharples welcomed the couple, the Prime Minister Jacinda Ardern and a prayer. He encouraged the Duke and Duchess to return again.

The crowd sung waitata, He Honore, in harmony.

Speaking at the event, Prince Harry said he and his wife were thrilled to be able to spend time with Pillars during their first trip to Auckland together.

He said they first became aware of Pillars - and the work it was doing - when the donation was made as their wedding gift. With that money, Pillars created four awards.

He said thousands of children were affected, and without the right support they were much more likely to spend time in prison.

"But now children can have stability in times of turmoil."
Pillars helps to break the cycle.

"It's been a real pleasure to meet you and four award winners. You are outstanding young people."

Prince Harry urged them to use this opportunity to create exciting futures for yourselves.

"Couldn't be happier to support such fantastic work. Kia kaha!"
Meghan presented awards to four young adults.

They posed for photos and were handed a framed certificate.

The couple were in return given a pillars hoodie. The crowd hollered as Prince Harry held his up.

As the pair left the building, the door to the kitchen where a group of busy volunteers were preparing food was opened and they squealed as the pair stopped in to say hello.

Siblings Morgan, 18, and Orla Angi, 15 were handed awards for leadership by Meghan. Ghianna, 6, said she was shy giving Meghan flowers but that they were both nice and smelt like daisies.