Regional Economic Development Minister Shane Jones has been awarded the inaugural "Jonesie" life time achievement award for "wasteful spending" as an MP and civil servant.

But a spokeswoman for Jones has fired back, calling the Taxpayers' Union executive director a "discredited, right-wing troll".
The awards, held in Parliament's old legislative chamber today, were put on by right-wing lobby group the Taxpayers' Union.
The 'Jonesies' – named after Shane Jones – were created to "honour the civil servants, Government agencies and politicians who signify government waste, overspending excessive regulation, or lack of accountability."
Jones' award was "won" in part for being the minister in charge of the Provincial Growth Fund, which is a $3 billion pot to be spent on regional development projects.
Taxpayers' Union executive director Jordan William said there are many examples of wasteful spending in this policy.
Jones was invited, but was also not in attendance.
A spokeswoman for the minister said: "We're pleased to see this discredited, right-wing troll giving further publicity to the Coalition Government's popular and innovative Provincial Growth Fund, which has been welcomed by regional New Zealand."
As well as awarding the life time achievement prize – which was a large, gold coloured pig statuette – Williams also gave out awards for wasteful spending at a local and central government level.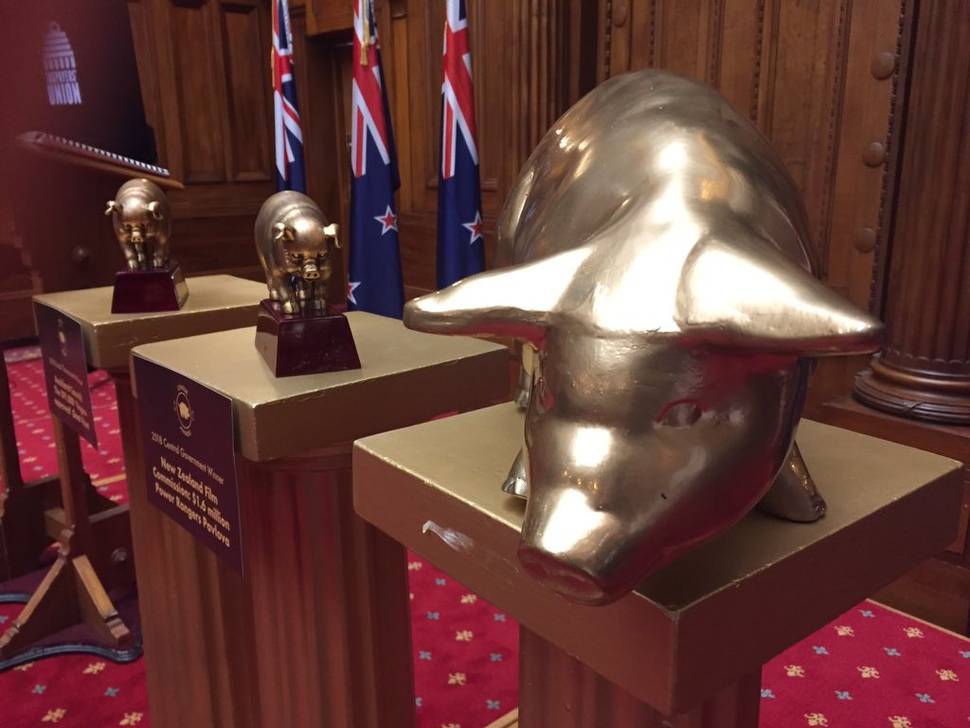 Auckland Council took out the local government prize, for spending $91,742 on a goat cull in the Hunua Ranges last year that didn't kill any goats.
The $1.6 million the New Zealand Film Commission spent to ensure TV show Power Rangers included references to New Zealand in its script won the central government award.
A representative from both the film commission and Auckland Council were not at the ceremony to receive the prize – a smaller gold-coloured pig statuette.
The event marked the launch of a Taxpayers' Union report, which details "wasteful Government spending".
"The awards highlight the best of the worst in ham-handed handouts and hogwash from bloated, beltway bureaucrats," Williams said at the ceremony, accompanied by the Taxpayers' Union mascot, Porky the Waste-Hating Pig.
Williams closed the event by issuing a warning to MPs and bureaucrats.
"For those benevolent money wasters who have not been nominated today, we hope these awards serve as a warning."
As every function in Parliament needs to be hosted, or nominally hosted, by an MP National Helensville MP Chris Penk agreed to put his name to the event.