A new indicator included in a national freshwater monitoring programme paints another sorry picture for the state of New Zealand's waterways.
Land, Air, Water Aotearoa (Lawa) has analysed and released 10-year trends for river macroinvertebrates for the first time, showing two out of five monitored sites were "likely or very likely degrading".
The dataset had close to one million data cases from sites monitored by New Zealand's 16 regional and unitary councils and the Niwa National River Water Quality Network.
Macroinvertebrates are small animals - including insects, worms, and snails - that live on or just below the stream-bed, and are an important food source for fish.
Scientists used the macroinvertebrate community index (MCI) to monitor changes in these populations, because they were affected by environmental changes such as flow, habitat, temperature, water quality and sediment.
"Looking at the trends, we see a mixed bag of improving and degrading sites across all water quality parameters," Lawa river water quality lead Dr Tim Davie said.
"At the national level, for every parameter there are more sites showing signs of getting better than getting worse, except for the MCI trend which shows two out of five monitored sites are likely or very likely degrading.
"Macroinvertebrates are a good indicator of the wider health of waterways and have a high ecological value, so it's disappointing to see they're under pressure."
Macroinvertebrates played a central role in stream ecosystems by feeding on periphyton (algae), macrophytes (aquatic plants), dead leaves and wood, or on each other.
Larvae were also an important part of the diet of native fish, while adult insects left the water and became food for animals including birds, bats and spiders.
In the 2008-2017 data Lawa also measured eight other indicators of water quality including clarity, turbidity, E. coli, total nitrogen, total oxidised nitrogen, ammoniacal nitrogen, dissolved reactive phosphorus and total phosphorus.
The trends for these indicators showed more sites were likely or very likely getting better than were getting worse.
"It's positive to see improving trends for the eight chemical-physical water quality indicators as we know these are quicker to respond to change," Davie said.
"It is particularly encouraging to see ammoniacal nitrogen improving at many sites given the work of councils in reducing point source discharge and farmers keeping stock out of waterways."
Lawa chair Stephen Woodhead said they hoped making the information freely available online would encourage more New Zealanders to get involved in freshwater management and support healthy waterways.
"We know from previous research MCI is affected by human activity. Therefore, it's important we keep focused on reducing our impact on waterways."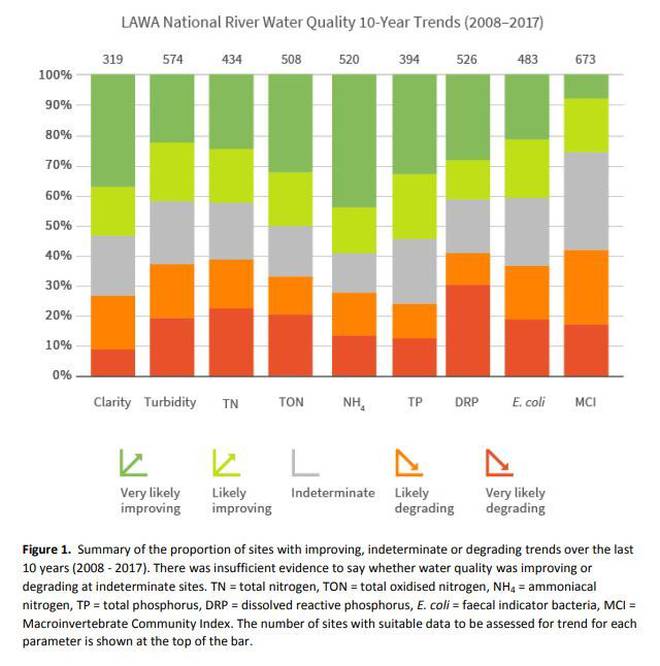 Polluted run-off was the most significant contributor to water quality decline in New Zealand.
It included chemicals and fine sediment emanating from sources including agriculture, horticulture, forestry, transport, urban streets, and homes.
This summer Lawa would be sharing ways the public could do its bit to reduce run-off and improve river water quality.
Chair of Local Government New Zealand Regional Sector Doug Leeder said while he acknowledged the work of council science teams, and efforts of iwi, farmers, businesses, and communities working to improve the quality of freshwater, there was more to be done.
"The trends released today show we're not there yet, and our sustained, collective focus is required."
Lawa is a collaboration between New Zealand's 16 regional and unitary councils, Cawthron Institute, and the Ministry for the Environment