Pilot Officer Horace Arthur Trenchard was flying in a moonless English winter's night when his Spitfire dived, crashed and killed him.
He had already done three take-offs and landings at dusk before being sent back up in the sky for a fourth training flight at 8.30pm. The weather was "fair" and he was flying the Spitfire at about 500m above the ground.
"It turned suddenly to the left and went into a straight dive," according to a summary of witnesses' evidence to an inquiry. The plane disappeared from their view and they heard a crash.
It was late February 1940, five months after World War II began and Trenchard had crashed in the vicinity of the aerodrome at Duxford, near Cambridge. He was 27.
The Wellington pilot had joined Britain's Royal Air Force in 1937, two years before the war began. He was among several hundred New Zealanders in the RAF in the lead-up to the war.
In 1940 he was in No. 19 Squadron, which at the time was the unit of the later fighter ace Douglas Bader. It had been the first squadron to be equipped with the new Supermarine Spitfire fighter planes in 1938.
Little is known of the crash, despite the investigation by a Court of Inquiry, according to researchers who have analysed military records.
"It was just a very loose investigation," said Claire Bibby, the president of the Glenside Progressive Association in Wellington and the author of an article on Trenchard.
"There were a lot of questions unanswered, particularly mechanical failure and whether or not he had been shot down by friendly fire," said Bibby, a police officer.
British historian Dilip Sarkar is writing a history of No. 19, "the Spitfire Squadron", and is seeking New Zealand information on Trenchard.
He said the dive to the ground of Trenchard's Spitfire hadn't been properly explained.
The Spitfire was radically different from the Hurricane, another monoplane fighter, and a quantum leap from the comparatively primitive biplanes that had been in use.
Sarkar said accidents were common. "They were all learning - nobody knew what to expect."
"The Spitfire was not a good aircraft for night-flying, for which it was not designed, owing the two sheets of flame emitting from the glowing exhausts either side of the nose, bedazzling the pilot, who, of course, had no night-flying goggles or other aids, and owing to its narrow-track undercarriage."
As well as training, No. 19 Squadron was in February 1940 engaged on daily patrols protecting convoys off Britain's east coast.
"During this time the odd German bomber was met but there was little action until Dunkirk, the squadron first engaging over the French coast on 26 May 1940."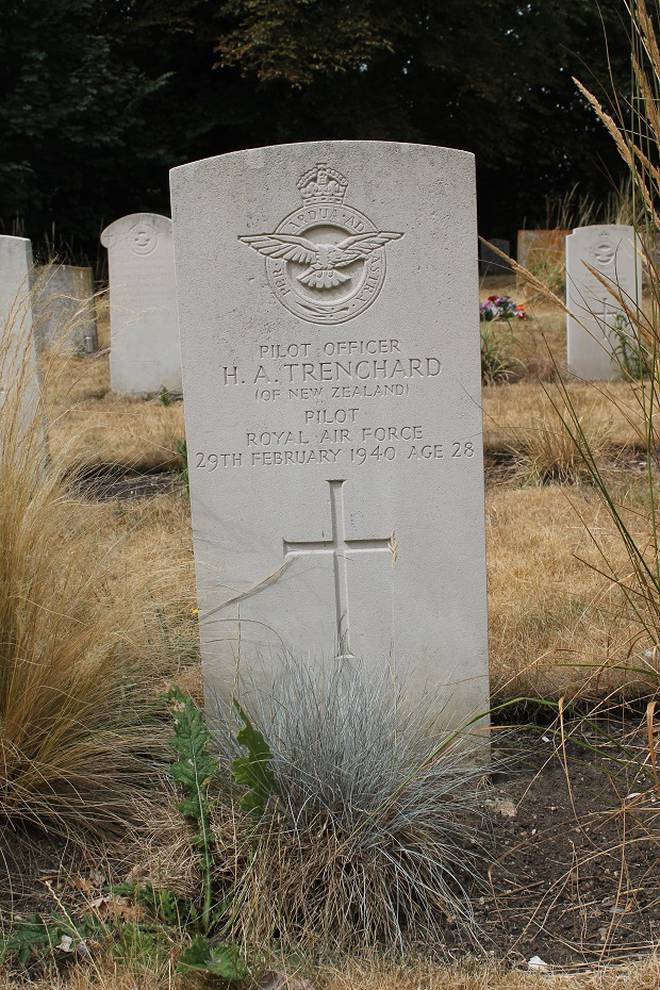 The early years
Trenchard, a boarder at Waitaki Boys' High School in Oamaru, had returned to Glenside in Wellington, where his mother lived, after finishing school. He was a clerk for the Wellington Meat Export Company and the Wellington Harbour Board.
His parents, Horace Arthur and Mary, had married in 1911. Horace senior died that year, aged 35. Horace junior, the couple's only child, was born in 1912.
Bibby said Trenchard was single before he left for Britain and was described as handsome and popular.
Known to some as "Horrie" and to his rugby mates as "Snowy", he was an all-round athlete: he had captained both the Waitaki Boys' first fifteen and the Johnsonville rugby team, and he played for Wellington.
He was buried in Cambridgeshire but his memory lives on at Waitaki Boys' High. His mother gave £50 (about $4760 today) for a memorial prize and the school now awards the "Trenchard Memorial Cup" to outstanding cricketers.