A young man feared he would die alone on Mt Ruapehu after sliding to the very precipice of a sheer drop into a valley far below..
Scott, 21, who did not want last name published, was hiking alone to the summit of the mountain from the Tukino Skifield while his friends went snowboarding, when he slipped on an icy slope.
Without an ice axe or crampons, he slid a long way down the mountainside before, with a huge drop into a valley looming in front of him, he frantically managed to arrest his progress on a patch of soft snow.
"I came to a rest hanging over the side looking down, and that's where I stayed."
Covered in cuts and bruises from slamming into rocks during his slide, Scott's knee was dislocated and his ankle sprained.
Despite the pain, he pushed his knee joint back into alignment, inched his way up the steep slope away from the ledge he was on and dug himself a hole in the snow.
He was warmly dressed, although the snow which had made its way under his jacket during the terrifying slide had soaked him.
He was unable to call for help as phone had fallen out of his backpack and slid away.
Too scared to move lest he slide into the gully in front and with the sun beginning to set, Scott hunkered down in his snow hole, partially protected from the freezing wind by a rock wall.
He curled up into a ball and tried to keep warm but doubted he would last the night.
"I went through some pretty heavy thoughts...I didn't think I was going to make it.
"When it started getting dark, I started hearing the cat skis and stuff going around so I knew they were looking for me, but it went quiet at about 4am."
Back at the skifield, his friends had raised the alarm at 5pm when Scott failed to return and Land Search and Rescue, with help from Ruapehu Alpine Rescue Organisation volunteers, Ruapehu Alpine Lifts and Tukino Skifield staff and the Greenlea rescue helicopter, began searching for him.
The search was temporarily suspended in the early hours of the morning but resumed after daybreak, with the rescue helicopter ferrying searchers in and out and an RNZAF NH90 helicopter being used as an aerial search platform with observers aboard.
In his snow hole, Scott was suffering the early stages of hypothermia. He says he was talking to himself but his speech was slurred and his brain felt "scrambled".
He had no feeling below his knees or elbows.
After removing his gloves to get something out of his backpack he couldn't get them back on as his fingers had curled into immovable fists.
He had lost his water bottle in the fall and was badly dehydrated. At one point he was so convinced he was not going to survive that he had written a note to his family and friends and left it in his backpack.
It was "a really long night".
In the morning, Scott heard the helicopters back out searching for him but, partially obscured from view, he couldn't be seen.
Eventually, at about midday, he came to the frightening conclusion that he would need to move out onto the ice to have a chance of being seen.
"I was trying to wave out to them but they couldn't see me and I got a bit fed up and I was thinking about another night on the mountain and I couldn't handle that."
Scott carefully climbed clear of the ridge he was under and, when he got clear, he could see the Tukino ski lifts in the distance.
He began making his way in the direction of the lifts, a difficult process with his injured leg. Thankfully, it was then that a ground search team spotted him.
"I heard someone yell out 'have you spent the night out here?', and I just collapsed.
"The relief when they found me was insane."
Scott was flown to Taupō Hospital where he spent Sunday night and he is home now, recovering from his ordeal and grateful for his lucky escape.
He says he intends to go back to thank his rescuers in person.
"I want to meet up with the people that helped look for me and maybe have a beer or two with them.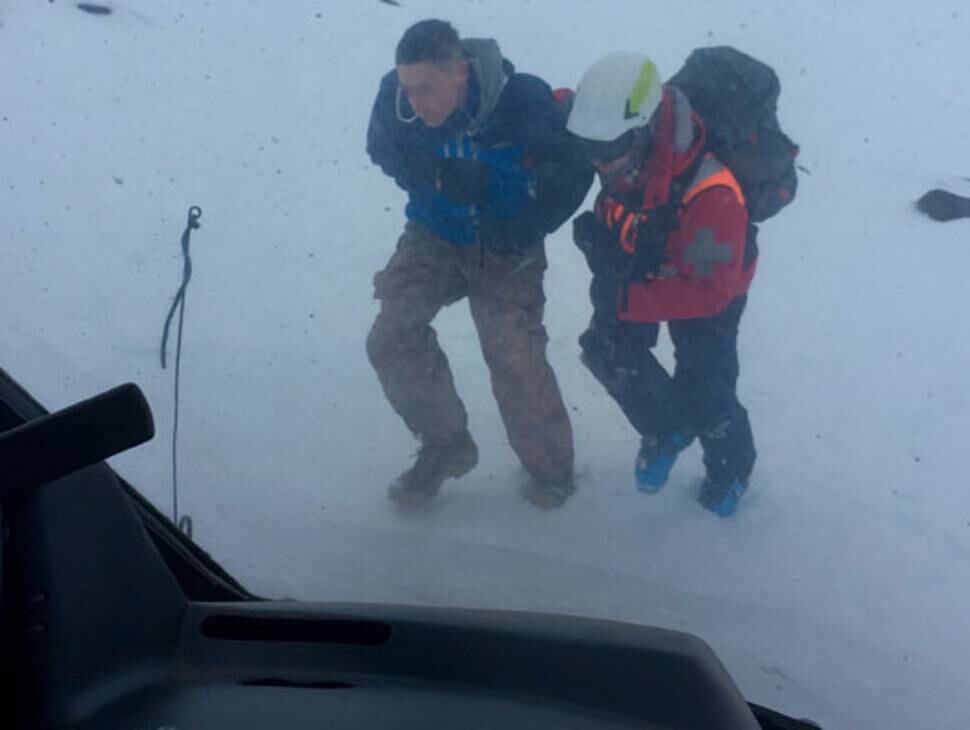 "You don't realise what happens behind the scenes with all the efforts to find people...once I came out and realised the scale of the whole operation to try and find me it was extremely overwhelming."
His advice to others tramping on Mt Ruapehu is not to underestimate the mountain and to take the right equipment.
"I looked at the mountain [tramp] as an easy task when it sure as hell wasn't."
Advice for tramping in the mountains of the Central Plateau:
• Tell someone where you are going and when you are due back
• If you're in a group, stay together
• Train properly - be mountain fit
• Seek local advice on the conditions
• Check the forecast
• Dress for a mountain tramp and take the right gear - check doc.govt.nz
• Be sure of your transport arrangements - what time you are being picked up, what happens if you turn back
• If you are a novice, go with a professional guide or somebody who knows what they're doing
• Don't bite off more than you can chew - be prepared to turn back if you're struggling or the weather deteriorates
• Stay on the track
• Enjoy your day - don't spoil it by taking unnecessary risks
Source: NZ Police & DOC