After heavy rain lashed Northland yesterday, some weather stations recorded over half of their average monthly rainfall in little over a day.
Northland, Auckland, Coromandel and the Bay of Plenty all fell victim to flooding, with rainfall levels recorded up to 145mm in Tauranga and near the Kaimai Ranges over a 24-hour period.
In the Bay of Plenty, a downpour of 53mm was recorded between 4pm and 5pm, while the Coromandel Ranges received 121mm and Waiheke Island 80mm within 24 hours.
Thundery downpours will continue for much of the North Island today, with watches and warnings still in place in Northland, northern Auckland, Great Barrier Island, Coromandel Peninsula, Bay of Plenty, northern Gisborne and eastern Marlborough.
Most of these heavy rain watches are due to ease up by Tuesday morning.
Meteorologist Douglas Mason said the same frontal feature which affected Auckland and caused flooding yesterday, then moved down through the Coromandel and Bay of Plenty.
"It is actually continuing down over the East Cape and Gisborne at the moment. We have also recorded some quite high rainfall rates in the ranges around there.
"At the moment it is positioned over the Gisborne and Hawkes Bay regions but it has fizzled out a little bit. It is nowhere near as intense as it was yesterday when it affected Auckland, Coromandel and Bay of Plenty."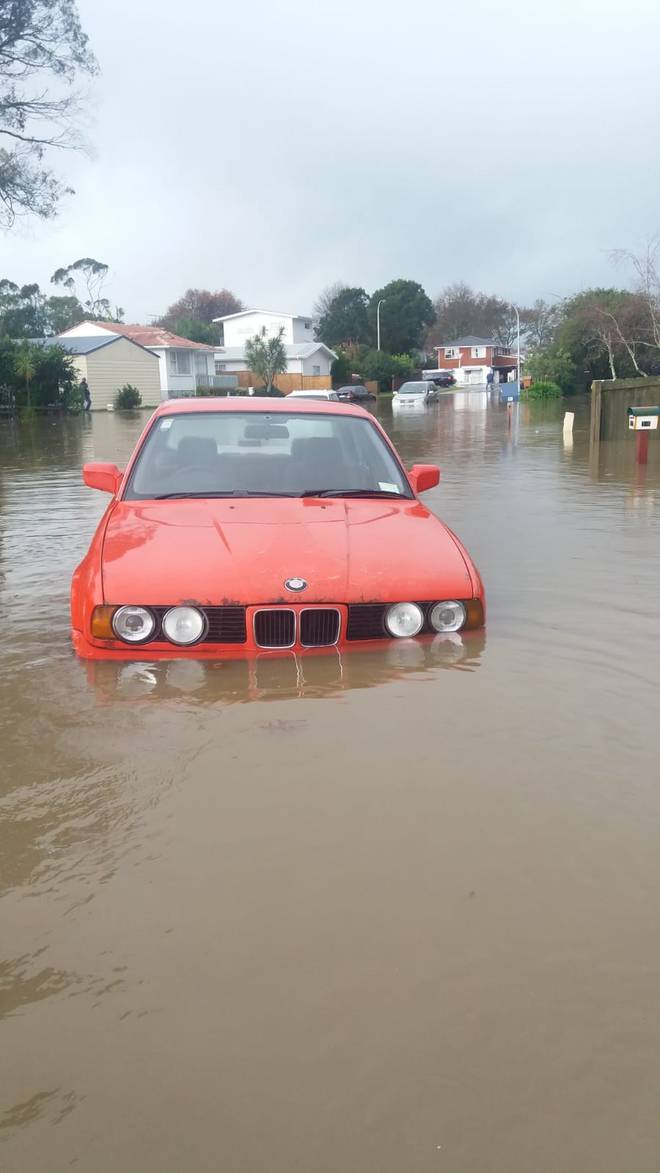 Mason said a new frontal feature moving over the North Island today also brings chances of thunderstorms and more heavy rain, however the South Island is expecting finer weather.
"It is actually quite nice in areas of the South Island at the moment. Some of that rain is starting to affect the north and central areas so there is rain, low cloud and drizzle for most of the east coast.
"But the inland areas, the lower South Island and the West Coast are not too bad at the moment. There is a bit of fog and low cloud in the valleys but that is often associated with settled weather."
Yesterday police issued warnings of surface flooding, slips and heavy rain in the Bay of Plenty and Coromandel and asked motorists to delay non-essential travel or take extra care.
No one had been injured but people in cars "were being affected", police said.
Motorists were asked to follow the directions of emergency services and roading contractors as some local roads may be closed.
While homes and cars were swamped by floodwaters, some people made the most of the weather by taking to flooded streets in kayaks and dinghies.
Today's forecast
• Whangarei: Periods of heavy rain with possible thunderstorms and downpours, easing late evening. Northeasterlies, tending northwest tonight. High 19C / Low 13C.
• Auckland: Rain by mid morning, with heavy falls and possible thunderstorms, easing evening. Northeasterlies. High 18C / Low 13C.
• Tauranga: Periods of rain. Northeasterlies easing evening. High 18C / Low 12C.
• Hamilton: Few showers, then a period of evening rain. Easterly breezes. High 17C / Low 11C.
• New Plymouth: Cloudy, a few showers from evening. Southeasterlies. High 17C / Low 10C.
• Napier: Rain easing this morning. Easterlies dying out at night. High 16C / Low 11C.
• Palmerston North: Mostly cloudy, occasional light rain. Southeasterlies. High 17C / Low 11C.
• Wellington: Cloudy with occasional rain. Southeast breezes. High 14C / Low 10C.
• Nelson: Occasional rain clearing by afternoon. Southwesterlies. High 15C / Low 9C.
• Christchurch: Occasional rain. Easterlies dying out evening. High 12C / Low 7C.
• Greymouth: Dry with high cloud. Southeasterlies. High 15C / Low 7C.
• Dunedin: Mostly cloudy, occasional drizzle. Light winds. High 11C / Low 5C.
• Queenstown: Fine and frosty. Light winds. High 6C / Low -3C.
• Invercargill: Fine and frosty. Light winds. High 7C / Low -3C.