The heavy rain which has caused flooding in Northland, Auckland and the Coromandel is now leaving its mark on the Bay of Plenty.
One Katikati family had to wade through rising flood waters to evacuate after heavy rain this afternoon.
Wharawhara Rd resident Phil Parker said he had come down the road to check on the state of the nearby bridge about 4.30pm.
"The rain was absolutely pelting down and tree branches were coming down and the debris was hitting the side of the bridge, and there was a lot of water crossing the road."
Parker said he saw a family of four, a mum and dad and two primary school children, and their two visitors wading across their waterlogged section to safety.
"After the couple's fridge and trailer floated down the river, the family decided they better get out."
Parker said the couple was accompanied by two German backpackers who work at the Seeka packhouse.
The backpackers were staying with him and the family whose home had some water come through it were staying with neighbours.
Police have tonight warned of surface flooding, slips and heavy rain in the region.
There was flooding at Papamoa Beach, Te Puke, Mount Maunganui, Otumoetai and Katikati.
No one had been injured but people in cars "were being affected", police said.
Motorists were being asked to follow the directions of emergency services and roading contractors as some local roads may be closed. Non-essential travel should be delayed and drivers were being urged to take extra care in this region, police said.
Police and the fire service were currently dealing with about 20 callouts in the area.
And the rain is not expected to let up any time soon.
After being hit by a weather front that brought floods and slips, Auckland and Northland can brace themselves for more of the same as the new week starts.
Aucklanders will be waking up on the Queen's Birthday holiday to morning rain, possibly heavy, as a large low in the Tasman Sea crosses over the North Island overnight.
"The low will continue to move closer to the North Island on Queen's Birthday Monday with similar areas of rain, showers and plenty of cloud," WeatherWatch forecaster Phil Duncan said.
The low was also expected to bring isolated thunder for some parts of the North Island.
"We are expecting another rain band with possible thunderstorms to move over Northland and Auckland, with a severe weather watch in force for heavy rain for Northland between 3am and 3pm," Metservice meteorologist Claire Flynn said.
Other parts of the North Island, as well as the top of the South Island, Canterbury and North Otago could also expect occasional rain.
The sunniest and driest places in the country would be in Southland, Otago and South Westland.
While the north was hit with wet and wild weather, it would be bitterly cold in the south.
"We have been seeing overnight lows well into the negatives down south, with Mt Cook Airport reporting -10.4C on Sunday morning," Flynn said.
The settled weather was expected to carry on until Tuesday when the next weather system arrives.
"The southerlies will put an end to the extreme low temperatures ... but it certainly will not be warm," Flynn said.
"The strong winds will bring heavy rain to eastern areas, with snow lowering to about 400 metres, with potential to disrupt travel."
Today, flooding across Auckland, the Coromandel and the Western Bay of Plenty kept emergency services busy.
A Fire and Emergency spokesman said there had been just under 200 callouts in the northern region by 7pm, most coming in after noon.
Flash flooding on Waiheke Island quickly swamped the road outside the ferry terminal.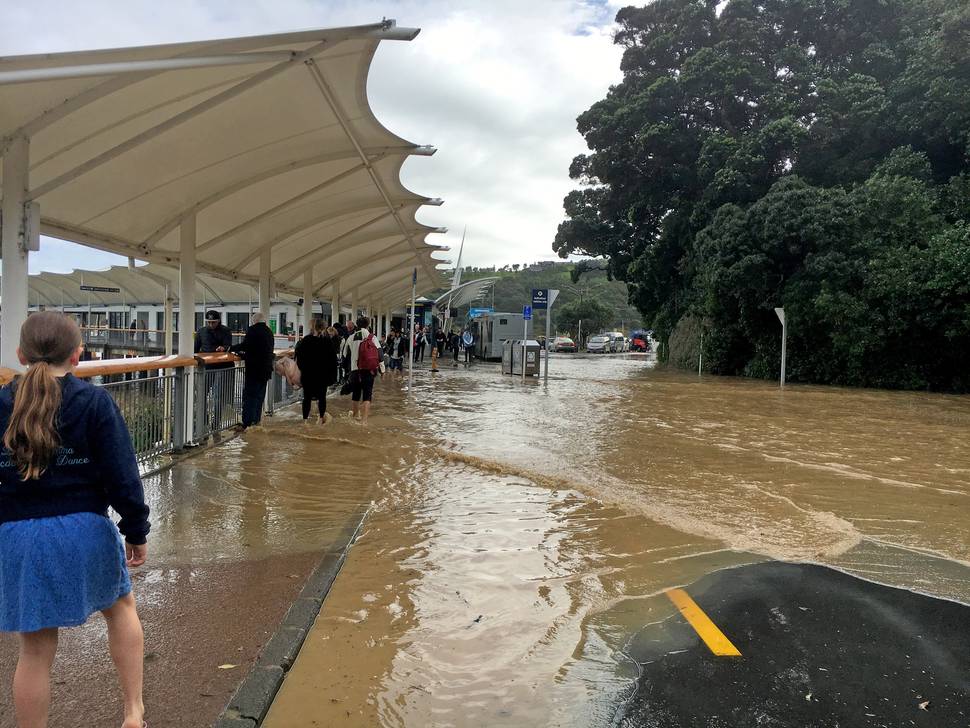 While homes and cars were swamped by floodwaters, some people made the most of the weather by taking to flooded streets in kayaks and dinghies.
Pakuranga residents were among the worst hit in Auckland.
Angela Misic, who lives on Studfall St, said the floods were the worst she had seen.
"In the 10 years that I have lived here I have never seen a flood this bad," Misic said.
Her BMW was caught in the floodwaters.
"We wanted to move the car as soon as we saw the water rising but by the time we got out to the car the water was above the tyres and there was water in the car," Misic said.
In Wellsford, police were called to reports of a Holden ute that had driven into floodwaters just after 1pm with two people trapped inside.
"Members of the public rescued the man, his child and a dog from inside the vehicle," a police spokeswoman said.
Flooding tonight closed State Highway 2 between Highfields Drive and Beach Rd, Katikati until further notice.
Traffic was also reduced on one lane and brought to a crawl after a slip on State Highway 2 in the Karangahake Gorge.
Flooding also closed several Coromandel roads including SH25 between Wade Rd and the 309 Rd, Whitianga and also near to The 309 Rd, Preece Point.
Caution was in place for other roads including SH25 between Victoria St (Thames) and The 309 Road (Manaia), Tapu.
Motorists were being asked to take extra care as there was debris on the road. There had also been rockfalls on SH25A between SH26 Kopu and SH25 Hikuai.
Heavy rain continued to fall across the Western Bay and Bay of Plenty as a rain band moved southwards.
More than 4000 properties in the Matua area were without power for about two hours yesterday afternoon, and power was still out at 37 properties in Whakamarama last night.
Powerco estimated it would be back on about 8pm.
Queen's Birthday Monday weather
• Auckland: High 18C Low 12C. Rain setting in from late morning with heavy falls and possible squally thunderstorms, easing evening. Northeasterlies dying out.
• Hamilton: High 17C Low 11C. Cloudy with a few showers, then periods of rain from afternoon. Easterlies, dying out at night.
• Tauranga: High 18C Low 12 C. Rain at times with heavy falls possible. Strong northeasterlies, easing evening.
• Wellington: High 15C Low 11C. Occasional rain, mainly from afternoon. Southeasterlies.
• Christchurch: High 12C Low 8C. Occasional rain. Easterlies dying out evening.
• Dunedin: High 11C Low 6C. Cloudy periods, chance shower. Light winds.