Fire and Emergency New Zealand has launched a review of its management of 111 calls on the night of a major storm in April that cut power to 200,000 homes in Auckland and cost insurers $72 million.
The review will determine whether any action is needed to manage future emergencies of that scale after 795 of the 111 calls were abandoned during transfer from an automated answering system.
Every abandoned call was returned later when there was capacity to follow up.
In one instance a caller waited 28 minutes from the time of their call until a fire appliance was dispatched to a potentially life-threatening situation where a person was trapped by a tree that fell on a house.
It comes at the same time as Auckland Council announced it would also conduct a review of the response by the city's emergency management agencies to the storm.
In total there were 2412 calls to Fire and Emergency between 6pm, April 10 and 4pm, April 11, when 140km/h hurricane winds and heavy rain ripped across Auckland and parts of New Zealand.
The weather event downed power lines that took weeks to be restored, toppled trees, caved in the roofs of houses and has been recorded as the fifth biggest storm this century.
By comparison Fire and Emergency received 366 calls during a similar timeframe when Cyclone Gita struck in early February.
At 8.46pm on April 10 all incoming police, fire and ambulance emergency calls were switched to an Interactive Voice Response [IVR] system.
The automated system was set up to assist emergency operators to manage high call volumes during major events by triaging them to the appropriate agency, Fire and Emergency office of the chief executive director Leigh Deuchars said.
When in operation the system answers 111 calls and gives callers a choice of agency through selection by number, relying on callers to enter the correct corresponding number for the emergency service they need.
However 795 calls transferred to Fire and Emergency through the IVR system were abandoned during the Auckland Storm event, Deuchars admitted in information released to the Herald under the Official Information Act.
Deuchars said the calls were either dropped because of the length of time they went unanswered or because the caller hung up.
She said Fire and Emergency could not determine the portion of calls that fell into the two categories but that every abandoned call was returned.
"For every call that was abandoned the caller was contacted as soon as communications centre staff had capacity to follow up on whether the caller was safe and still required assistance."
Of 23 calls that went to St John instead of Fire and Emergency and had to be transferred to fire communications staff, four were prioritised as potentially life-threatening situations.
One involved a person trapped in a house by a fallen tree. The call was made at 9.12pm, transferred at 9.32pm and an appliance dispatched at 9.40pm.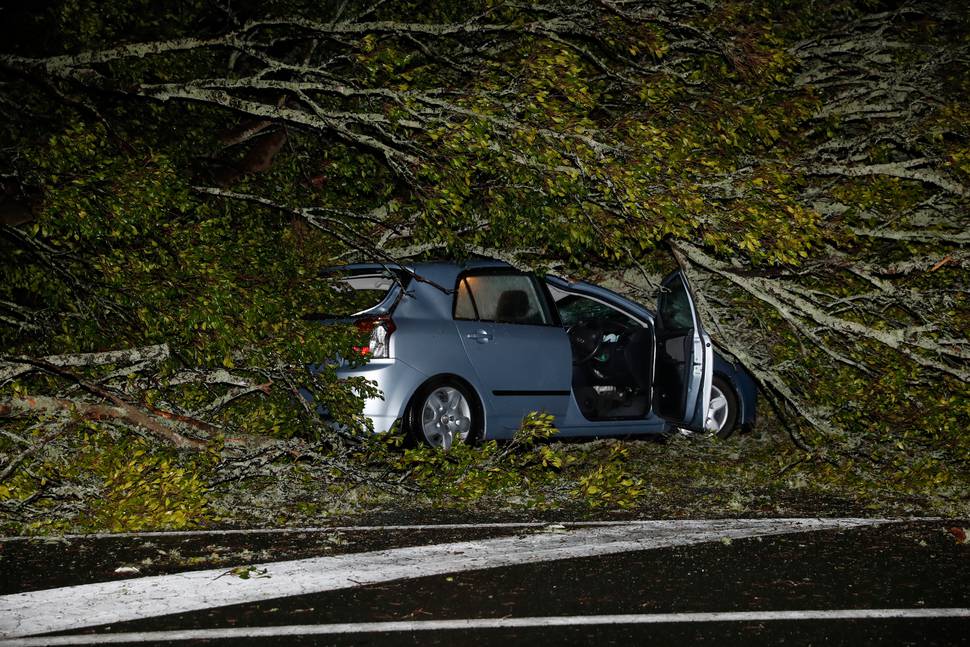 Seven 111 calls were transferred from police to fire, but none were prioritised life-threatening.
Fire and Emergency has launched a review to determine whether any remedial action needed implementing to manage future emergencies of that magnitude.
Police said they received 819 emergency calls during the time the IVR was in place, 230 of those were hang ups later identified by police as non-urgent situations.
In the 12 hours from 5pm on April 10 until 5am the next day, police received 1496 emergency calls, about 500 more than usual.
In announcing the independent review of Auckland's emergency management agencies, mayor Phil Goff said the April storm was a "wake-up call" for Aucklanders to be prepared for increasingly more frequent weather events.
"This storm is yet another reminder that extreme weather events are becoming more frequent and can have devastating impacts," Goff said.
"Each time Auckland responds, we must take the opportunity to review our performance and look for ways to improve."
The review, scoped by Auckland Civil Defence and emergency management coordinating executive group, and endorsed by the council's civil defence and emergency management committee, will identify successes and areas for improvement as well as any steps that could be taken to mitigate future risks.