A Northland truckie who captured terrifying footage of repeated near misses caused by idiot road users has a staunch message for the government and for Kiwi drivers.
The truckie, who did not want to be named, says his near-miss compilation video is evidence the mentality of New Zealand drivers won't change any time soon and it's putting truck drivers in danger.
He told the Herald he believes the Government's aim to achieve a zero road toll by 2020 is laughable.
"I put the video up because I got frustrated at the Government setting a zero target for their road fatalities. How can you possibly have a zero road fatality target when you have drivers doing what's in my video? A target has to be achievable. It's not a target, it's a dream."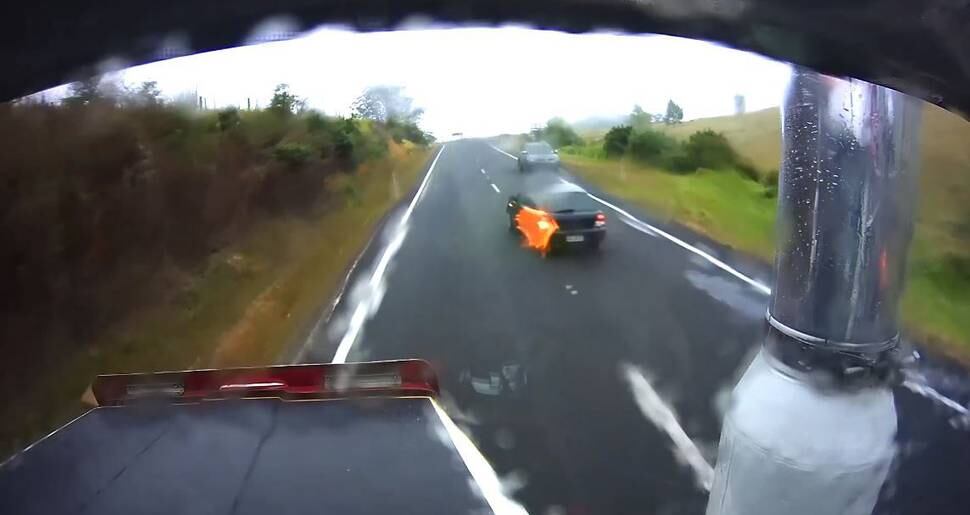 The truckie's footage captured a terrifying moment where a driver crossed the yellow line and drove along the double lane on the wrong side of the road as a car in the opposite direction came hurtling through.
Footage from 2016 showed a driver crossing a road barrier to the other side of the road to pass the truck despite oncoming cars.
Even trucks have been caught overtaking other trucks: the owner of the dashcam was forced to pull over so a truck overtaking him on the wrong side of the road wouldn't crash into an oncoming vehicle.
"It's not just car drivers who make bad decisions, a lot of truck drivers make bad decisions at the same time," he said.
The Northland man, who has more than 20 years' experience driving trucks, believes the only way to lower the road toll is if the mentality and behaviour of road users change.
He told the Herald that most truckies do their best to get out the way but aggressive drivers are causing great danger to all road users.
"Car drivers have to start respecting us a little bit more instead of thinking we're in their way. It starts there. They need to start realising we're on the road working, trying to do our job delivering product or whatever it is, we're not trying to get in their way.
"We can't pull over every five seconds to let a car past. We just can't do it. We have time constraints. People just have to have respect for one another, but that mentality is gone today.
"There seems to be a growing number of people that don't care about truck drivers. We're on the motorway and we keep a gap in front so we don't run over somebody's butt, but you know there's going to be someone racing into that gap before long. It's quite frustrating."
The Northland truckie says although many of his videos are from a few years ago, there are just as many crashes, if not more, on our roads today.
"I've come across a number of crashes and I'm just one, sole truck driver.
"The worst I've seen is when someone decided to pass on a bridge and a car came on the bridge at the same time. The guy swerved to miss me, clipped the bridge on one side and went back across the road towards the second car.
"All I can say is you're lucky you can't hear the audio on the video I posted.
"Truck drivers are probably starting to get a bit blase about it [near misses] but it happens quite frequently."
According to the NZ Transport Agency, 391 people have died on New Zealand roads in the past 12 months alone, which is more than one death a day on average.