Auckland has woken up to a wild morning with sheet lightning, thunder and hail the size of squash balls.
Waimauku resident Erin Wendelborn said that, about 6.20am, chunks of ice began pelting their home.
"It was banging and crashing, the kids were waking up wondering what all of the noise was. I thought it was trees falling on the roof of the house."
He went outside and found chunks of ice "the size of squash balls".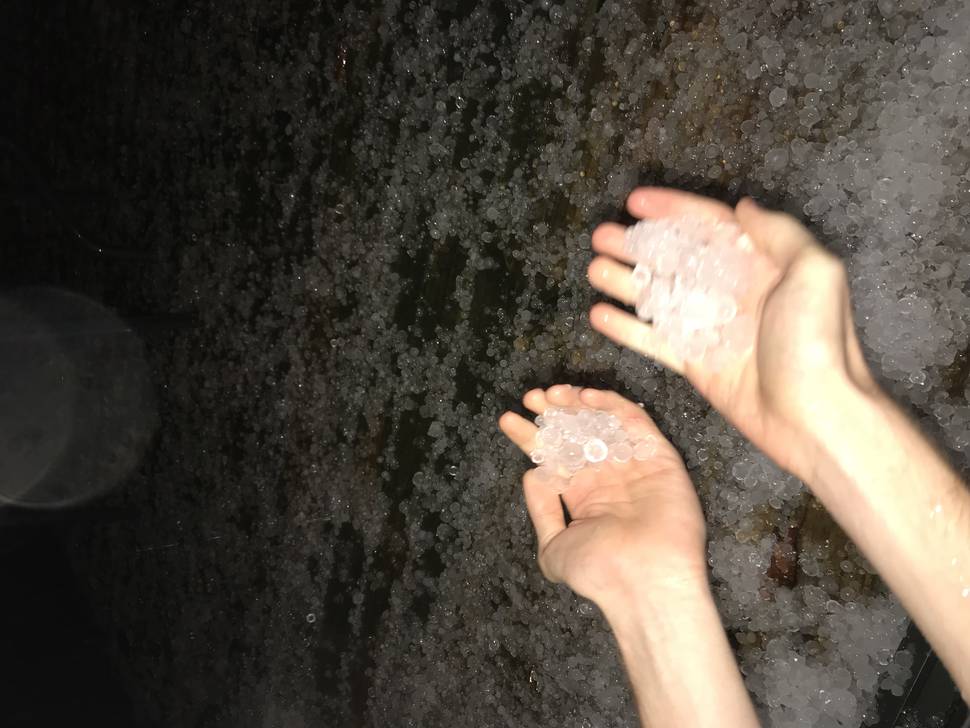 "They are the biggest I have seen in New Zealand," Wendelborn said.
"The decking is completely covered, some areas 20cm deep. They are so big you could use them in drinks.
"I haven't seen any damage, but I haven't checked the car yet."
Before then they had persistent sheet lightning and distant thunder.
"It was pretty regular, coming every 30 seconds or so."
Hail in Kumeu. Source: Facebook / @James MacKay
Kumeu resident James MacKay said when it started for a second he thought it was meteor shower.
"Then I thought it was birds banging into the roof. It was super loud."
MetService meteorologist Matthew Ford said an unsettled west to southwest flow had moved over the country today, meaning showers and isolated thunderstorms for northern areas this morning.
"Western areas and the upper North Island will be affected the most. But this should ease by this afternoon."
In Auckland showers may become heavy this morning, before fine breaks develop in the afternoon with a high of 16C.
Similar weather is forecast around Whangārei, Taranaki, Waikato and Bay of Plenty this morning, with temperatures in the mid to late teens.
There is a moderate risk of thunderstorms to midday in western areas about Northland, Auckland, Coromandel Peninsula, Waikato, Waitomo, Taumarunui, Taranaki and Bay of Plenty.
These thunderstorms could bring localised heavy rain of 10 to 20mm/hr.
Taranaki bore the brunt of the heaviest weather yesterday, with one weather station near Mt Taranaki recording 80mm of rain in the past 24 hours.
Wellington is in for a cooler day today only reaching 13C, due to a brief southerly change this morning with showers clearing by the afternoon.
Eastern areas of both the North and South Island are in for relatively fine weather today.
The main difference will be in the temperatures however, with Gisborne topping out at 19C and Napier close behind on 18C, while Christchurch will struggle to get past 12C and Dunedin 13C.
A front is due to bring periods of rain on to Fiordland and Southland by the middle of the day, and head north.
This "unsettled" weather was due to hang around over the weekend, Ford said.
"We will be stuck with this weather for several days, which will bring bands of rain and occasional strong winds in the south and east. Generally western areas will be the most affected, with rain occasionally creeping into eastern areas."
In the North Island rain could get heavy about the Tararua Range, Mt Taranaki and inland to Tongariro National Park from Saturday to Monday.
Showers and periods of rain are forecast throughout much of the North Island over the weekend, but mostly concentrated in western areas.
Heavy rain is also forecast through Fiordland, Westland, Buller and the Southern Alps from Saturday through Monday.
On Saturday the temperatures in the South Island could take a plunge with snow forecast down to 500m.
MetService predicts this dip in the mercury to continue over the next few weeks.
"Generally next week, and even into the week thereafter, it looks extremely cold for New Zealand, even for late May or early June," MetService forecaster Georgina Griffiths said.
"It kickstarts this weekend but progressively gets colder.
"Even Auckland will see highs of 16C or 17C, and it will feel cooler due to the wind chill for the first half of next week. Christchurch highs of 12C or 13C. [Wellington] is similar with 13C or 14C."
Today's weather
• Whangārei
Showers, chance heavy, becoming few from afternoon as fine breaks develop. Southwesterlies. 17C high, 10C overnight.
• Auckland
Showers, chance heavy, becoming few from afternoon as fine breaks develop. Southwesterlies. 16C high, 12C overnight.
• Hamilton
Showers, chance heavy early morning, becoming few early afternoon as fine breaks develop. Southwest breezes. 16C high, 7C overnight.
• Tauranga
A few showers, chance heavy in the morning, clearing to fine in the afternoon. Westerlies. 17C high, 8C overnight.
• New Plymouth
Showers, possibly heavy early morning, becoming few in the afternoon. Westerlies. 15C high, 10C overnight.
• Napier
Fine with some high cloud. Westerly breezes. 18C high, 8C overnight.
• Wellington​
A few showers developing morning, becoming fine afternoon. Southerlies turning northerly afternoon. 13C high, 10C overnight.
• Nelson​
Long fine spells. southwesterlies. 15C high, 6C overnight.
• Christchurch​
Showers clearing early morning, then becoming fine. Southwest turning northwest afternoon. 12C high, 3C overnight.
• Dunedin​
Fine at first. Cloud developing afternoon. Westerlies. 13C high,
6C overnight.