Let me get this straight. For years, 70 per cent of farmers have thumbed their noses at the National Animal Identification and Tracking Scheme (Nait). This scheme was set up so that in a biosecurity emergency such as the current Mycoplasma bovis disease outbreak, cattle movements and the trail of disease could be easily traced.
One reason for rejecting Nait was it would have killed the lively black market that existed in stock, with farmers selling their beasts under the counter to cheat the tax man.
This thumb-nosing has exacerbated the current crisis, with government inspectors often hitting blank walls - and stares - as they try to track the origins of diseased cattle. As Prime Minister Jacinda Ardern says, this non-compliance has meant that Nait, in its time of need, has "failed abysmally".
Despite this failure to play ball, farming industry bosses and their National Party parrot, Nathan Guy, are now bleating to high heaven over farmers being asked to pay 40 per cent of the $1billion plus cost of trying to eradicate the disease. Apparently there's terse talks going on between Government and the industry. The only group that doesn't seem to have been consulted is muggins you and me, the tax-paying townies. Yet we're the ones expected to front up with the other 60 per cent - $600 million, or possibly more, given the airy-fairy nature of the estimates flying around.
With Monday's headlines announcing "Dairy eyes third year of cream" atop a good news story predicting profitable milk prices for the cockies for a third year in a row, you do have to wonder why the struggling teachers and nurses and scribblers of the world are expected to bail the flush farmers out when they make a mistake in their husbandry.
When, for example, Fletchers grossly under-calculated the cost of building the Government-backed Sky City Convention Centre, did the Government say, "there there, don't cry," we'll bail you out by passing the hat around mum and dad taxpayers?
Apparently, the promise of compensation in such circumstances is the carrot built into the biosecurity system to encourage farmers to come clean and confess to outbreaks of TB or foot and mouth disease and the like on their farms. It's like the no-fault system in the airline industry, where crew are encouraged to report mistakes for, as it were, the greater good.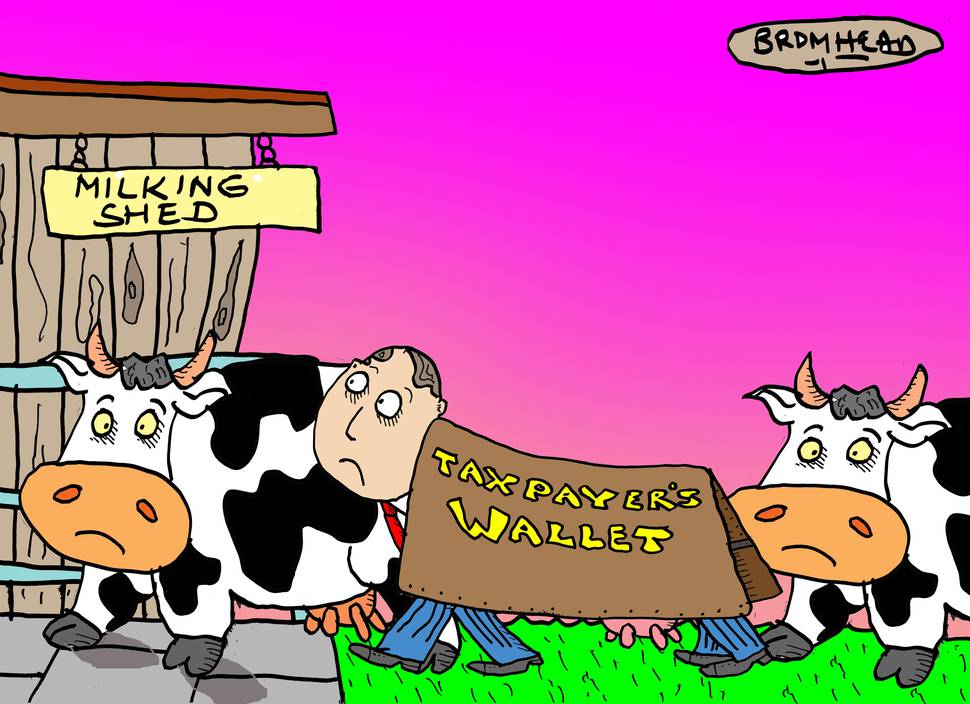 But with Mycoplasma bovis, it now seems to have been around for three or four years before anyone put their hand up and reported it. Now it's everywhere, the Waikato and the Manawatu as well as the South Island. Agriculture Minister Damien O'Connor is now warning that as well as the 40 or so confirmed infected farms, another 70 are likely to be infected, 300 are being investigated and another 1700 "are of interest".
He admits "The chance of rapid eradication is almost gone," but clings to: "The chance of long-term eradication is still possible. We're not at the point where we're saying we can't."
He mightn't be, but Keith Woodford, professor of farm management and agribusiness at Lincoln College for 15 years until 2015, rejects eradication as "no longer realistic". He suspects the disease has been in Southland from at least 2014, perhaps earlier, and that the cat is long out of the bag and away.
He says with the Ministry of Primary Industries having failed to eradicate, it's time to follow the overseas practice where the disease is endemic, and "leave the industry to find its own way." Writing for Stuff on Monday he says "The big message that the industry now needs to give to the Government is that government must now step back.
"Unlike if there were a foot and mouth outbreak, which would have huge national ramifications, Mycoplasma is something that industry itself can best manage."
As an urban taxpayer I can only agree. I might have been born in Morrinsville but I escaped the depths of the Waikato at a young age and have never had the faintest desire to invest in the dairy business, either personally, or involuntarily, as a taxpayer. If there's $600 million going begging, the last place I'd invest it in is a wild goose chase after a disease that's got away.