Ramarie Hodge is straight to the point about synthetic cannabis in New Zealand.
"It shouldn't have even come out here. Then people would not have died."
The 33-year-old has acute cerebral palsy. She does not remember when she first tried synthetics, but because they were legal at the time she "just did it".
She didn't know her father Hamuera would spend years nursing her back to health after her continued use of the legal high.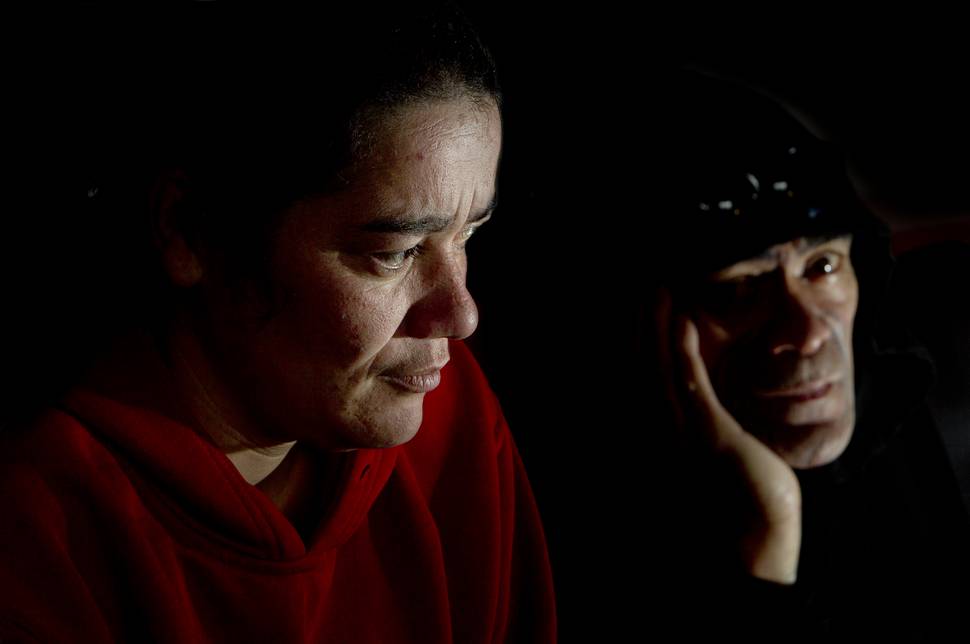 "Dad helped a lot. It took a lot to get off it," she says.
Being around other people was difficult for Ramarie when she was using synthetics.
"I did not want them around because I was thinking stupid stuff.
"I got locked jaw, I could not move, I was thinking bad things I had not thought before," she says.
Her father Hamuera is one of Rotorua's loudest voices against synthetics.
"Ramarie was pretty badly affected. They just about messed her up," he says.
He is mourning his cousin, a synthetics addict, who died in December.
Hamuera is angry about the harm the "psychoactive killer drug" has caused his whanau and the wider Rotorua community.
As the Rotorua Daily Post spoke to the Hodges on Friday, in the Rotorua District Court a mother was being sentenced after being in a "zombie-like state" on synthetics when she picked up her baby last August.
In that same month last year, 17 people were treated in one week at Rotorua Hospital after presenting with synthetic cannabis-related symptoms.
Just weeks later in September, a Rotorua man was jailed for seven months after police found him in a car with a cardboard box containing 2.4kg of synthetic cannabis.
A police spokesman said it had a street value of $21,250.
By the end of 2017, a Rotorua coroner had two deaths on file that were believed to be linked to synthetic drugs.
Until May 2014, they were a legal alternative to cannabis because they were made from chemicals that mimic the effect of a THC high.
According to the New Zealand Drug Foundation, many synthetics users report experiences not usually associated with cannabis, including a fast or irregular heartbeat, racing thoughts, dizziness, hallucinations and aggression often followed by a come-down which can last a few days.
This month, National MP for Pakuranga, Simeon Brown, discussed his proposed synthetic drugs bill with Te Utuhina Manaakitanga Trust, Lifewise Rotorua, and Rotorua police.
The bill would increase the maximum punishment for a person convicted of supplying synthetics from two years to eight years in prison.
It passed its first reading in Parliament in late March.
Hamuera Hodge says there is strong demand for synthetics on the black market because they are cheap.
He says they are also processed quickly by the body, making them less likely to be picked up by drug tests, and more appealing to workers.
"It is an open can of worms here you know, it is terrible. It is unbelievable that the Government legalised that mess. What a mistake. Politicians should be held accountable for that. It should not have happened in the first place.
"I know a lot of people who have lost friends or whanau to this drug. If you poison someone, you normally get life imprisonment, yet those people created an epidemic of suicide and overdosing and there is not enough being done about those deaths."
A few months before synthetics were made illegal, Rotorua woman Te Pae Akurangi-Fitzell started a Facebook page titled 'Ban synthetic cannabis in Rotorua', and shared information about its effects.
Later in 2014, she started a new role working in suicide prevention and methamphetamine awareness in Rotorua.
She does not think we are on top of the synthetics problem, even though the drug is now indeed banned.
"The drug can be accessed so easily, especially for young people. It is not as bad as when it was legal, but it is still big. People are selling it and making it themselves from tutorials online. It is very accessible, even young people at high school or intermediate-age can get it."
She says young people and their families need to be better educated about meth and synthetics use, and how to stop it.
"We have really good addiction services, we need them to be invested in, to help people who are going through this."
Rotorua Crime Investigation Branch acting Detective Senior Sergeant, Herbie Ngawhika, agrees.
"We have a prevention-first policy. If the services can see someone before we have to do the likes of search warrants, we would rather that. It is a work in progress."
Rotorua's Te Utuhina Manaakitanga AOD Counselling Service general manager, Donna Blair, says "the recovery whanau in Rotorua is very active and meet frequently".
"There are many who make significant lifestyle changes and enter into studies, employment and also support others to stop."
The Lakes DHB's emergency department clinical leader declined to be interviewed about the synthetic cannabis problem here, but a short statement was provided.
"The DHB confirms that the synthetic cannabis problem does still exist in Rotorua, however only a minority of those affected are brought to the emergency department, and as a result, the effect on our ED is intermittent, rather than persistent."
When asked for the latest figures on admissions linked to the drug this year, a DHB spokeswoman said they were not coded and were often not triaged as being synthetic cannabis-related.