It was a proud moment for the Moller family, as their Korean War veteran father and grandfather attended his first Anzac Day dawn service in his home city.
Their family was part of an estimated crowd of 16,000 to 18,000 who gathered at the Auckland War Memorial Museum to pay respects to the country's servicemen and women.
Meanwhile across the Indian Ocean thousands of people gathered on the rugged shores of Turkey's Gallipoli peninsula to mark the 103rd anniversary of Australian and New Zealand forces making their first bloody landing there.
Read more: Thousands turn out for Mount Maunganui Anzac Day dawn service
Understanding the sacrifices made on Anzac Day
Wreaths were laid after a second commemorative address by New Zealand Governor-General Dame Patsy Reddy, who began and ended her speech in Maori.
Dave Moller had made a special return to New Zealand from his home on the Sunshine Coast, and was flanked by two of his grandchildren, Amy and Kyle, in the Court of Honour during the ceremony.

86-year-old Moller served in the New Zealand Army in Korea from 1952-1953.
He was born in Auckland, but has lived on the Sunshine Coast for the past 21 years.
"It is very nice to be here, at home. Especially to be here with my grandchildren."
Many of his friends he served with in the war had died.
"But just to be here at last, with my family, is very special."
Granddaughter Amy attended the dawn service with her family most years, but this time with her grandad was extra special.
"It is really important to remember what they have done. I am very proud [of my grandfather]."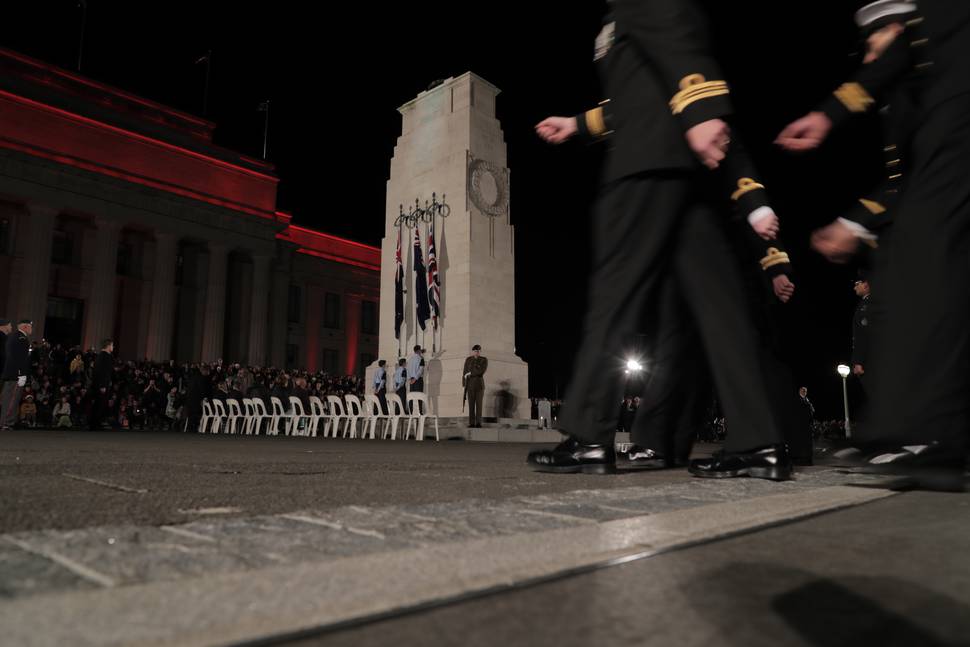 Thousands of people of all ages assembled at dawn services across the country this morning.
But across the world in Turkey a bus load of Australian and New Zealand tourists had a terrifying journey to Anzac Day commemorations in Gallipoli after their bus caught fire.
Forty-five passengers were making their way from Izmir, about five hours from Anzac Cove, when the engine on their bus started to smoke.
The driver ordered everyone off as they tried to douse the flames.
The local fire brigade was called but the bus was soon engulfed in flames.
No passengers were injured but their luggage was incinerated.
Back home, packed crowds of thousands were at services in the main centres, including Tauranga, Hamilton, Rotorua, Whanganui, Wellington, Christchurch and Dunedin.
Even smaller areas drew in big crowds, including on Whangamata's beachfront where 500 people gathered for the Anzac Dawn Parade.
At the Auckland War Memorial Museum dawn service babies were sitting on the shoulders of their parents to get a better view as veterans from World War II, the Vietnam War and more recent conflicts in Bosnia, the Solomon Islands and Iraq gathered in the Court of Honour.
Grandchildren were clutching the hands of their grandparents, blankets draped over their shoulders to stay warm.
Air Force serviceman Tua Atkinson and his partner Linda were proudly wearing their uniforms and medals at the dawn ceremony outside the museum.
They were there with their two children: 13-year-old Holly, and 17- month-old Nico.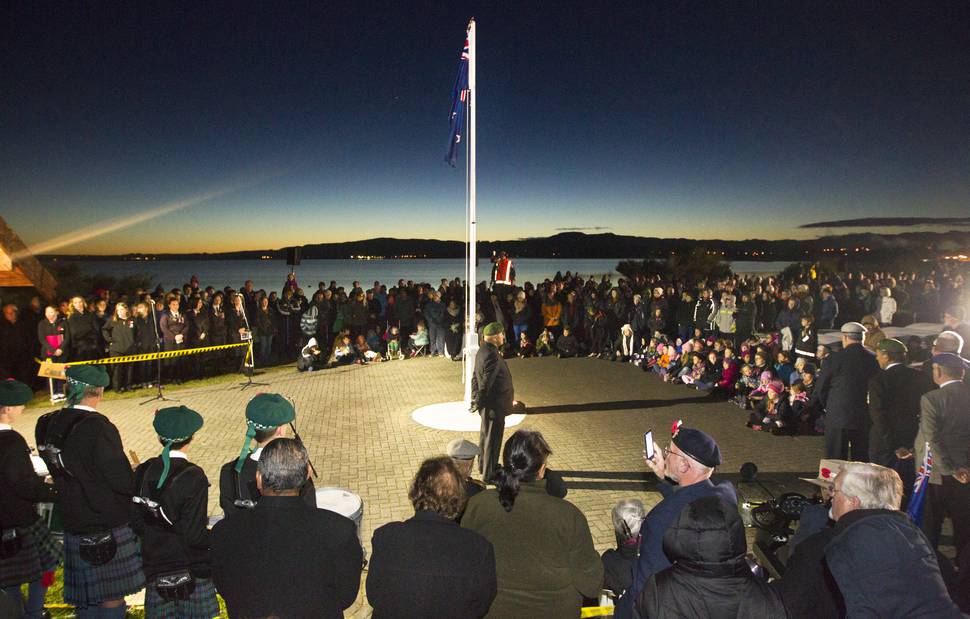 Atkinson said it was Nico's second Anzac Day, and he was rugged up in several layers for the chilly morning.
"We first brought him when he was six months old, so he came to his first one here [in Auckland Domain]."
He said celebrating Anzac Day in Auckland was important after his deployments overseas to Syria, Afghanistan, and Sinai.
"I had the privilege of going to Gallipoli in 2007 when I was over in Syria for 12 months.
"I guess that brought it home a lot more to me, to see the trenches and how close the fighting was, and the almost impossible task they were given. It was quite sobering."

Prime Minister Jacinda Ardern sat with her partner Clarke Gayford, next to Auckland Mayor Phil Goff.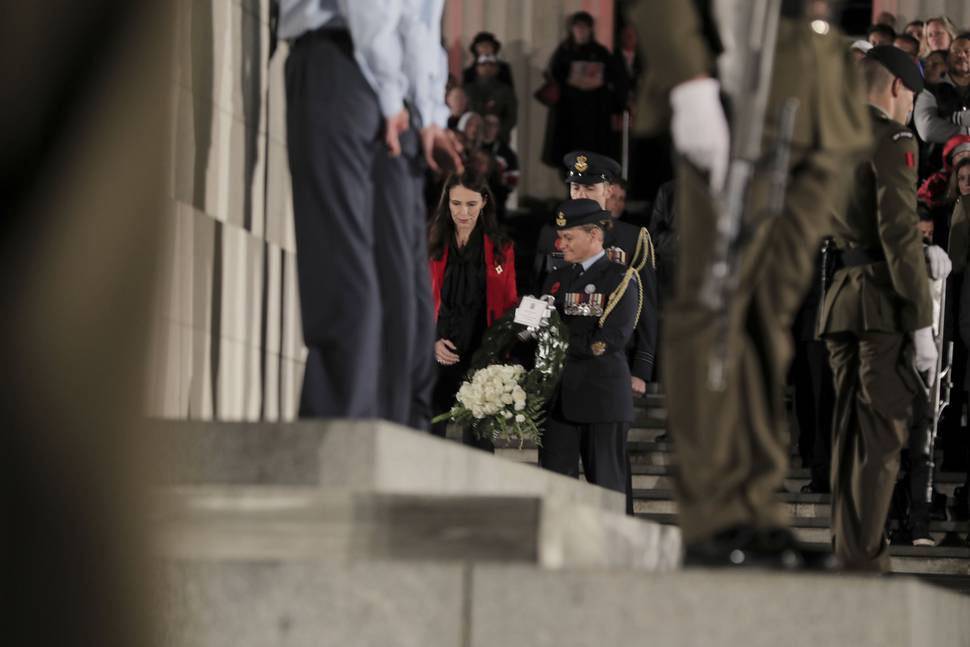 Ardern placed a wreath on the Cenotaph at the Auckland War Memorial Museum, on behalf of all New Zealanders, for all New Zealand men and women who have served.
Hundreds remembered the fallen at the mid-morning service in Glen Eden for ANZAC Day. Video / Dean Purcell
Goff said World War I had a huge impact on our "then young and small country".
"With a population of barely one million, New Zealand mobilised over 100,000 people.
"Barely a family across the country was not affected by the loss of a loved one.
"Here today remember those gave their lives on our behalf.
"Remember those who served, those who died."
He reflected on family he lost in wars, including two great uncles in the Great War and a nephew in Afghanistan in 2007.
"We don't come here today to glorify war, but pay tribute to the courage and steadfastness of our service personnel."
"Today is a time of reflection. To strive for a world that might be free one day of war and injustice, and we can live in peace. Lest we forget."
Saint Kentigern head girl Laura Porteous and head boy George Shirtcliffe both said it was a "great privilege" to read the dedication during the ceremony.
"It was a bit nerve-wracking, but super exciting," Porteous said.
"It is important to reflect on those who lost their lives, and is so good to see so many people here.
"It also evokes national pride. It was a time when New Zealand came together as a nation."
Anzac Day was increasingly relevant with young people, she said.
"I think it is still quite relevant. Especially as we get a bit older. We are around the age that these people were going out to war. Boys and girls going out to help the war effort."
Shirtcliffe said because it was so long ago, it was increasingly important to have a day dedicated to remembrance.
"There is so much going on in the world, so having one day dedicated is very important.
"The moment of silence resonated with me, lights dimmed, really got that moment of reflection, the scale of the war and lives lost.
"A lot of our friends are here today. There is still a huge emphasis placed on it. We are taught about it at school, write assignments about it. It is a huge part of our culture."
Ceremony organiser, Auckland RSA president Graham Gibson estimated between 16,000 and 18,000 people had turned out to the Auckland dawn service.
"It is always a good turnout [in Auckland]."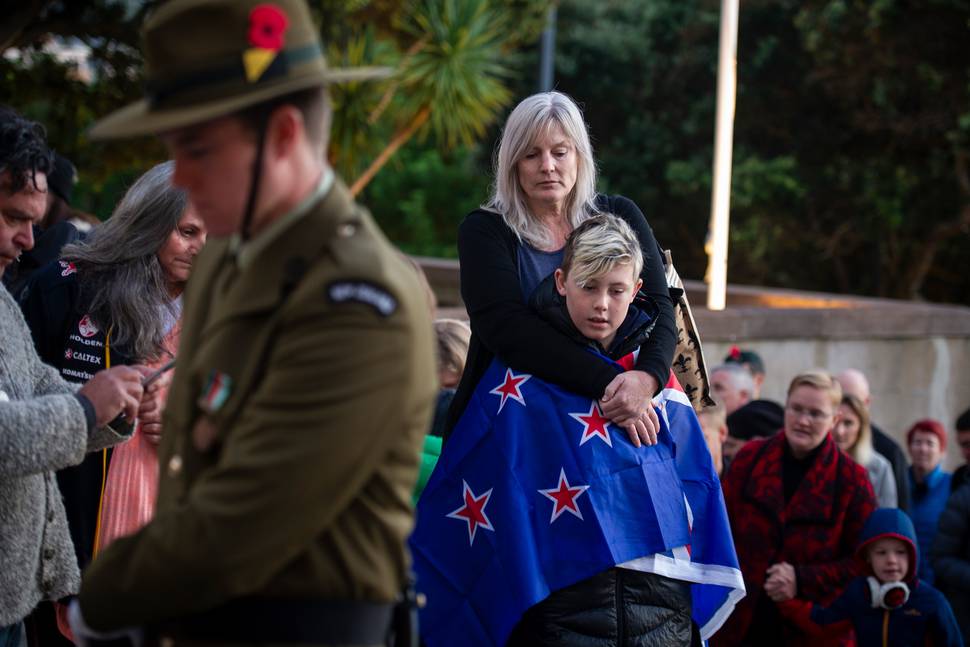 He said the Prime Minister "thoroughly enjoyed it".
"Afterwards she went down to the field, of the 4799 Aucklanders who never came home in [World War I], and she was quite moved by it.
"She put a poppy for the unknown soldier down there, and Phil Goff did too."
Anzac Day was important for all of New Zealand, young and old.
"We should never forget them, which is why we have fields of remembrances, why all the schools in New Zealand have crosses.
"I think for young New Zealanders, it gives them a sense of identity. For a small country, we have punched above our weight.
"It is not about glorifying war, but it is part of our history. We are all affected by service and sacrifice. Times like this make you proud to be a New Zealander."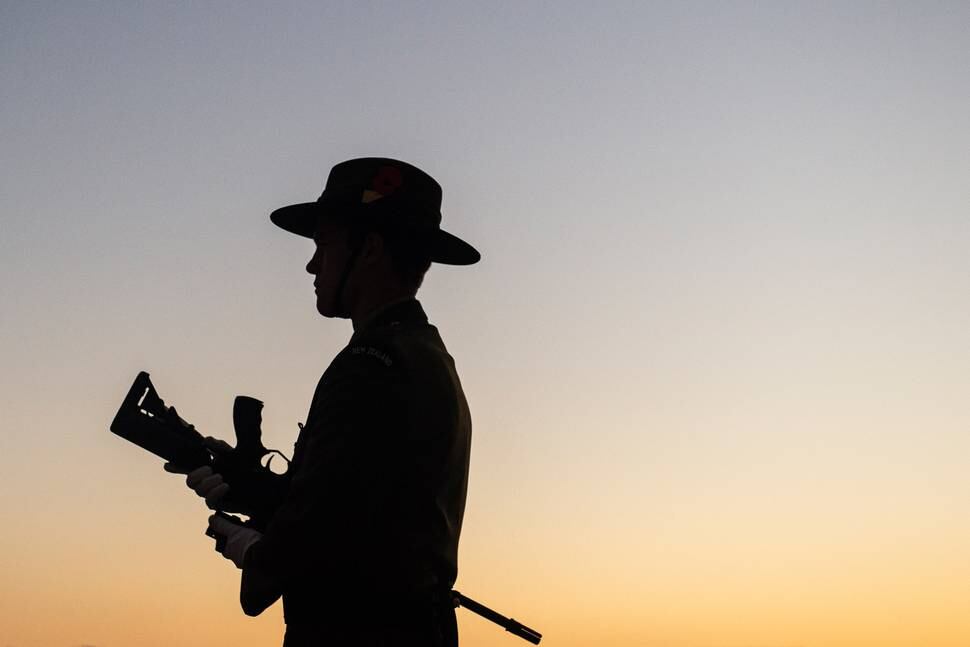 The service could be more modernised, and include more young people, he said.
"I would like to see more of the young veterans parade. It is important we honour them too."