Stuck by his leash to a log in the depths of Belmont Regional Park, Benny the Beagle had no idea hundreds of strangers were scouring the bush for him.
All the stops were pulled out to find the five-year-old dog after he went missing during a pack walk in Lower Hutt on April 6.
Even a helicopter with thermal-imaging technology was sent out to search for the beloved pooch, who was lost in the reserve for nine days, enduring freezing and stormy conditions as a cold snap hit the country.
"He's part of the family," said owner Matt Newman-Hall. "I would definitely do it again. I'd expect anyone with a missing family member to do the same."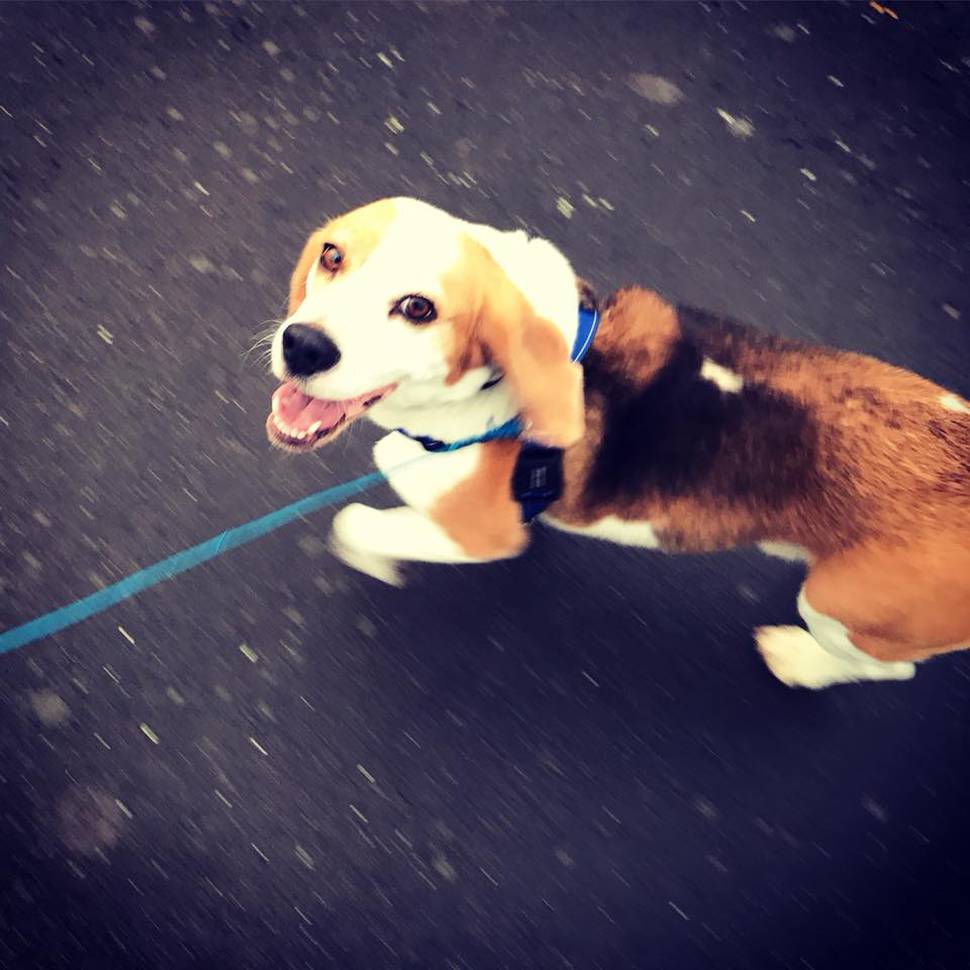 He estimates 1000 people joined the search for Benny over the nine days he was missing, something which makes him and partner Grace Newman-Hall "so humbled and so grateful".
Benny was out with a dog-walker when he gave him the slip.
"He eluded him, I guess, is the short story ... he turned around, saw him, and then next minute he wasn't there and we started a pretty massive search for him."
The dog-walker's insurance paid for the helicopter, which flew over the search area through brutal weather trying to capture a heat signal for the dog, with no luck.
"He was out there hanging out the side of the helicopter with hail pelting down."
In the end, it was a pair of close family friends who found Benny, after travelling through a ravine and climbing a waterfall hoping to come across him yesterday evening.
Alicia and Justin, a constable with the Lower Hutt Police, decided to follow an inlet or creek they thought it was likely he would have gone along.
The couple, who only want their first names used, were able to go a bit further than others might have, thanks to Justin's former military experience.
"It was partly calculated and partly pure luck," Alicia said.
"You can put these things down to intuition or you can be a bit mathematical about it."
Justin said it was "pretty surreal" the moment they found Benny.
The pair had been calling for him, but alone and scared, the dog was not making a sound.
"Every 20-30m we would stop, have a look around, yell out his name. Didn't hear a damn thing just the water running."
The couple had just decided to continue up further to connect with a track, instead of heading back the way they had come. Ten minutes later, they spotted Benny, stuck by his lead to a log.
He was unable to move more than a few steps in any direction, but fortunately had access to water.
"I literally didn't believe Justin when he told me 'oh my God it's him'. [I said] 'don't lie to me about that, it's mean,'" Alicia said.
At first, Benny was shaking and frightened, but it didn't take him long to warm up to the couple. After a quick cuddle and a snack, the trio set out on their three-hour mission back to civilisation.
"We still feel like we haven't done anything more than anybody else has ... we're just blown away by complete strangers [helping] ... it's united people for this joint cause of getting this little beagle home."
Newman-Hall said the place Benny was found was about 800m from where he was last seen, but that was over a gully or two and through thick vegetation.
He had lost 2.5kg and had a slight temperature, but was otherwise healthy.
When Benny arrived home, it was "almost like nothing happened".
"He's obviously more tired and he's definitely very hungry but as soon as we got him back in the house he went and gave his brother Spike and his sister, Peanut the cat, a bit of a smooch and a sniff then jumped in his bed and went to sleep."
The Newman-Halls were "hugely surprised" at the support they were able to drum up for Benny's search on social media.
A Facebook page called Bring Benny Home has gathered more than 1200 followers, many of whom joined in the search for Benny themselves.
"Some people walked tens of kilometres every day for us in the nine days ... even just the moral support of seeing so many people out there kept us going.
"[We are] so humbled by that and so grateful, in a way that we can probably never express strongly enough."
The family are planning to hold a barbecue in a few weeks once Benny has recovered and put on weight again, so those who helped search for him can meet him and be thanked properly.