His daughter's fear in last night's storm may have saved an Auckland doctor's life after a giant tree ploughed through the window of his study.
On a normal night, Jonathan Casement would have been perched behind his computer - now smashed by a thick branch.
Fortunately, he was downstairs comforting his 12-year-old daughter as hurricane-force winds battered their Bayswater home on Auckland's North Shore.
At 9.45pm there was a "big bang".
"All the power went off," Casement said. "The wind was so loud, we couldn't hear anything else."
They went outside to tie down the trampoline, and saw the giant 12m eucalyptus tree had been uprooted, and come through the house.
"I went upstairs to the study and saw the tree had come through the study window. It knocked the computer screen and would have reached where I normally sit.

"I often do work in there, but my daughter was a bit nervous in the storm and asked if I could stay downstairs. It was probably a good job she did."
The winds had also lifted up their trampoline, which had "weathered 10 years of storms", Casement said.
Auckland was hit by hurricane-force winds last night from a southerly storm, with gusts of 140km/h across the city and peaking at 213km/h at Manukau Heads.
"It was very freaky," Casement said.
"You hope you get a bit of notice. The tree is at least 40 feet high."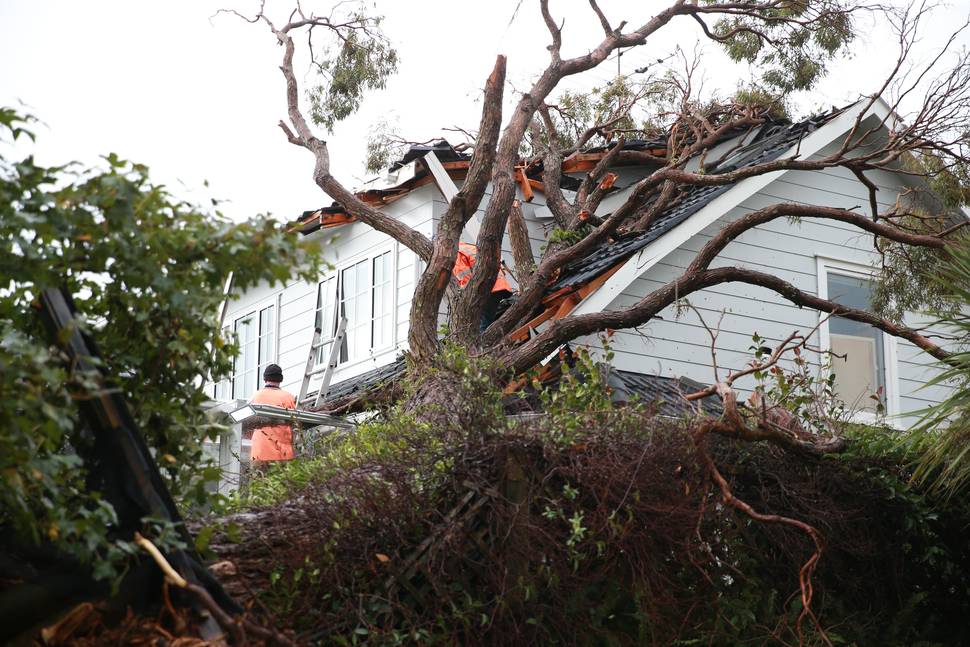 The toppling tree ripped up their fence and punctured holes across the roof.
"The roof is leaking a bit, we have buckets everywhere.
"There will be a bit of landscaping in the back yard too, tree bits are lodged everywhere."
It was just he and his daughter home at the time. His wife Tina was out and his son is away on his OE.
"And we are both safe," Casement said.
"You can repair property. We have insurance, I guess that is why you pay your premiums."