Thousands of people have poured through the doors of Te Papa in the last week to farewell closing exhibitions and have one last shake in the earthquake house.
That was the case for 15-year-old Rio Futschek-Ryan, who said he visits the museum about once a month and was visiting today to say goodbye to exhibitions that have been around longer than he has.
Today is the final chance for visitors to get a look at some of the exhibitions which are closing for redevelopment.
Mountains to Sea, home of the colossal squid, Awesome Forces, with the Edgecumbe earthquake house, and the NatureSpace family discovery centre will close at 6pm.
The exhibitions have been open and remain largely unchanged since Te Papa first opened in Wellington 20 years ago.
Years ago, Lisa Futschek used to bring her son Rio to the museum in a push chair, and was there on Monday to farewell the beloved exhibitions, which will be reopening in 2019 after a redesign.
Many favourites will be returning, including the squid and the revamped earthquake house.
"It's quite nostalgic in a way," Futschek said as she wandered around Mountains to Sea.
"I used to bring Rio ... when he was two or three he absolutely loved coming to Te Papa ... it brings back memories of having him in the buggy. He just loved everything about the museum."
Rio was keen to check out the earthquake house again before saying goodbye.
"It's good to get a new exhibition but it's sad to see all the things that we've become used to over the years go away again."
It was a special visit for Jocelyn Cranefield as well - she was one of the team members who worked on the natural history part of the museum two decades ago when it opened.
"I worked on the Te Papa project for six years," she said.
Cranefield's daughter, 5 years old at the time, was the recorded voice for the kiwi in the exhibition. She is now 26.
Cranefield was hoping to listen to her daughter's voice as the kiwi one more time before it closed.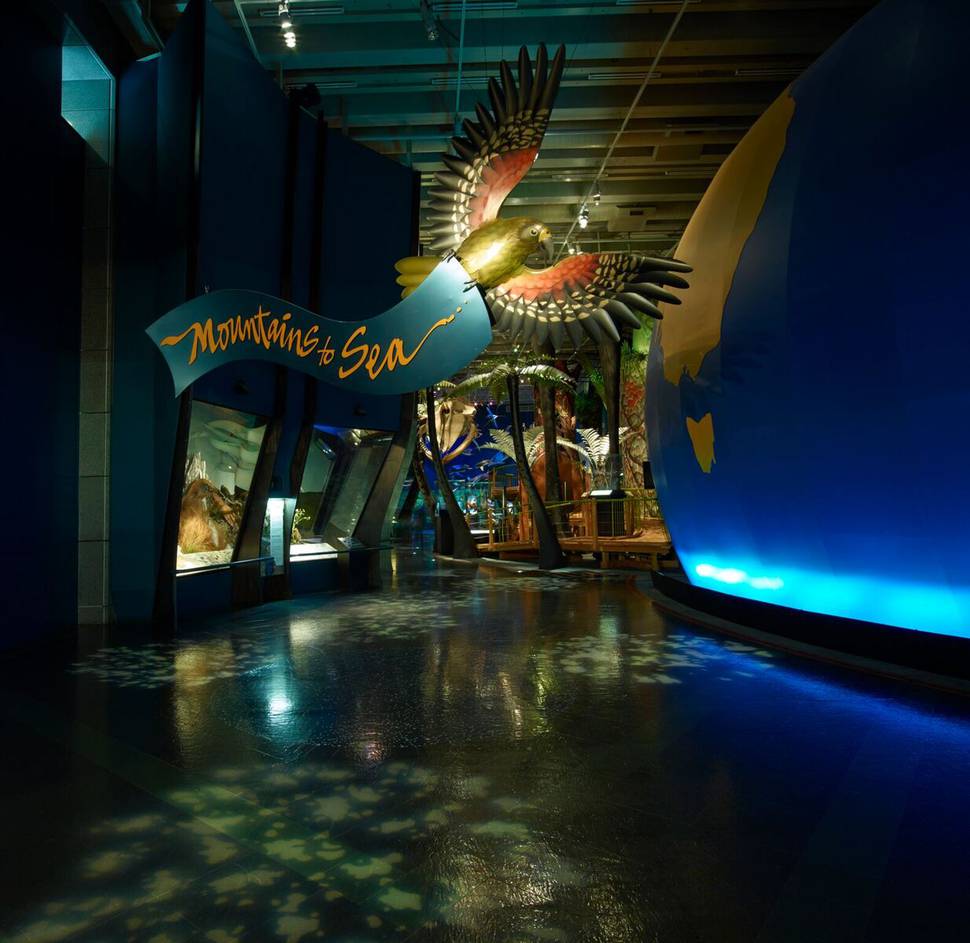 Te Papa's head of science Dean Peterson said the new $11 million nature zone will "reflect our changing world and tackle the tough challenges facing us today, while also showing the wonders of our environment and telling more of Aotearoa New Zealand's stories".
"Since 1998, much has changed in the way we see nature and the environment, for example, research about nature and human impact on the environment has altered substantially."
Te Papa public programmes specialist Stephen Moorhouse said thousands of people had come to say goodbye to the exhibitions, including 2000 people for an adults-only evening last month.
During construction for the revamped exhibitions there would be "peepholes" in the walls so people could see what was going on, he said.
While it was sad to see the old galleries go, they would be back in 2019 "bringing a lot more contemporary discussions around nature and the environment".
The museum would be a place to talk about the issues facing modern New Zealand and look forward, he said.
Chris Lam Sam, who was running a number of programmes for the farewell, said hundreds of families had come through today.
"A lot of people have been saying they're glad they got to see it one more time. It's an emotional day, I think, for some families."