Businesses who want to impose a surcharge on Easter Sunday are legally entitled to - but they can't put it down to being a public holiday.
While Easter means a four-day weekend, it's quite an exercise working out where you can go shopping and where the doors are closed.
In 2016 the Government handed over the reins for the hot-potato topic back to local councils in 2016.
Most councils didn't have time to make a decision on the issue last year, meaning the public will learn who's open where this weekend.
Retail NZ general manager Greg Harford said giving local councils the power to control the issue has led to a haphazard approach. Interestingly, the country's four major cities - Auckland, Hamilton, Wellington and Christchurch - have all voted against opening.
"That's created a huge level of confusion and complexity for everybody. You've got a whole range of views out there in the community about this.
"Councils have created this kind of patchwork of decisions that don't make sense."
He said Auckland council wasn't prepared to consult the public on the issue.
"Instead they spent $60,000 on consultants to decide that it wasn't worth going out to the community."
At the time, Mayor Phil Goff voted in favour of preserving the status quo which allowed workers to bring their families together and "escape commercialism for a day".
"I think there's a perception in the bigger cities that there's no need for the shops to open," Harford said.
Last year 51 per cent of all New Zealanders went out on Easter Sunday to do something commercial, whether it was going out for coffee or for shopping.
He said smaller councils appeared to be more in touch with their communities.
"Some of those smaller centres, there's probably a closer link to councillors and the businesses. They're more in touch with the business community and aware of the opportunity that Easter trading presents itself."
Hurunui District Council, which covers an area north of Christchurch, today voted to allow trading on Easter Sunday after 19 of the 25 submissions it received were in favour of the move.
There are 35,538 retail shops in New Zealand.
Of those, just 9,564 have been given the option to open, despite the majority of councils voting for change, Harford said.
He wasn't aware of any retail stores ever applying a surcharge, rather it was all hospitality businesses.
"That's because there's higher costs for having staff on and they have to pay time and a half. Staffing costs are a bigger component of the cost of providing a meal in a cafe compared to the sale of goods in store."
Applying a surcharge on a Sunday all came down to wording. A business was not allowed to put it down to being a public holiday, as it's not. However, they can put it down to being Easter Sunday.
"Any business can charge whatever it likes but it does have to be transparent with its customers about the reasons for that surcharge.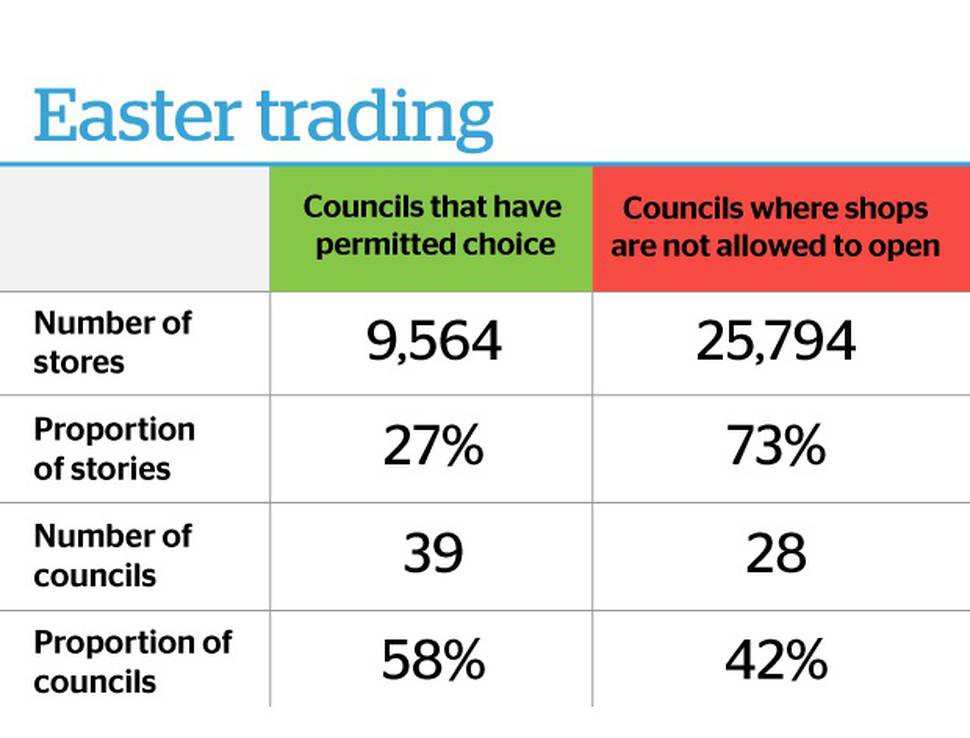 "If it says Easter Sunday surcharge that is certainly legal, it's not misleading. But if it says public holiday surcharge that would be misleading and a breach of the Fair Trading Act."
His advice to shoppers unimpressed with an Easter Sunday surcharge was to express their view with their feet and eat or drink somewhere else.
"I think we are seeing less surcharging over the years as customers don't particularly like it."
Belinda Allen of Consumer NZ agreed with Harford and added customers needed to be informed before they made their order.
"That means you have the opportunity to decide if you are happy to pay the extra cost.
"You can't refuse to pay the surcharge unless it wasn't clear before you ordered your food or made your purchase."
The business should "accurately disclose" the reason for the surcharge, she said.
Consumer NZ was not in favour of any surcharge.
"Consumer NZ doesn't support companies imposing a surcharge on the Sunday, especially if the company doesn't have any extra costs incurred. We'd suggest you try somewhere else."