A vehicle involved in a horrific crash which killed four people south of Hamilton is alleged to have been travelling in excess of 150km/h at the time.
The trial involving 20-year-olds Dylan Cossey and Stephen John Jones began in the High Court at Hamilton after the crash that killed young friends: Hamilton woman Hannah Leis Strickett-Craze, 24, Paul De Silva, 20, and Lance Robinson, 28, both of Te Awamutu, and Jason McCormick Ross, 19, of Stratford.
The driver of a van which it crashed into was seriously injured.
The crash happened on Ohaupo Rd, at the intersection of Ingram Rd, outside Hamilton Airport, on June 24, 2016 when Robinson's northbound Nissan Skyline collided with the southbound van.
The pair originally faced charges of either encouraging unnecessary speed leading to the injuries to Scheepers and the deaths of Ross, Robinson, De Silva and Strickett-Craze, or, in Cossey's case, operating a motor vehicle on a road causing death. They were upgraded to four charges of manslaughter last year.
The pair also face a charge of operating a motor vehicle in a race or unnecessary exhibition of speed causing injury and failing to stop.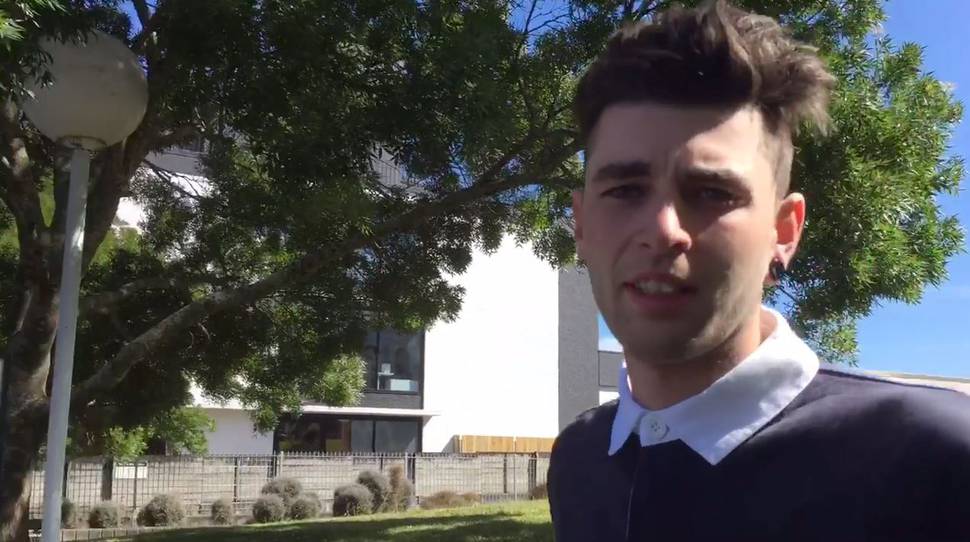 Jones faces an additional charge of attempting to pervert the course of justice at Hamilton on June 28, 2016.
The victims' families have filled the upstairs portion of the public gallery, while family and friends of the accused sit separately down below.
Opening the crown case, prosecutor Duncan McWilliam told the jury neither Cossey or Jones knew any of the deceased and simply engaged in a race after coming across each other while driving on State Highway 3, near the Wild Thyme Cafe.
Cossey was estimated to have been driving in excess of 150km/h when the crash occurred.
Jones' extra charge relates to him editing a video showing how fast Cossey was going at the time of the crash.
McWilliam said Jones and Cossey has picked up a friend who was having a birthday and then stopped at a bottle store in Kihikihi.
At the same time, Robinson in his Nissan Skyline had stopped at a Z service station in Te Awamutu.
Another vehicle being driven by a witness to give evidence, recognised an occupant in Robinson's car but was unable to engage in conversation.
Both vehicles left the station and eventually the vehicles crossed paths on SH3 just north of Te Awamutu town.
The cars began to increase speed by the time they had reached the Wild Thyme Cafe and proceeded to pass two vehicles.
The occupants of those cars and a third, which would be passed north of Ohaupo, will give evidence about how their car felt as the two vehicles allegedly sped past.
The occupants of a home near the crash scene will also give evidence about hearing two loud vehicles and looking out the window.
At that stage, the van was heading south.
Robinson then lost control of his car after passing Cossey's Honda and crashed into the southbound Toyota Hiace van.
The crown alleges Cossey then sped through the crash scene, failing to stop and offer any assistance.
The four occupants of Robinson's vehicle died at the scene. The injured man is still recovering from serious injuries he suffered.
Jones is alleged to have filmed the crash, which he is also accused of later deleting.
Police claim he originally had 38 seconds of footage but cut it to 11 seconds the morning of his interview with officers.
After fleeing the crash, the pair caught up with friends when it is claimed he showed them footage of the crash.
Both defence counsel made short opening statements before the lunch adjournment.
Philip Morgan QC, representing Cossey, told the jury they would need to be sure Cossey's actions were a "substantive and operative" cause of the victims.
However, he said Cossey was not criminally responsible for driving Robinson's car.
Lawyer Russell Boot, on behalf of Jones, said his client was simply a passenger in a car.
"All he did on that day was record what was going on. In no way did he encourage or intend to encourage anybody to drive in any particular manner. He simply sat there and recorded what was going on."
He thought he was doing police a favour by handing over his phone with the video footage on it and was not trying to hamper the police investigation.
"He says far from trying to pervert it, 'I was trying to help police, I brought the video into police to try and help them with their inquiries'," Boot said.
Regarding the charge of failing to stop, Boot said his client was a young man and they simply left the scene.
The first witness, a woman travelling in a car behind the two vehicles, will be called after the lunch break.
The trial, before Justice Anne Hinton, is set down for two weeks and involves 21 witnesses.