Prime Minister Jacinda Ardern has ended her Waitangi Day at Government House in Auckland with Kiwis from all walks of life.
Dame Patsy Reddy and Sir David Gascoigne this afternoon hosted a reception at Bledisloe Garden to mark the 178th anniversary of the signing of the Treaty of Waitangi.
They welcomed the PM, Auckland Mayor Phil Goff, and 1000 New Zealanders, a number of whom received their tickets through a ballot.
Ardern had travelled back from Waitangi, where she attended a dawn service this morning with partner Clarke Gayford, other Government ministers and MPs from National, the Greens and NZ First.
Afterwards, clad in a grey apron, she hosted a barbecue breakfast for the public, assisted on the tools by fellow MPs Kelvin Davis and Willie Jackson.
This afternoon at Government House she was entertained by music from the Airforce Jazz Band and New Zealand singer-songwriter Nadia Reid, and a kapa haka from Te Wharekura o Hoani Waititi Marae.
Dame Patsy delivered her Bledisloe Address, named in honour of Lord Bledisloe, who was Governor-General between 1930 and 1935.
"Lord Bledisloe is reported as saying that while he had bought Waitangi to prevent 'a real danger of the residence being carried off to America by a speculator', he really wanted 'to foster the sense of nationhood and to link forever Māori and Pakeha for a common good'," she said.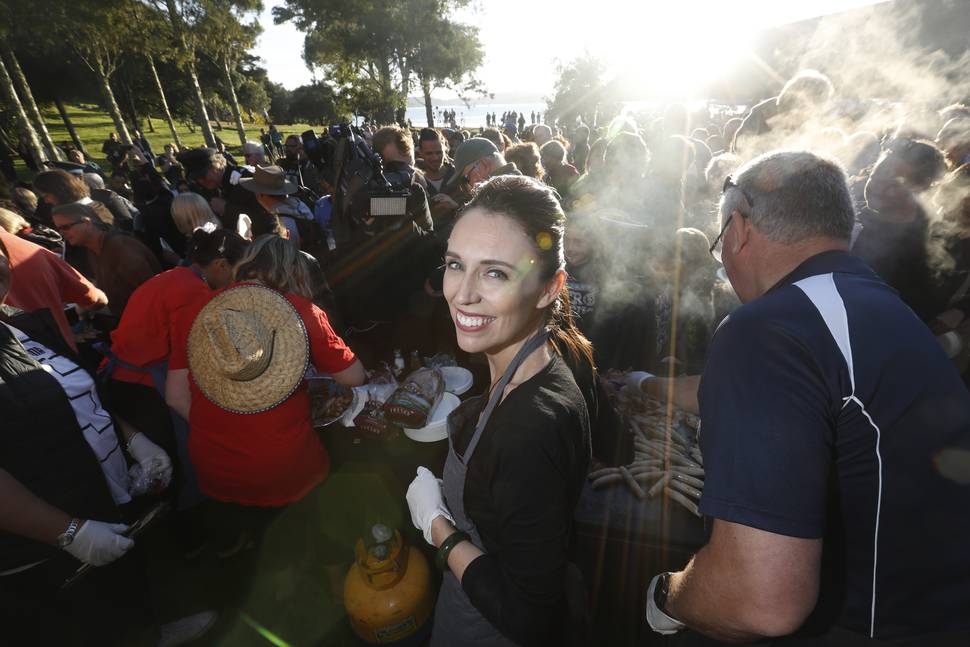 "Of course, these days Lord Bledisloe is rather better remembered each year when the All Blacks and the Wallabies compete for the Bledisloe Cup."
She said she wanted to speak about what the Treaty meant for Kiwis today, why it was still relevant.
The Treaty provided a set of principles that underpinned interactions between the Crown and Māori.
"Where there have been past wrongs, the Treaty has provided a pathway for acknowledgement and redress," Dame Patsy said.
Two recent examples of this, which had been "legally revolutionary and world-leading", were the Deeds of Settlement for Tuhoe and the Whanganui River.
"Both are based on te ao Māori, the Māori world view, and give Te Urewera and the Whanganui River rights of their own," Dame Patsy said.
"The Māori concept of kaitiakitanga, or guardianship, increasingly resonates within the wider community and aligns with our determination to ensure that economic growth is not pursued at the expense of the environment.
"The Treaty has been invoked to achieve cultural milestones, including in the status of te reo Māori."
She said that more than 19,000 school students are taught the curriculum principally in te reo Māori, and more schools each year were offering the language as a subject.
In the 20th century, generations of Māori were punished for speaking their language at school, so it was not surprising that the number of fluent speakers steadily declined.
"In 1985, the Waitangi Tribunal found that the Treaty ensured a place for two peoples – but for this promise to be achieved, there needed to be a recognised place for the languages of both partners."
A series of ground-breaking Government initiatives followed, including the declaration of te reo Māori as an official language of New Zealand; the establishment of Te Taura Whiri i te Reo Māori (the Māori Language Commission) and Māori Television; and government support for kura kaupapa and whare wananga.
"In each of these milestones, we see Treaty principles providing a foundation for forward progress," Dame Patsy said.
"The fact that we do not have enough teachers of te reo Māori to meet the demand is both cause for celebration and concern.
"I hope that more New Zealanders will both welcome and seek out opportunities to learn our nation's second official language.
"It is a journey that I am undertaking."