North Islanders from Auckland to Taupo are being warned to expect intense rain and thunderstorms this afternoon.
A severe thunderstorm watch is in place for Auckland, the Coromandel Peninsula, Waikato, the Bay of Plenty and Rotorua from midday until 9pm.
Locals are being warned there is a potential for flash flooding and driving conditions could become hazardous.
Adding to the weather chaos is a snowfall warning issued for the Crown Range Rd, between Queenstown and Wanaka overnight.
Several sleety showers are expected in the area tonight, though little to no snow is expected to settle on the road.
Rain is forecast to fall over all other parts of the North Island today too, with the exception of the capital.
Showers could turn into localised heavy downpours for Auckland to Taihape, the Coromandel Peninsula and central areas such as Hawke's Bay.
Strong wind warnings are in place for several spots over the central and lower North Island this morning.
The NZ Transport Agency is urging motorists to take care over the Rimutaka Hill.
These regions have a moderate risk of thunderstorms during the afternoon and evening - though there is a risk they could become severe later in the day.
Other spots including Northland and Whanganui have a low risk of stormy weather, as do South Island areas such as Westland, Buller and northwest Nelson.
A series of fronts expected to move over the South Island during the afternoon and evening will bring a drop in temperatures and strong gusts.
The rain is not expected to go anywhere as the week progresses. Wet and windy weather is forecast over the North Island until the end of the week.
The miserable weather follows a chaotic week of rain and flooding brought about by ex-Cyclone Fehi.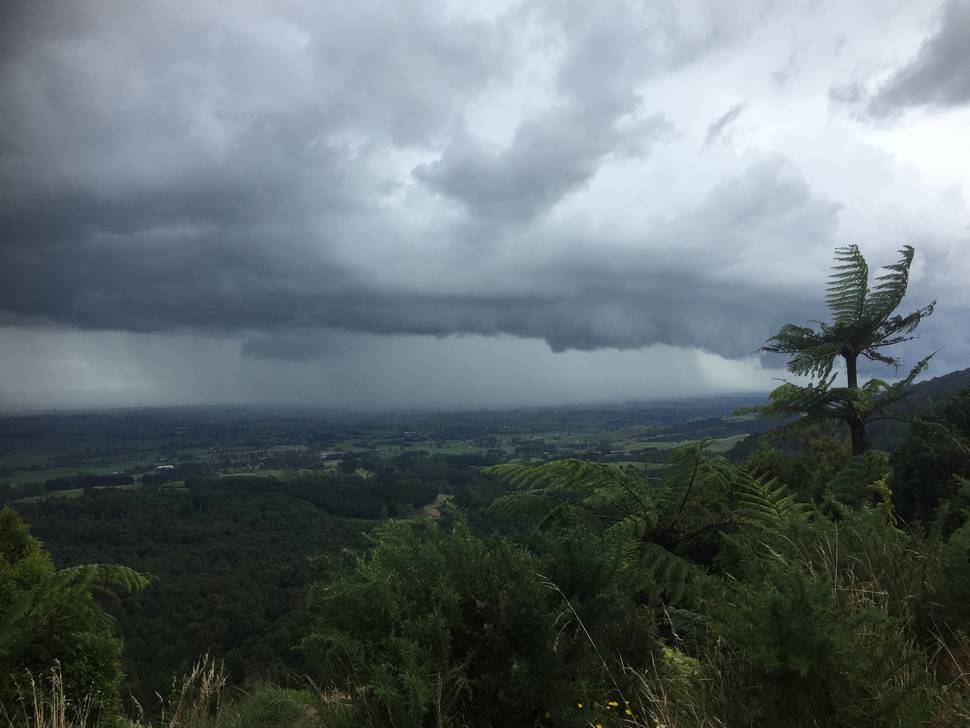 The aftermath of the tropical cyclone pummelled the country on Wednesday and Thursday last week.
The west coast of the South Island was hit hard by the weather chaos, as were Dunedin and Nelson.
Schools were closed, roads cut off and flights cancelled amid maximum gusts of 137km/h in Wellington.
Auckland was hit by the ex-Cyclone on Saturday. Two hikers were swept to their deaths in the Waitakere Ranges just after 5pm, while trying to cross a swollen river near Cascade Falls.
About 100 people were evacuated from houses in Piha and a group of 20 people were also trapped for three hours after a stream near Kitekite Falls flooded, stopping them from returning to their cars.