About 115 motorists will remain stranded in their vehicles near Fox Glacier overnight.
They include around 20 young people aboard a Kiwi Experience bus.
Police and West Coast Civil Defence earlier responded to reports of several motorists struck on State Highway 6 between Franz Josef and Fox Glaciers.
The motorists were stuck in the middle of a road closure due to gale-force winds and falling trees.
NZTA closed SH6 from Ross to Makarora at 10.30am and it was expected to be closed until further notice.
Emergency services had been in radio contact with the stranded motorists and there was no immediate danger because they had water and shelter.
They will receive assistance as a priority first thing in the morning as conditions allow.
Fox Glacier, Franz Josef, Whataroa and Haast are currently isolated because of fallen trees, slips and power lines across the road cause by ex-cyclone Fehi, Westland District Council said.
State Highway 6 south of Hari Hari through to Makarora is currently closed and will not be reopened until morning.
Stefan Wisinski said via social media he was stuck at the Fox Glacier town with no power.
"We are without power. And on top of that I lost my charger for my camera as well as my charger and adaptor."
Simon Harris said he was "marooned in Fox Glacier" and noted there were felled trees all around with "no way in or out of town".
Fox Glacier and the local pub were packed so Harris said he "made the best of it".
Westland District Council has this evening activated a Level Three Emergency Operations Centre in response to severe weather across the district.
All available accommodation in Hari Hari was full so people who had not secured safe lodgings for tonight were advised to make their way north to Hokitika where emergency accommodation could be arranged.
Thirty people had taken shelter in a welfare centre set up in Hokitika. It has been set up at the Hokitika Boys Brigade on Hampden St and had the capacity to provide food and shelter for 500 people.
Power interruptions were affecting the area and residents were encouraged to use power sparingly, the council said.
Power was completely out in some regions and it could take 48 hours to be restored. Lines had fallen across roads in some areas and residents were warned to treat all power lines as live.
Haast River reached exceptionally high levels at 4pm today but latest river information indicated the river flow was decreasing.
Because of the loss of power, the water supply could be compromised so residents were asked to conserve water until further notice.
High tide in Westland is at 12.55am and more storm surges could occur so people were asked to stay clear of coastal areas.
Fire and Emergency New Zealand responded to more than 228 weather-related incidents throughout the country today including trees fallen on houses, cars and roads causing closures or power outages.
They also attended over 260 other incidents, including structure and vegetation fires, medical emergencies, and motor vehicle accidents
While the worst may have passed and some regions are begin cleaning to up the mess, forecasters are warning areas like the West Coast of the South Island are not off the hook quite yet.
Metservice meteorologist Sarah Haddon said the main system affecting the South Island today had moved away to the southwest.
However, Haddon said a low would stick around, continuing to drive some nasty weather into the already soggy Westland area.
"The West Coast will continue to see some really heavy rain fall and strong winds," she said. "They're not off the hook yet."
A heavy rain warning remains in place for Westland and the Canterbury high country well into tomorrow morning.
Several regions hit hard by flooding remain on high alert tonight with another high tide imminent.
South of Auckland, in the coastal community of Kaiaua, residents were being encouraged to prepare for the possibility of flooding.
The small town was hit hard by flooding early last month when a storm that coincided with a king tide caused waves to burst over the sea bank, affecting hundreds of homes.
In Westport, a welfare centre set up for evacuees earlier in the day will remain open until 3am.
The nearby town of Granity was also pounded by the storm. Homes were flooded with seawater and some residents headed to Westport to escape the carnage.
Waves washed away a temporary stopbank and water flooded the streets.
Dunedin Civil Defence was keeping an emergency line open for those with concerns about flooding.
With the low expected to settle in tomorrow would come a "significant drop" in temperatures over the country, Haddon said.
The South Island was worst hit by the storm today - with Civil Defence declaring a State of Emergency in both Dunedin and the Buller District.
The Dunedin City Council prepared to evacuate residents this afternoon with around 800 homes at risk of being inundated with sewage-contaminated floodwater.
Police were visiting properties affected by wastewater overflows around South Dunedin to let people know that an evacuation centre was available if needed.
The rain presented a dramatic turnaround for the Otago region, where a huge blaze ripped its way through a chunk of forestry and incinerated several industrial buildings on Wednesday night.
About 100 residents were evacuated when the fire took hold in the suburb of Burnside.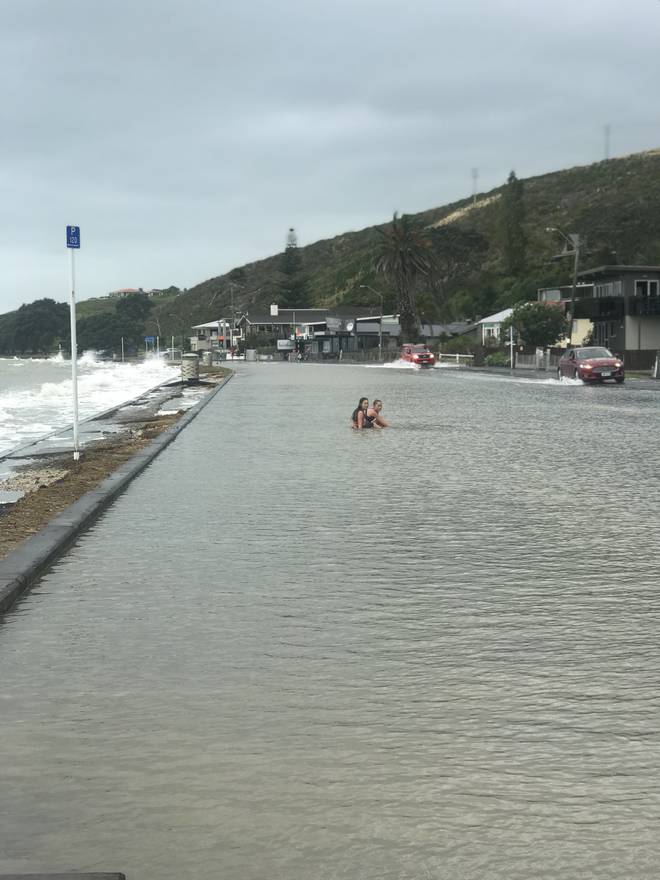 The West Coast was also battered with a deluge of torrential rain and strong gusts today - enough to cut the region off the grid.
Some residents in Hokitika and the surrounding area were expected to be without power for up to 48 hours.
Dozens of campers were forced to flee the grounds of the local racecourse in Westport this morning after a "mini tsunami" of floodwater inundated the track.
Westport South, North and Buller High School would also be closed tomorrow, following a directive from the Ministry of Education to close as a precaution.
While Christchurch escaped the worst of the weather event, the area was hit with strong winds and rain. Thousands of homes were without power in the Selwyn and Halswell areas, though residents were expected to be back on the grid tonight.
Christchurch firefighters also battled several unrelated fires during the afternoon.
Wellingtonians were forced to battle gale-force winds with gusts up to 160km/h and heavy rain this afternoon. Flights were cancelled, as were ferries and a handful of train services.
A backlog of angsty passengers could also be expected further north tomorrow, after a raft of flights scheduled for departure from Auckland Airport were cancelled.
Auckland was expected to get another dumping tonight as the remnants of Tropical Cyclone Fehi continued to hammer the country.
MetService rain radar shows a huge rain cell tracking over the region.

The city could see a repeat of the chaos that hit this morning, when Tamaki Drive was closed after storm surges flooded across the road.