More than 1000 homes are still without power, with more than 100 in the wider Auckland region still waiting for the lights to come back on three days after storms lashed the North Island.
Powerco is working to get the lights back on for about 1500 customers in Coromandel and Bay of Plenty.
The company said it would soon be updating its predictions for when electricity is running through the areas again.
About 50 people are waking up without power on the Unison network around Rotorua, and Vector has 10 outages across Auckland, but it says only a small number of homes are affected.
In Auckland, many more are affected.
• READ MORE: Storm Zealand: Land of the long wet cloud slowly drying out
Counties Power supplies power to homes from Papakura, up the Awhitu Peninsula and over to Thames.
A spokeswoman for the company said crews were working as fast as they could to end the outage.
Three days after electricity was cut off in the storm, residents are still waiting for it to come back on.
One couple has even upped sticks, staying in a hotel in central Auckland until the problem is fixed, one Franklin man told the Herald.
The man, who asked we only use his first name, Michael, said another neighbour had been down in Rotorua when the power went out, and they were staying there until it came back on.
Michael is unhappy with how long it's taken to get things running again.
"Three days without power is excessive, especially considering the damage done along the Coromandel coast and that's much further from a metropolitan centre than we are here," he said.
"It's not life-threatening this issue, but it threatens stock health, all the insurance companies are now going to have claims of freezers fill of meat which is spoiled, we can't do any work because we have no wi-fi access, no computer access."
The situation was very frustrating, he said.
• READ MORE: Busy day for rescue helicopters as deadly storm hits
Counties Power spokeswoman Jodine Laing-Reeve said 10 crews had been working around the clock to get power back on as fast as they could.
But with 40 lines down and each taking at least four hours to fix, things unfortunately couldn't move any faster, she said.
About 100 homes were still affected by the outage by 11am on Sunday, and Laing-Reeve said the company was aiming for everyone to have their power back on by nightfall.
Because safety took priority, crews had to move on from a site once it was secure to secure the next downed line before they could fix the power outage.
Once all sites were safe, crews could return to sites to begin putting the power back on but because the distance between each was wide, this meant going was slower than residents might expect.
"They are working as quickly and safely as they can but unfortunately there are some home still without power."
In storm-battered Kaiaua, a water tanker would be available for residents to use from 9am to 11am, opposite the GAS service station.
A previous announcement had mistakenly given the time as 11pm.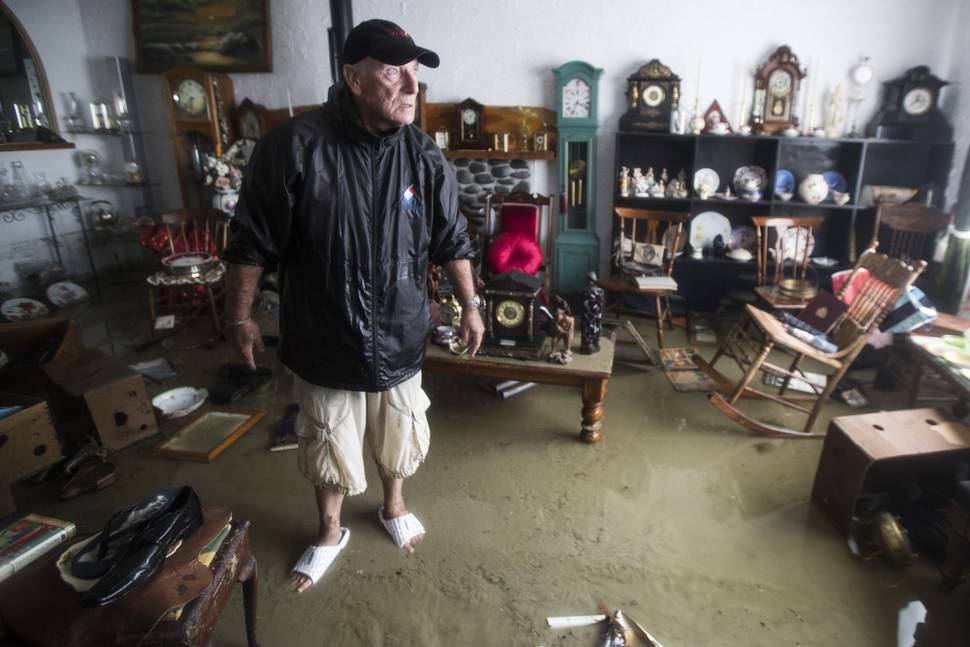 • READ MORE: Clean-up begins in Kaiaua after storm flooding
Kaiaua, southeast of Auckland, was hit by storm surges and strong winds, causing flooding.
There is no cost for the water but people will need to supply their own clean containers, a council spokeswoman said.
"If in doubt about the cleanliness of containers people are advised to boil the water before drinking."
State Highway 25 still closed
The Thames Coast Road, State Highway 25, remains closed between Tararu, north of Thames, and Manaia and has now become a very long work site, the NZ Transport Agency (NZTA) says.
Escorted convoys for residents only will continue today, at times as required, between Tararu and Te Puru. The cordons will be manned at all times.
NZTA system manager Karen Boyt asked residents who did not need to travel urgently to refrain from joining convoys today.
Through traffic would not be allowed to join and people who could avoid the area should, she said.
• READ MORE: Traffic set to build as holidaymakers return home and major highway stay closed
NZTA assessment of the area identified 29 high priority spots needing work between Tararu and Manaia.
"Whilst these high priority sites have a total length of 3.5km, a considerable length, the total length of damage to the Thames Coast Road is in the order of three times this length – more than 10 kilometres of damaged highway," Boyt said.
"Our first task is to work on the high priority sites as this will allow us to open the road to one lane using escorted convoys along the full length of the Thames Coast Road."
Four excavators and two graders were working to open the road to one lane, after which full public convoys would operate every 30 minutes from tomorrow morning.
"We are aiming to send the first full length public convoy through on Monday morning, but we continue to encourage drivers who can take alternate routes to do so."
Motorists should expect delays.