A couple, two teenagers, four cats and a dog are among many east coasters that have been evacuated following flooding on the Kaiaua, Firth of Thames, coast.
Residents and holiday-goers in the communities of Kaiaua, Whakatiwai and Miranda were evacuated from their properties this morning after floodwaters along Front Miranda Rd and East Coast Rd reached waist-deep levels by 11am.
Kaiaua resident Diana Gausden said her family fled to a nearby hill after her husband was alerted by tsunami like waves.
"My husband said 'I think we need to go' and I looked to see where he was pointed and the sea was coming in like a tsunami. It came in real fast," Gausden said.
"In the time it took us to load dogs, kids and cats, it was already up past our ankles and filling in the road as we were leaving."
The family loaded themselves and their pets into a caravan and sought refuge on the hillside of Kaiaua Rd.
They had attempted to return home but found their property was still inaccessible.
"We are obviously quite concerned about our property so we want to stay and get back in as soon as possible and find out what on earth we are dealing with," Gausden said.
"That is where we live, it is out home. The hard bit is not knowing if the house is ok."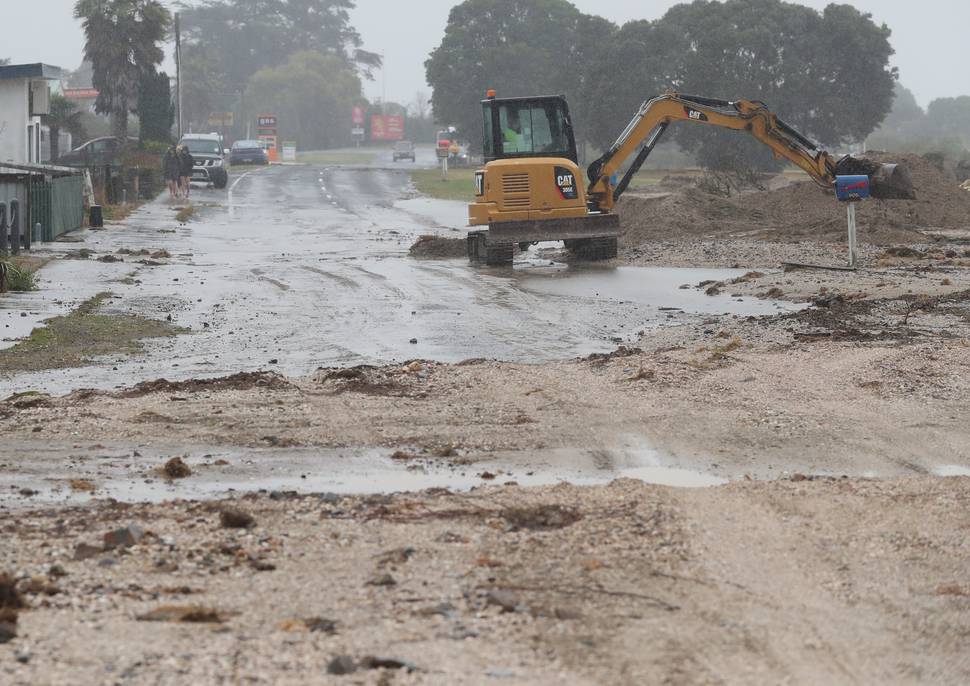 She said it was the first time the house had flooded in 20 years of living in Kaiaua.
"I have never seen it like this. It is very calm normally."
Kaiaua resident Dan Cooper had been out of his house when the flooding started.
He described the scene he came back to as "devastating".
"Hundreds of thousands of dollars worth of items, gone. Everything we own."
Cooper said the town had been hit with a similar level of flooding back in the 90's.
"It's a disaster waiting to happen," he said.
"The council hasn't done anything about an awful lot of flood protection, because we're coastal I guess."
Many residents are back out on the streets in gumboots and slick raincoats, surveying the damage.
Diggers had burrowed out a canal on East Coast Road to allow the flood water to drain, so residents on the beachfront road were able to access their homes.
Other local residents had taken shelter at Mangatangi School, Te Puru Community Hall, Waharau Regional Park and Wharekawa Marae.
The evacuation point at Mangatangi School was empty on Friday afternoon, bar one man whose travels from Pokeno to Clevedon had been cut short by closed roads.
Grant Annett hadn't yet heard the coastal town of Kaiaua had been cut off by flooding and had stopped at the school coincidentally to re-route himself.
"I went right down to the beach but found the road is completely shut off."
Annett said he had been in contact with his family in Clevedon and would probably head back to Pokeno.
"I was going to stop at the Kaiaua Fish and Chip Shop," he said.
"I've been overseas so haven't had fish and chips for six months."

An Auckland woman said her mother's bach which was among 20 houses on the waterfront, 1km north of Waharau Regional Park, was flooded knee-high in the living area.

She told the Herald the house was like a swimming pool and logs from the sea went right up to the lawn and through the home.
The roof came off today and power poles were falling down. Neighbours are helping one another, she said. One house was being destroyed.
The Hauraki District Council's road update, just after midday, advised anyone thinking of heading from Auckland to Kaiaua from the northern end of East Coast Rd not to do so.
"The end of the road is not closed, but there are multiple areas of flooding, debris and fallen branches.''
The Auckland Council said it was assessing the situation.
Meanwhile, State Highway 25 at the twin bridges in Waitakaruru is open but traffic is slow-moving because of water up to road level.
Canal Road East, between Waitakaruru and SH2, is also open, but motorists are asked to drive carefully as there is surface flooding and debris on the road.
Front Miranda Rd and East Coast Rd, where floodwaters were waist-deep at 11am, in Kaiaua, remain closed because of flooding.
"It's expected they will remain closed for at least three hours until the water drops with the tide, which has now peaked and is starting to go out," said Hauraki District Council communications officer Paul Trubshaw.
Members of the Kaiaua Volunteer Rural Fire Force are helping stranded residents get to safety.
Local controller Steve Fabish said Civil Defence teams and the local fire force were operating in the area. However, some communities are still isolated.

"People are asked to self-evacuate to higher ground, look after each other and keep an eye out for neighbours until the water recedes enough for our teams to get in."

Once the flooding has receded, a Civil Defence centre will be set up for people to evacuate to.