'Worse than a car crash' is how a senior detective described the injuries inflicted on Marie Harlick.
The daughter of Marie Harlick wakes up every night screaming. Her sister still calls Marie just to hear her voice on the answer phone. Her mother can't sleep and cries at the urupa where she's buried. Her brother is broken-hearted at the thought Marie will never meet his future children.

Today, the family of Harlick faced Robert Roupere Hohua - the man who stomped, punched and kicked her to death - and told him what he had taken away from them.

Hohua, 36, will serve at least 17 years of a life sentence in prison after being convicted of murdering Marie Harlick.

Even if he is eventually released by the Parole Board, Hohua will be subject to parole conditions for the rest of his life.
In sentencing Hohua in the High Court at Tauranga, Justice Anne Hinton said his actions had caused profound harm and loss.

She handed him a life sentence and imposed a minimum period of 17 years before he was eligible for parole.

This was because of the high level of brutality and callousness of the 20-minute assault, as well as the fact Hohua was unlawfully in Harlick's house.

He was on bail at the time of the murder for a previous assault on Harlick and breached those conditions when he killed her.

Hohua indicated he will appeal the murder conviction.
A Herald investigation last month revealed Hohua's lengthy criminal history - 78 previous convictions - and the fact he was released on bail, twice, for an assault on Harlick before the murder.

Before Justice Hinton sentenced Hohua, members of Marie Harlick's family addressed him directly through the reading of victim impact statements.
Marie Harlick speaks outside Tauranga courthouse after the man who murdered her niece in Opotiki last year is sentenced to 17 years jail. / Alan Gibson
The aunt of Marie Harlick, also called Marie Harlick, is now the legal guardian for Vivienne - the youngest daughter of Marie Harlick, nicknamed Mush.

The toddler was just 19 months old when she watched her mother get beaten to death.

"She was an absolute mess. Vivienne was an empty little person. She couldn't look people in the eyes," Marie Harlick said to Hohua.

"She was frightened and needed constant reassurance. If my teenagers were play fighting, she'd run away."

Vivienne wakes up every morning around 2am, screaming for "Mummy".

"I know this is because of what Robert did to Mush and what Vivienne saw," said Marie Harlick.

"We talk about Mush every day. I have to tell her mummy is gone. This is very difficult.

"Robert has taken the arms of her mother away. I'll give her a good life but I can't replace the arms of her mother."

Vicki Harlick, Marie Harlick's sister, stood silently and stared at Hohua as her partner read her victim impact statement to the court.
"Mush wanted to be a better person and mum. Rob has made my family fall apart because of what he did. Murder her.

"I struggle every day waiting for a phone call, or text message. I still ring her phone to hear her voice on the answer phone.

"I feel guilty, I hate you Rob I want you to suffer the way I do. I hope you get a life sentence like the one you've given us."

Statements from her uncle Sidney Ranapia, her mother Hapuiti Allen, and brother Judd Allen described the loss of Marie as a "kick in the guts", giving them nightmares and stress.

Now Hohua has been sentenced, the Herald can reveal the Mongrel Mob enforcer considered pleading guilty to murder before his trial.

The sentence for murder must be life, except for the most unusual of cases, and the minimum period before applying for parole is 10 years.

However, the minimum time can be increased to 17 years if a case meets the threshold.

The sentence of Justice Hinton concurred with a previous High Court judgment.

At a sentence indication hearing in August, Justice Matthew Muir ruled that, if Hohua pleaded guilty to murder, the threshold was met.

This was because Hohua unlawfully entered the Wellington St address - he was not allowed to be there on bail and broke a window to get in - as well as the brutality and callousness of the assault.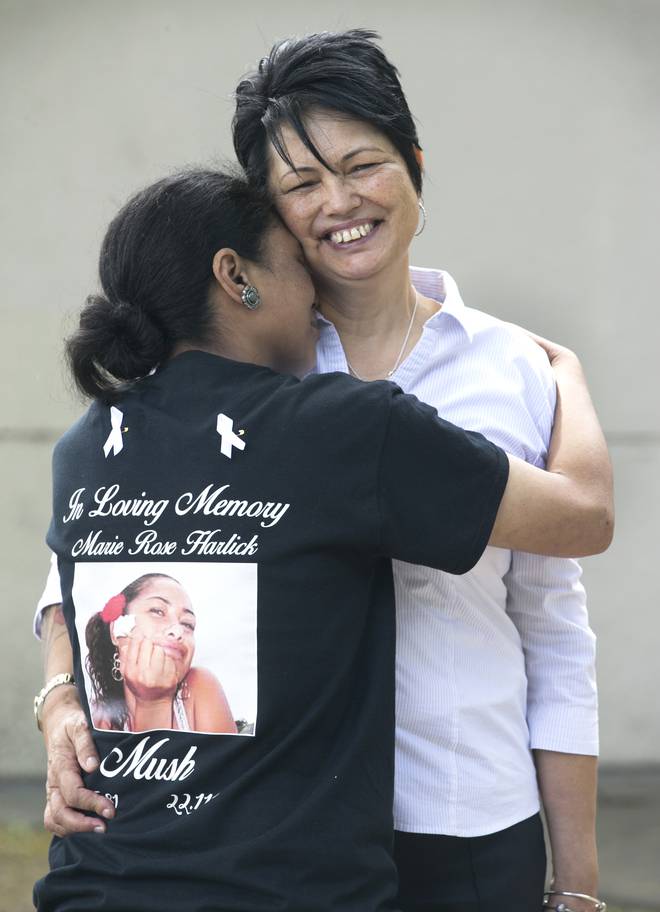 "The fact that these needless and tragic deaths regrettably occur with all too alarming frequency in this country and often in broadly similar circumstances would in no way detract from that conclusion," said Justice Muir.

Instead, Hohua chose to stand trial and plead not guilty to murder. This means he missed out on a guilty plea discount at the sentencing hearing.

Hohua admitted killing Harlick, his partner of two years, at her Opotiki home in November last year.

As the evidence was largely uncontested, the key issue was whether Hohua had murderous intent during the fatal assault.

He claimed he did not mean to kill her, so was guilty of the lesser charge of manslaughter. The defence was rejected by the jury.

"Fearsome" was how Crown prosecutor Aaron Perkins, QC, described the beating during the trial.

Her jaw was broken in two places and a major artery ruptured from the stomping.
"I would describe them as injuries worse than a high impact car crash," said Detective Senior Sergeant Greg Standen.

The head of the Eastern Bay of Plenty CIB said the evidence gathered by the police was "chilling"; particularly how neighbours could hear the stomping.

"The stomping was that hard… that was the level of violence….it painted a picture of horrific violence against Marie."

The neighbours who heard the assault phoned 111 at 9.58pm, then again at 10.06pm as the violence escalated.

Police arrived at 10.24pm and arrested Hohua. No pulse was detected for Marie Harlick and CPR was unsuccessful.

Standen said all available police staff were dealing with a machete attack in Opape, about 15 minutes drive outside Opotiki, when the neighbours called 111.

Even if the staff had been sent from Opape earlier, Standen believes it would not have made a difference for Marie.

"It's the reality of provincial policing...it is a huge geographical area," said Standen.

"It's a sad set of circumstances that we had two serious incidents at the same time. Whether we could have prevented Marie's fatal injuries is just speculation."

Possibly the most harrowing evidence in the trial was that Vivienne, Marie Harlick's youngest daughter, witnessed the fatal beating.

Police found the toddler lying beside her dead mother, hidden under a blanket.

Vivienne is now living with her great-aunt, also called Marie Harlick.
A Herald investigation last month revealed Hohua's lengthy criminal history - 78 previous convictions - and the fact he was released on bail, twice, for an assault on Harlick before the murder.
Vivienne is now living with her great-aunt, also called Marie Harlick.
If you're in danger now:
• Phone the police on 111 or ask neighbours of friends to ring for you.
• Run outside and head for where there are other people.
• Scream for help so that your neighbours can hear you.
• Take the children with you.
• Don't stop to get anything else.
• If you are being abused, remember it's not your fault. Violence is never okay
Where to go for help or more information:
• Women's Refuge: Free national crisis line operates 24/7 - 0800 refuge or 0800 733 843 www.womensrefuge.org.nz
• Shine, free national helpline 9am- 11pm every day - 0508 744 633 www.2shine.org.nz
• It's Not Ok: Information line 0800 456 450 www.areyouok.org.nz
• Shakti: Providing specialist cultural services for African, Asian and middle eastern women and their children. Crisis line 24/7 0800 742 584 • Ministry of Justice: www.justice.govt.nz/family-justice/domestic-violence
• National Network of Stopping Violence: www.nnsvs.org.nz
• White Ribbon: Aiming to eliminate men's violence towards women, focusing this year on sexual violence and the issue of consent. www.whiteribbon.org.nz

How to hide your visit
If you are reading this information on the Herald website and you're worried that someone using the same computer will find out what you've been looking at, you can follow the steps at the link here to hide your visit. Each of the websites above also have a section that outlines this process.