Jonathan Densem survived the 2009 Black Saturday bush fires in Victoria and moved back to Christchurch before the earthquakes. At the beginning of last year he was told he had a terminal brain tumour. Now working through his bucket list, he has recorded an album, I'm Saying it Now. Julia Evans reports.
Throughout 2015, Jonathan Densem had been feeling ill most days. He was struggling to keep up with his work as a piano and music teacher at St Margaret's College.
After waves of nausea, moments of mental absence and the odd out-of-body experience Densem decided it was time to go to his doctor.
He was referred to a neurologist. An EEG brain scan and MRI later, on New Year's Eve Densem learned he had been having hundreds of micro-seizures daily.
"It's really hard to describe. You feel nauseous and there are strange impulses in your brain. But you're not going to be sick," he said.
The cause of the micro-seizures wasn't known until Densem was at the Margaret Mahy Family Playground with his wife Emma Smetham and children Otto, 12, and Caspar, 8.
The phone rang unexpectedly. It was his GP.
"My doctor told me 'you need to go to hospital and check into the emergency department right now'," he said. "They found a tumour the size of a kiwifruit in the front of my head."
Densem was told his cancer was terminal as soon as he was diagnosed.
More than a year ago his doctors told him he was "on his own", Smetham said. "He's had all the treatment he can. Anything now is just prolonging," she said.
The tumour is still there two years later, but it has shrunk a little, Densem said. "I'm better than I was."
But brain cancer was just "another thing".
Caspar was a miracle baby, born amid Victoria's Black Saturday bushfires, which killed 173 people.
Densem and a heavily pregnant Smetham fled their Buxton home, 100km from Melbourne, with 3-year-old Otto as the deadly fires came to within 1km of their tinder-dry property.
Six hours later they were in Shepparton Hospital, welcoming baby Caspar.
"People laugh when we say we came home for the climate. But we did. We were thinking about leaving before the fires happened. It was just time," he said.
That was just the first of a "double jeopardy" of sorts.
The family feared for their lives a second time when their Cust home was rattled by earthquakes mere months after they moved home following 16 years in Australia.
"We'd just got over the first hurdle of building up a business. I'd lucked into a really good studio in the Arts Centre," he said.
Although Densem said the home only sustained "cracks and minor stuff", the studio he was working out of in the Arts Centre was badly damaged.
His piano and recording equipment were only just salvaged from the Arts Centre wreckage before the buildings were closed.
"We were trying to see the funny side, but it was pretty depressing. It was amazing going through the same emotions as we had in Australia."
But it wasn't until the diagnosis of grade 4 glioblastoma multiforme, which Smetham calls the "big kahuna" of brain cancer - that Densem was finally pushed to record his album, I'm Saying it Now.
"These songs have been written for more than 25 years. People would often say to me 'when are we going to be able to get your album?'. But I was too busy living," he said.
"And then I got brain cancer. There were no excuses after that. I had to do it."
To fulfil the lifetime dream of having his music recorded, Smetham and Densem started a Givealittle page in December last year. It drew in $57,019.
"Turns out it's quite an expensive job, recording an album and putting on a show," he said.
Densem enlisted producer Greg Haver who has worked with Manic Street Preachers and Opshop. Christchurch audio engineer Clint Murphy mixed the album.
"We weeded out the self-indulgent, singer-songwriter stuff. Once it was finished I actually sat in my studio when I was listening to it like Rocky, with my arms up in the air."
Densem said he's had to lean on his family more than anyone should. He never said it was his album, always "our" and "we".
"This is a huge celebration. I can turn around and give it back," he said.
It was recorded with the help of Smetham and their two sons, who have both inherited the Densem musical gene.
"Otto's a prestigious guitarist. He can do a lot of things on a guitar I can't. And Cass plays the drums, as well as piano, under sufferance," he said.
That musical gene can be traced back a generation to Densem's father, John. He was a jazz musician, songwriter and worked at the Court Theatre.
But it's not the only thing Densem has in common with his father.
John Densem died unexpectedly at the same age Mr Densem was when he received his diagnosis: 47.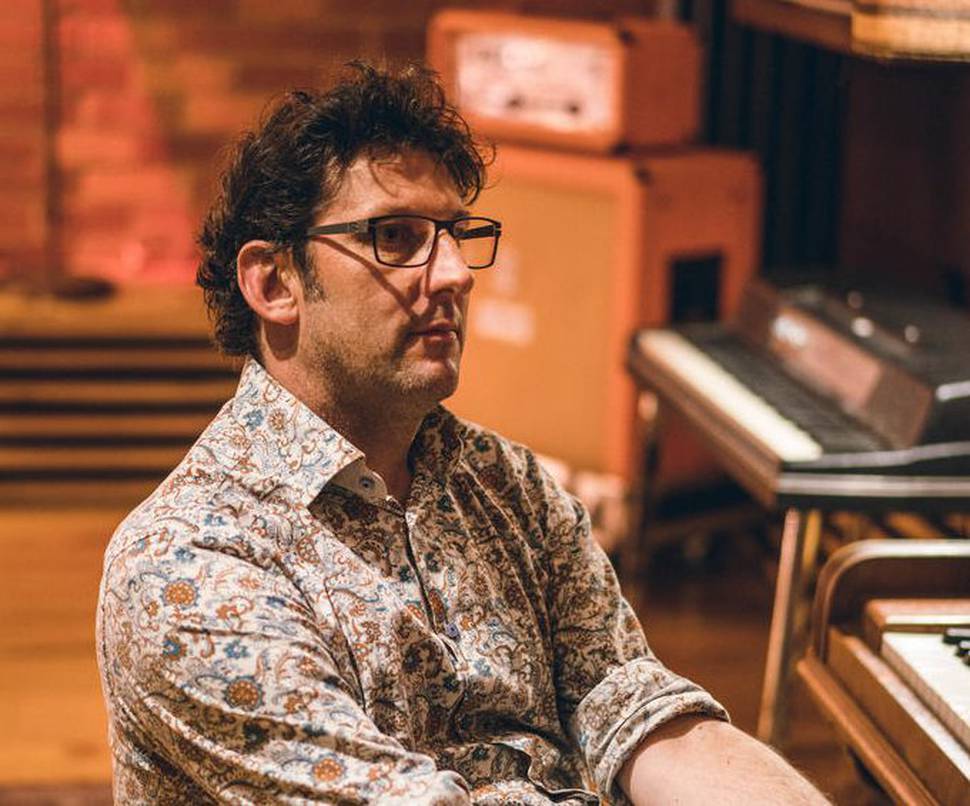 "December 27 last year I finally became older than my father. It was quite something," he said.
Now looking forward to his concert, Densem popped a bottle of bubbles to celebrate.
"We're onto the phase where it's really real but I'm still not too jaded. I'm excited," he said.
But after wrapping up his second concert in Auckland next Thursday, Densem said he's got a bigger job to get on with.
"I'm going to turn even more attention to it. To fighting it. Not just keeping it at bay," he said.
Densem said planning is a big part of that fight. He's hoping to take on more piano students next year.
"There are a lot of people who don't have a good outcome with this diagnosis. But there are people living with brain cancer for 20 years, I'd be pushing 70 by then. That's my plan to be one of those people," he said.
And there are still several things to get off the bucket list before then.
"I've co-written the rock musical King of the World, which we're hoping to get produced next year," he said.
But the Densems also have plans to head to Broadway to go to Hamilton: An American Musical.
Plus he won't be going anywhere before seeing the Sydney Swans win another AFL Premiership.
• Tickets to the album launch concert at the Charles Luney Auditorium on Monday, December 11, at 7pm, are available at www.eventfinda.co.nz