Roads turned to rivers, shops flooded and vehicles were swamped by water as a severe thunderstorm dumped more than 23mm of rain on Dannevirke in less than an hour on Monday afternoon.

The dramatic thunderstorms were the result of a static weather pattern settling over New Zealand, the MetService said.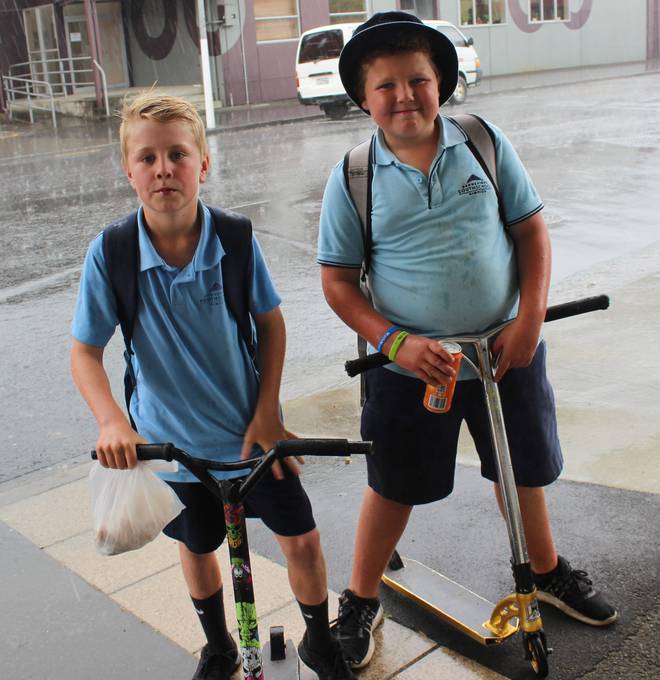 And the pattern of afternoon thunder and rain was predicted to continue through until Friday, not good news for Derek's Electrical co-owner Kathy Massey who had to deal with water flooding the back of the premises on High St.
"Water was all through the back and even today [Tuesday] it's a bit of a mess."
Kathy said the water came up through a drain.
"I had to move all the stock from the back to the front of the building and spent Monday night trying to dry out the carpet, but I don't know how successful that's going to be."
The Tararua District Council's finance manager left a meeting in the mayor's office to discover knee-high water was flowing through his car parked on Denmark St.
He filed an insurance claim, unsure what damage had been done to the car's electrical systems.
On High St, NZCU Baywide shut early after flooding, but for Dannevirke South School students Hunter Brown and Lukas Berquist, who were caught in the torrential rain, getting wet wasn't a problem.
The schoolboys were riding their scooters home when the thunder and rain started and Hunter's main concern was that his bag of hot chips wouldn't get wet.
As the rain continued and streets turned to rivers, exploding manholes were an issue for motorists.
One manhole on the Queen St/Albert St intersection blew, sending water flying into the air, while stormwater flooded off driveways on to the road, giving motorists a free car wash.

However, Tararua Alliance manager Chris Chapman said the problems were minor, with just some surface flooding around town.
The Dannevirke Volunteer Fire Brigade was busy with two calls within four minutes to flooded premises.
But the downpour was localised on Dannevirke, with little or no rain outside the town.

"We hardly got anything in Laws Rd. The storm went around us," Diane Spence said.
And Norsewood weather-watcher Lyn McConchie said it was a similar situation there.

"We had thunder growling overhead for a long time, but just 1mm of rain."