An Auckland taxi driver has described his terror when a rock allegedly thrown from a pedestrian overbridge hit the bonnet of his car while he was driving on the motorway.
Avtar "Avi" Singh said he was certain the rock, which was "bigger than a brick", would have hit him in the head or chest if he had not seen it hurtling towards his Toyota Prius and taken evasive action to ensure it missed the windscreen.
"I suddenly pressed the brake so it hit the bonnet. Otherwise...it definitely would have hit my chest," he said of the incident which happened about 5.45pm on Friday.
"The bonnet is totally damaged. I can 100 per cent tell you that if that rock hit the glass [windscreen] it definitely would have hit my head or my chest."
The 30-year-old, who has been driving taxis for four years, told the Herald on Sunday he was driving along State Highway 20A to the airport after dropping a client at Henderson when the rock was thrown from a bridge between Bader Dr and Kirkbride Rd.
"Thank god I didn't have [any passengers in the car]."
He said he had seen a group of about six or seven young boys standing on the bridge as he approached it and believed the group were targeting taxis.
Although he was not hurt in the incident, the experience frightened the father of two young children, who moved to New Zealand from India eight years ago.
"My legs were just shaking. I was about to cry," he said.
"I had a feeling like 'I'm going to die now' because I can't control my steering, my legs are shaking and my car is going almost 90km."
After the stone struck his car he took the next motorway exit at Kirkbride Rd and pulled over near the Holiday Inn Hotel, where he had a drink of water and checked his bonnet, which was dented and scraped.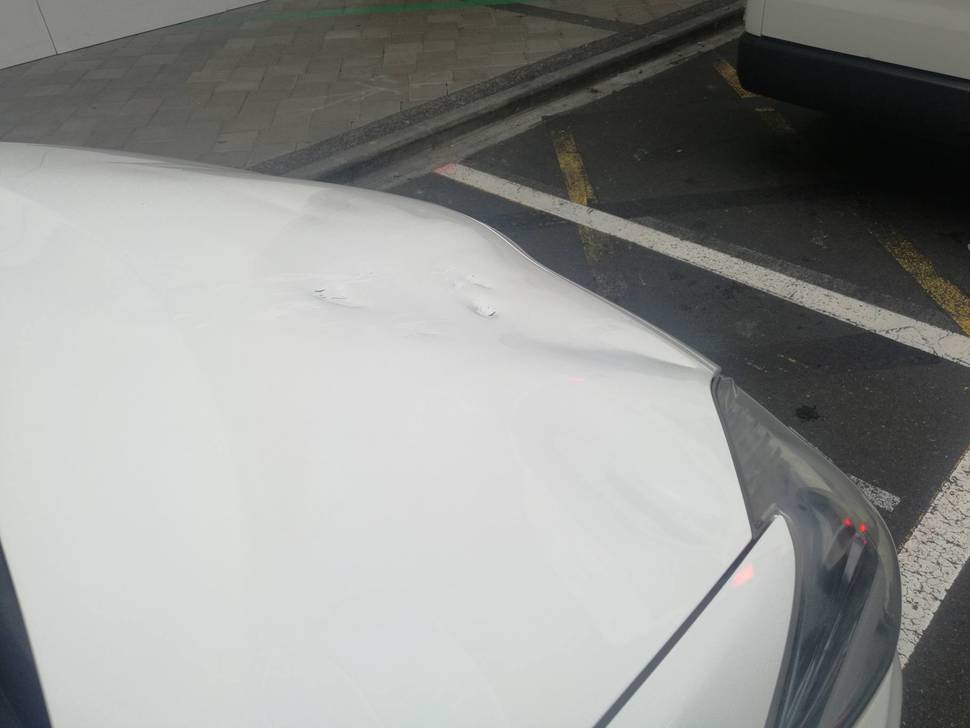 He said he called the company he was working for - Auckland Taxi Service - and told them about what happened. He said he also reported the incident to the police.
Singh said he would now stop his car on the motorway as he approached overbridges, to check if there was anyone on them before he continued driving.
Police confirmed they were called to a report of an object being thrown onto State Highway 20A from the pedestrian overbridge at Bader Dr about 5.50pm on Friday.
But a spokeswoman said the person who rang the police told police they did not see any vehicles being hit.
"Police attended and spoke to four youths nearby who denied involvement."
Although police were not aware of any other reports related to the incident, they encouraged anyone who believed they have been a victim of this kind of incident or had their vehicles damaged to make a report.
A director for Auckland Taxi Service, which employs Singh as an independent contractor, said incidents like the one on Friday were an ongoing problem at the Bader Dr overbridge.
He said at least three of his drivers had reported they had had objects thrown at their cars there in the last two months and owners of other taxi companies had also told him of similar incidents.
"Police are aware of that but I don't think they are doing anything. I don't know why they're waiting for something serious to happen."
Auckland Co-op driver Balkar Singh was injured when his car was pelted by rocks from a footbridge that crosses State Highway 20A early last month.
Police had issued a warning about a disturbing trend of people throwing rocks from motorway bridges days before Balkar Singh's vehicle was hit.
The Auckland Taxi Service director, who spoke on condition of anonymity, said it was only a matter of time until someone was badly hurt or killed.
The man told the Herald on Sunday it wasn't just taxi drivers who were at risk but also members of the public who used the motorway.
"Police have to take some action. I think the best thing is [the police and the Council] could easily put mesh on the bridge."
He said Auckland Council had installed mesh on other bridges to stop people throwing objects from them.
- Additional reporting Ophelia Buckleton