Ports of Auckland is keen to talk with Prime Minister Jacinda Ardern after she poured cold water on its proposal to extend Bledisloe Wharf into the Waitemata Harbour.
A 13m extension to Bledisloe Wharf is part of a draft 30-year masterplan unveiled by the ports company on Wednesday for the 77ha of land it owns on the city's doorstep.
"What I'm happy to say is that I have always opposed port expansion at its current site," Ardern said after her first formal meeting with Auckland Mayor Phil Goff yesterday.
Goff has also said he does not support further extension of the port into the harbour.
A ports spokesman said the company has sent the Prime Minister a copy of the draft masterplan and "would very much like to discuss it with her in due course".
He said the masterplan was developed for two reasons - the need for new infrastructure until a new port is developed and to improve public awareness of this problem and encourage discussion about potential solutions.
The plan includes a five-storey parking building topped with a 1ha waterfront park accessible to the public and connected to a five-storey hotel on Quay St at the city end of the port.
But plans for a 13m piled concrete extension at the end of Bledisloe Wharf, which the company says is essential for a new berth and the success of the other wharf projects, have drawn criticism from Ardern, Goff and groups like Heart of the City and Ngati Whatua.
Since the Herald started campaigning against a 250m expansion into the harbour in 2012, the port company has gradually shrunk back its plans. Two months ago, Ports of Auckland chairwoman Liz Coutts said it was no longer acceptable to reclaim more land.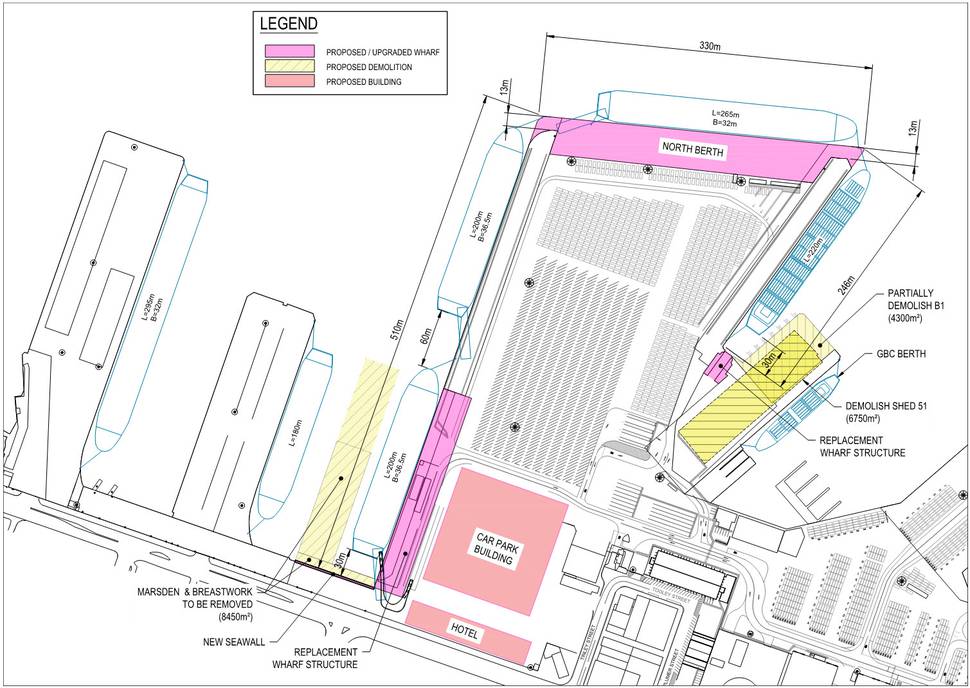 The ports spokesman said the company was pleased that high-profile New Zealanders are involved in the discussions and hoped others would read the proposal and provide feedback.
"We will be meeting with Ngati Whatua and other key stakeholders in the near future," the spokesman said.
Today, Stop Stealing Our Harbour spokesman Michael Goldwater said the 13m extension was an absolute no-goer for all the same reasons previous proposals were a no-goer.
"Why spend money on something that will be moved and could be moved in a much short space of time?
"The harbour is not theirs for the taking, but they seem to be treating it as such," Goldwater said.
The new Government is commissioning a feasibility study on the options for moving Ports of Auckland, including giving Northport serious consideration.