A group of Hamilton friends say they're shocked they were able to sleep through a smoke alarm, as flames and smoke slowly filled their house.
Rebekah Lewis, 22, and partner Shaun O'Brien, 25, live in the Lyon St house which caught fire about 5.45am today.
Lewis said she had just locked the back door of the old three bedroom villa about 15 minutes before it caught fire.
O'Brien said they had friends over last night to have a few drinks and have a farewell for his brother who was moving to Auckland.
They spent the whole night drinking and socialising on their front deck with many of their friends, including 20-year-old Sam Turner, deciding to stay the night.
It was that decision by Turner which saved their lives, Lewis said, as although the home's smoke alarms were blaring and flames were quickly making their way up the walls, into the ceiling and under the floor none of them heard it. Except for Turner.
Turner said he was asleep on the couch in the lounge when he heard the alarms. He got up saw the smoke and could see flames through the cat flap of their rear door.
"I woke up and heard the alarm and then smelt the smoke and I could see it slightly seeping into the lounge and got up and walked into the kitchen and I saw through the cat flap there, heaps of flames, and it was smoking out the whole house so I just got everyone out.
There was no point in trying to fight it."
Lewis said she hates to think what would have happened if Turner wasn't there.
"It's really scary to know that none of us woke up to that, five adults just slept through the smell of smoke and a fire alarm going off. It took only one adult to wake up to that, and if he didn't wake up?It's pretty scary.
"I initially thought he'd gone home and so, had he actually been home, it would have been a different story."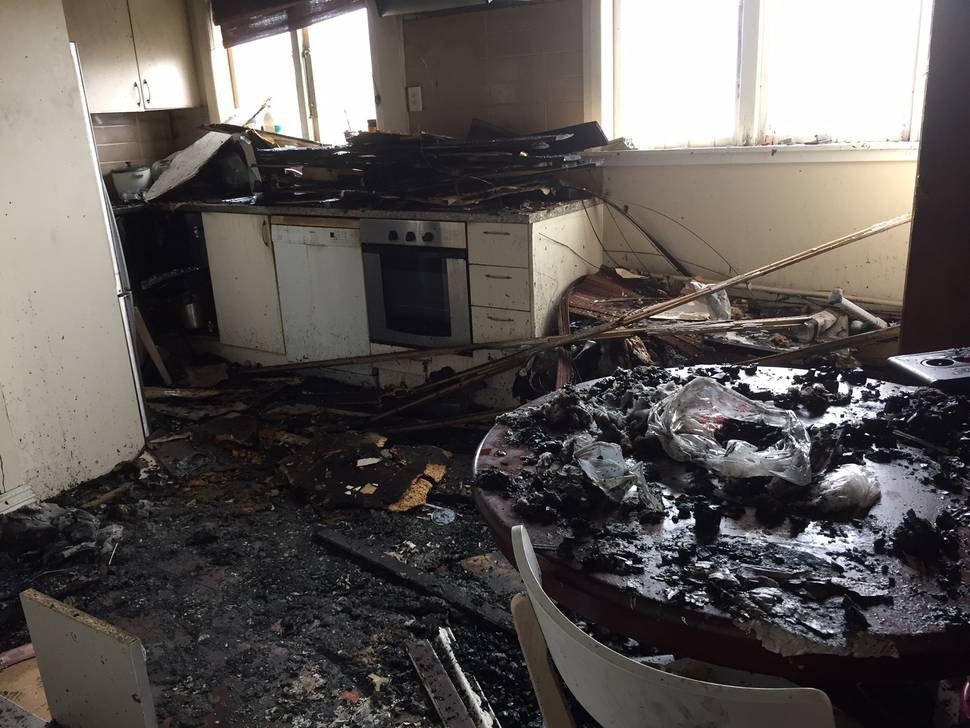 Lewis said they all owed Turner their lives.
"Sam was there to pretty much save our lives because none of us heard anything. I'm a heavy sleeper and once I'm out, I'm out. So we owe Sam our lives."
The group praised the quick actions of Hamilton firefighters who were there within minutes of getting a call.
It meant they were able to quickly tackle the blaze, and limiting the damage to the porch area. The fire travelled through the roof cavity causing serious damage, while the flames got so big they leapt onto a nearby parked vehicle.
The bedrooms and lounge escaped any serious fire damage so Lewis and O'Brien were able to grab some possessions. However, all of it had been affected by smoke.
Waikato fire and emergency investigator Kevin Holmes praised Turner for his actions.
"It's a rental, rented by young people in their early 20s. One of them was woken by smoke alarms and noticed the fire and woke everyone else up and get them out safely."
Holmes said the fire began in an enclosed back porch area of the home. It quickly spread up the walls, into the ceiling and then down into the floor.
He said it was an area where they usually smoked. The group dispute any suggestion they were smoking there last night. Lewis said they spent their whole night drinking and socialising on the deck at the front of the house.
Holmes said the fire became so intense it spread to two vehicles that were also parked at the back of the property. While one suffered superficial paint damage, the other was quite severely damaged.
Holmes said the tenants didn't have time to grab many clothes and were given disposable overalls to wear as firefighters tackled the blaze.
Extra firefighters were called in to help fight the fire.
Northern fire communications shift manager Paul Radden said Hamilton, Pukete and Chartwell firefighters were sent to a house "well involved" in fire.