A heavy rain warning and severe weather watches are in force as a low pressure system approaches the country, bringing a risk of thunderstorms.
The heaviest falls are expected about northwest Nelson where a heavy rain warning has been issued through to early Monday. The intensity of downpours could reach 25mm per hour, especially during Sunday.

MetService warned rain could cause streams and rivers to rise rapidly as well as surface flooding and slips. Rain could also make driving conditions hazardous.
A heavy rain watch has been issued for parts of the central North Island and upper South Island including Waikato, Bay Of Plenty, Rotorua, Tongariro National Park, Mt Taranaki and coastal Kaikoura, from today through to Monday.
And, as if that wasn't enough, there is a moderate risk of thunderstorms for most parts of the North Island including Auckland, Waikato, Taranaki, Whanganui, Coromandel Peninsula and the Bay of Plenty tomorrow afternoon and evening.
MetService meteorologist Tom Bell said thunderstorms could bring heavy rain and lightning to Auckland to add to an already wet Sunday.
A boat was swept towards shore at Onetangi Beach on Waiheke earlier today, as wet weather set in.
The outlook for the South Island was not much brighter with moderate risks of thunderstorms for Nelson, northern Buller, Marlborough Sounds and western Marlborough ranges on Sunday afternoon and evening.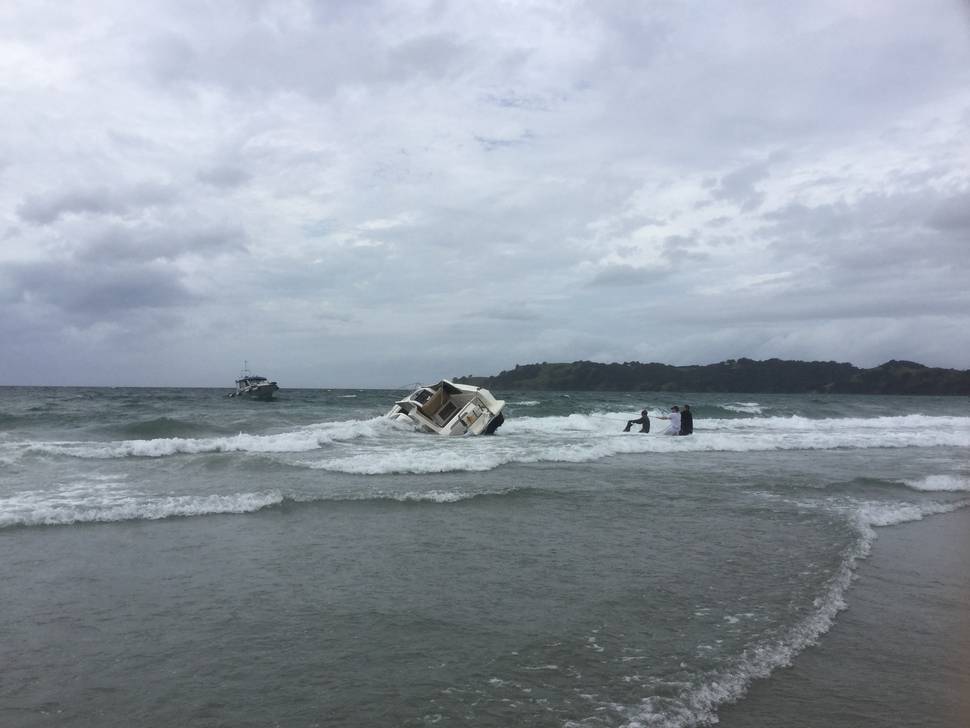 Showers were set to continue for the North Island early next week however, rain was expected to ease in northern and eastern parts of the South Island on Monday.
Thursday will be the day to get out and play, with a ridge of high pressure set to deliver a fine day for most parts of country. The North Island may just get lucky with a few hours of sunshine on Friday as well.
However the settled weather was likely to be short lived as another front was expected to make its way across the country on Friday and Saturday, which would see the rain return.