A tornado has severely damaged a radio transmission mast in Waikato, disrupting the broadcast of New Zealand's major radio stations.
The wild winds have ripped off the top three sections of the transmission tower at Ruru, north of Cambridge, taking multiple radio stations in the region off the air. An FM broadcast antenna is reportedly "mangled".
NZME stations The Hits (98.6FM), Newstalk ZB (1296AM) and Radio Sport (792AM) are still on air. ZM, Coast, Hauraki and ZB (FM) are off air. These stations can be listened to online via iheartradio.co.nz.
Mediaworks stations are also off air.
The airwaves are likely to stay silent until tomorrow as crews may not be able to safely fix the broadcast mast in tonight's wild winds.
The damaging gales came as heavy rain pelted Auckland commuters during rush hour, causing traffic congestion around the city. Dunedin was also expecting thunderstorms with possible hail this evening as a front moved in from the east.
It follows a day of miserable weather around the country, with strong winds battering central New Zealand and heavy rain in the north.
WeatherWatch.co.nz reported its station in Waione in the Wairarapa recorded a 140kmh gust this afternoon.
A Northern Fire Service spokesman said there had been several weather-related callouts with tree branches down in Pukekohe and West Auckland.
Further heavy rain is expected in the upper North Island tonight, with Whangarei due for 16mm between 8pm and 10pm.
Metservice forecaster Tom Bell said the rain band would hang around from Northland down to Taihape and the Bay of Plenty for the next few hours before slowly working its way offshore to the east tomorrow morning. Winds should also drop tomorrow, the Metservice said.
Strong winds have battered the North Island all day and are still blowing, although they aren't as vicious as they were earlier today.
The northwesterly gales prompted warnings from road authorities that high-sided vehicles should take care on the roads. Around midday a large slip also fell on State Highway 2, blocking both sides of the Rimutaka Hill road for several hours.
The road has now been reopened. The slip was located on the southern side of the hill near Marchant Rd.
Overnight heavy rain caused flooding in Lower Hutt and the top of the South Island, while in Taranaki floodwaters have spilled into properties and power was out to hundreds of homes in Stratford and Waitotara.
Torrential rain bucketed down on the top of the South Island and across the lower North Island prompting concerns about flooding.
Taranaki Civil Defence warned people to watch for rising rivers with the worst of the rain set to drench the region around 1pm.
MetService has a strong wind warning in place for Wellington, where northwest gales are gusting 130km/h in exposed places.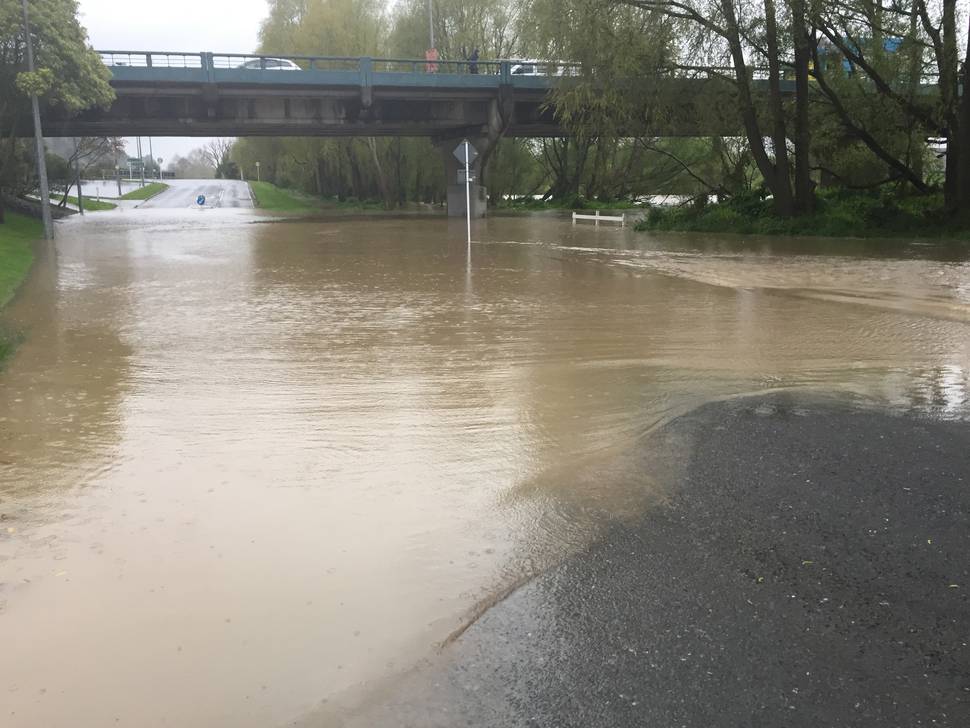 Earlier today parts of Lower Hutt were flooded after what the Hutt City Council said had been a wild night of heavy rain and strong winds.
Block Rd and the Riverbank car park were closed because of surface flooding. Harcourt Werry Drive is flooded, but remains open.
Part of Wellington's urban motorway was briefly closed after strong winds left a lamp post teetering over traffic.
The NZTA removed the street light after gale-force northwesterlies nearly blew it over on to State Highway 1.
Highways across the Tasman and Buller districts at the top of the South Island are inundated by floodwaters including the road between Rai Valley and Pelorus, SH67 at Granity and SH6 at Murchison and the Buller Gorge.
The strong winds battering Wellington were expected to ease this afternoon before whipping up over Auckland this evening.
MetService says more than 100mm of rain fell over 12 hours in the Marlborough Sounds and Tararua Ranges.
Motorists are being advised to drive with extreme care.
The Rimutaka Hill Rd was closed for a few hours overnight because of the wind but opened this morning. The New Zealand Transport Agency isued a warning to high-sided vehicles and motorcyclists.
Roofing became loose on the Spark Central building, closing the central city's Boulcott St.
Eight flights, including five to Christchurch, were cancelled this morning, and others delayed.
MetLink said ferry and bus services were affected.
High winds forced trolley buses off the roads with shuttles taking passengers between Seatoun, Miramar and a section of Rongotai Rd.
Further north a strong wind warning had been issued to travellers using the Desert Rd.
Heavy rain and wind warnings have been issued for much of central New Zealand, after western areas were drenched yesterday.
Lightning was spotted in the Tasman last night and MetService said "rumbles of thunder" were likely in the North Island today.
People were being warned to watch for flooding and slips, with waterways expected to rise dramatically and driving conditions becoming hazardous.
Strong damaging winds are also expected to barrel through eastern regions of both islands.
The winds were expected to gust up to 130km/h in Wellington and the top of the South Island until mid-morning, while gusts up to 120km/h could buffet Hawke's Bay.
MetService warned wind could damage trees, powerlines and unsecured structures and make driving hazardous. The warm, windy and wet conditions come from a strong, moist northwest flow spreading north over the country.
It will bring periods of heavy rain to Mt Taranaki with possible thunderstorms and downfalls up to 20mm per hour.
In the Tararua Ranges, up to 220mm of rain could accumulate over yesterday and today, and thunderstorms are expected.
Thunder and heavy rain would also hit Buller and the Nelson ranges until this evening. Up to 220mm of rain is expected about the ranges and up to 130mm nearer the coast.
MetService said there was a moderate risk of thunderstorms from Waitomo through to Wellington late this morning. The storms would move east over the lower North Island in the afternoon. There was a small possibility of thunderstorms up to Northland by the evening.
Yesterday warm air from Australia caused a spike in New Zealand temperatures. Christchurch hit 25C and Hastings soared to a 27C high.
Northern New Zealand saw mild weather and temperatures in the 20s.
But the humid air brought heavy rain in the west, and strong winds gave central and southern New Zealand a battering.
A woman was seriously injured after a tree came down across her car in Christchurch and a truck rolled in high winds on the Lewis Pass, leaving its trailer dangling over a bridge.
A large slip came down across a central Wellington city road and fierce thunderstorms marched up the South Island, which had 10,000 lightning strikes in just two hours.
Today's weather outlook
Whangarei:
Rain, possibly heavy. Northwesterlies. High 20C, Overnight 13C
Auckland:
Rain, possibly heavy. Northwesterlies. High 19C, Overnight 12C
Tauranga:
Rain, possibly heavy from afternoon. Northwesterlies. High 19C, Overnight 12C
Hamilton:
Rain, possibly heavy, easing to showers evening. Northwesterlies. High 18C, Overnight 10C
Napier:
Rain at times, clearing evening. Gusty northwesterlies. High 22C, Overnight 11C
Wellington:
Rain, easing to showers morning. Northwesterlies gusting to 120 km/h. High 16C, Overnight 9Ct