Adding to the South Island's weather woes, forecasters have warned of potential flash flooding threatening trampers in Mt Aspiring national park.
The Department of Conservation has issued a high alert for the Young Valley, part of the Gillespie Pass track following a heavy rain warning from the Metservice.
Trampers are advised not to camp in the valley and to move through as quickly as possible.
Meanwhile, homes have had roofs torn off and property is being ripped apart as fierce winds batter the South Island.
At least two houses in Clyde have lost their roofs and other property is badly damaged as winds roar through the Mackenzie Country.
The wind is so fierce the district's mayor is warning people to stay inside as pieces of metal and wood are picked up by violent gusts and hurled through the air.
Part of Sunderland St was closed off in Clyde due to the risk of falling trees, but it has since reopened.
The wild winds are not expected to drop until later this afternoon with 100 km/h gusts continuing to buffet the region.
About 150 pupils at Clyde School are being forced to spend the day in their classrooms until the wind eases.
But MetService is discounting reports of a tornado sweeping through the area saying a very strong wind gust from the north-west was responsible for damage to property and debris flying through the air.
Forecaster Heath Gullery said there had been no tornadoes in the area today as rain and thunderstorms were needed to spawn twisters. While incredibly windy it remained dry.
Police are warning motorists to take extra care as the storm-strength wind makes driving hazardous in the Tekapo Twizel area.
Also, a large slip has blocked the Crown Range Rd.
Fire and Emergency southern communications shift manager Rewi Grace said the damage was so far concentrated on Clyde where roofs have peeled, glass panes blown in, fences flattened and sheds toppled.
Central Otago District mayor and Clyde resident Tim Cadogan said the township was being ravaged as a windstorm left a trail of destruction.
Scores of trees had been toppled, property damaged and all detritus was swirling through the air.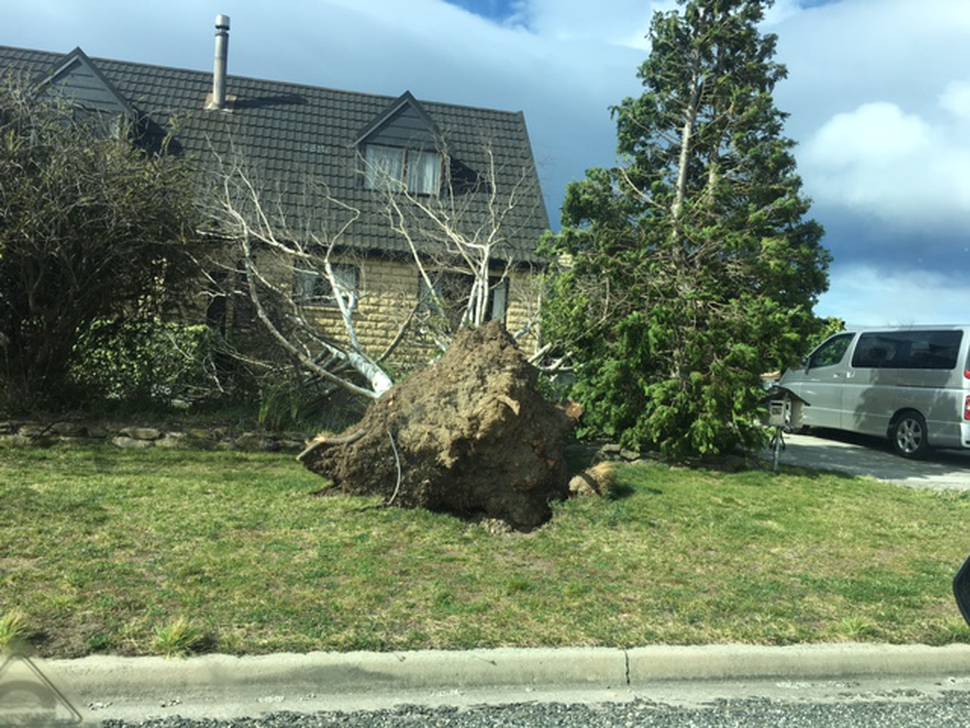 "I don't think I have experienced the likes of wind like this in my life," he said.
Emergency services were doing their best to secure damaged homes and properties.
Cadogan said the destructive and unpredictable wind gusts were so dangerous, residents should not try to shore up damage until the storm had subsided.
"We're strongly encouraging people to stay inside," said Cadogan.
"People are putting themselves in harm's way if they're going outside to fix their damaged property.
"Stay inside and worry about fixing stuff later."
Earlier today wild winds in the capital grounded the Prime Minister's plane.
A small twin engine charter aircraft carrying Bill English and journalists was due to leave Wellington for Kaikoura for a campaign engagement, but has been cancelled because of strong wind at the airport.
A number of passenger flights landing at Wellington Airport were also delayed by blustery conditions, but flights were now quickly getting back to schedule. More disruption was expected this afternoon as winds gathered strength.
It is the start of a barrage of fronts that will bring damaging gales and heavy rain across New Zealand over the next 48 hours.
Powerful northerly gales ramping up to 120km/h are expected to buffet central New Zealand from late morning and blast the region for up to 12 hours. Much of the South Island's western coastline can also expect heavy rain.
The New Zealand Transport Agency earlier warned motorists in Arthurs Pass to watch for potentially dangerous wind gusts today.
The Queenstown Lakes District Council said a significant slip had left one lane blocked on the Crown Range and more rubble may come down.
The road would remain closed until the area was made safe and the debris cleared. No timeframe has been given on when it would reopen.
Wellington's Civil Defence is warning residents to secure anything that is likely to blow away in today's spring blast.
MetService says a constant barrage of fronts and lows will charge across the Tasman Sea over the weekend.
Rain is expected over northern and western regions today and Sunday, although the northwesterly winds would bring drier, warm conditions to eastern regions.
Fiordland, the Westland Ranges, and the headwaters of the Canterbury and Otago lakes and rivers south of Arthurs Pass can expect up to 220mm of rain by later today.
Forecasters warn the drenching could lead to flash flooding, slips and make driving hazardous.
Snow is expected to fall on central Otago skifields after lunch and a significant dump is expected over the weekend.
Meanwhile, Gisborne and Hawke's Bay would continue to enjoy summer-like temperatures with the mercury expected to rise into the mid 20s.
Some weather stations on the East Coast were hitting of 27C at midday. Gisborne was on 23C and Hastings 24C by lunchtime.
However, the temperature was expected to drop on Sunday when a strong cold front sweeps across central and northern New Zealand, bringing yet more rain.

A reprieve between fronts should mean tomorrow's rugby test between the All Blacks and South Africa in Auckland will be played in fine conditions.
Another spell of wintry weather was expected to hit the far south of the country on Sunday, bringing heavy rain, snow and biting cold southerlies to Southland and Otago.
Snow was not expected below 800m in eastern Otago and not expected to cause problems in the regions towns or roads at this stage.
The chilly weather was expected to last until Tuesday.