Three German travellers are hailing a Northland man and his backpacker helpers as heroes for finding their stolen belongings dumped in Bay of Islands bush.
On September 3 thieves smashed their way into the trio's car at Waitangi while they went on a short kayak trip. Though it was broad daylight at a busy location the offenders took almost everything, including backpacks, cameras and clothing.
The young women - Paula Sima, 25, Patricia Furtner, 26, and Thalia Doering, 27 - didn't even have dry clothes to change into after they were caught in the rain while kayaking.
Once their car window was repaired they returned to Kaikoura, their base during a year-long working holiday, to save up for replacement gear.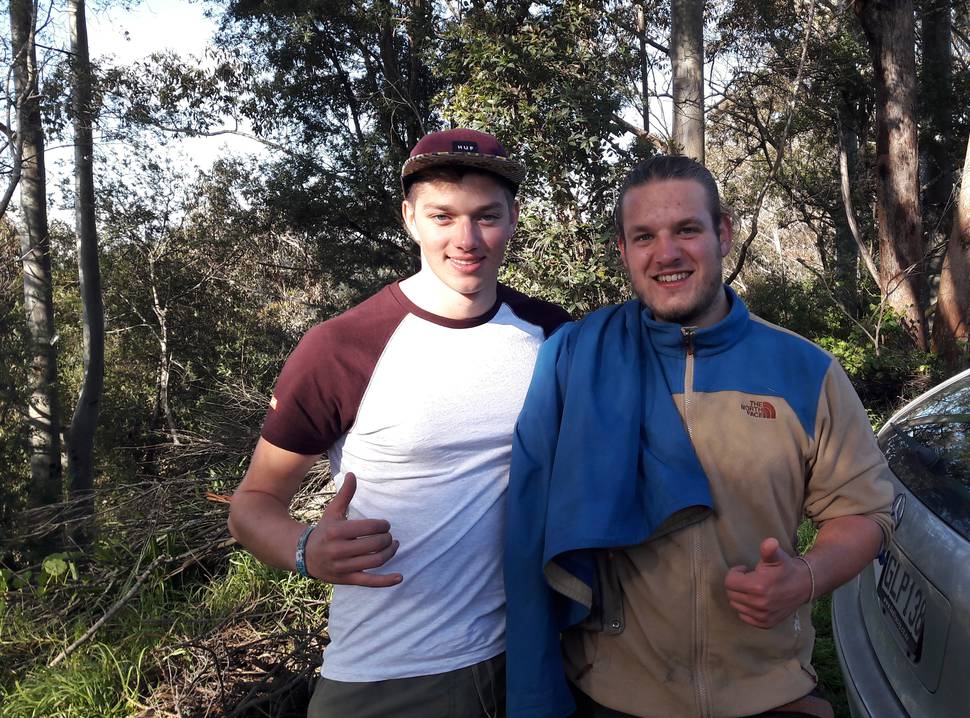 A story about their plight in the Advocate on Saturday was read by a Kerikeri man who had a similar experience when visiting Rome with his wife 25 years ago.
The man, who did not want to be identified, said he knew how traumatic it was so he tracked down one of the tourists via Facebook to offer help, then set out to find their property.
He thought about the route the thieves would have taken and searched the back roads around Waitangi. Intuition and good luck led him to a layby off Haruru Falls Rd where, peering over the edge, he saw clothes scattered down a steep bank and backpacks far below.
He sent a photo to the women to confirm it was theirs, then went home for ropes and a pole to retrieve clothing stuck in trees.
With only one overworked police officer in Paihia he went to a backpackers hostel in Paihia to enlist help, jokingly telling two young German men, Florian Spiegl and Marc Licher, it was their national duty to assist. Mr Spiegl told him: "We backpackers are a family, we would do it for anyone, regardless of nationality".
It took half an hour to retrieve all the property with the young Germans clambering down the bank and the Kerikeri man hauling it up in a bucket on a rope.
He played down his efforts, saying the young men deserved credit and his find was "a huge bit of luck", but the three backpackers saw it differently.
"He is our superhero. He was really looking for our stuff," Ms Furtner said.
Ms Sima said they were hugely grateful to everyone who had helped, and they planned to come back to Northland in November to say thank you in person. They had also invited the backpacker helpers to visit them in Kaikoura.
"It's so amazing. What happened to us was such a bad story but now it's so good, because a lot of people helped us. It's so lovely."
"There are more good people than bad people," she added.
The trio had already been contacted by police on Saturday when a woman walking near Bledisloe Domain, Haruru Falls, found a daypack dumped near a bush track.
Acting Sergeant Mark Roberts, of Kerikeri police, said the backpackers' property was sodden after being in the rain for a week so it was drying out in a storeroom. Once it was dry police would have it couriered at their expense to Kaikoura, he said.
Only then will it be known how much property is still missing.
The trio, who come from a village near Munich, are helping rebuild the earthquake-shattered highway at Kaikoura.
■ Police are still keen to hear from anyone with information about the theft. The backpackers' vehicle, a white Honda Odyssey, was parked in front of the old sailing ship by Waitangi Bridge. Call Kerikeri police on (09) 407 9211.