A Whangarei man travelling behind a car which crashed into a guard rail on State Highway 1 believes the rail saved the lives of the four people in the vehicle.
Brad Flower was driving from Whangarei to Taupo on Sunday around 1.15pm when the accident happened. He captured the spectacular crash on his dashcam video.
The video shows a white car, travelling south on State Highway 1 just north of Kaiwaka, veer to the left of the road and crash into the end of a guard rail.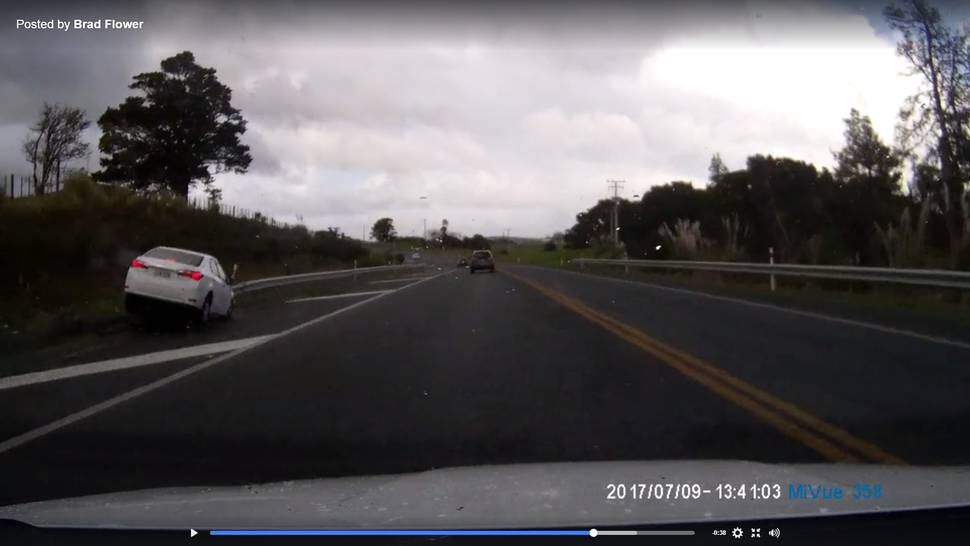 Mr Flower said he had just come to the end of a passing lane and was travelling at between 90 and 100kmh when he saw the car start veering off the road.
"Next thing we know it's catapulting sideways towards us."
He said he had to swerve into the northbound lane to avoid the car hitting the vehicle, as did the vehicle behind him.
Mr Flower said the car had not been swerving or driving dangerously prior to the crash.
He said the guard rail, along with the safety features of the car, saved the lives of the driver and three passengers.
Mr Flower said if the car had gone further to the left it could have gone up a hill and rolled, and if it had veered right it may have ended up facing oncoming traffic.
"I think the guard rail did exactly what it was supposed to do."
He said it absorbed the speed of the car pretty quickly.
Mr Flower pulled over and his wife called emergency services and the couple waited for them to arrive.
Senior Constable Llew Smart said the two adults and two children in the vehicle were heading home from a tangi.
The driver told him the vehicle shuddered before veering off into the rail. The car's airbags deployed on impact.
He said all four of the occupants were wearing seatbelts and no one was badly injured.
Mr Smart said they were checked out by St John staff at the scene and no one was taken to hospital.
He said the guard rail had some damage, but was still functional.
Mr Smart said an investigation into the vehicle is under way to determine what caused the accident. He said charges were unlikely.
In May, the New Zealand Transport Agency said the newly installed flexible safety barriers on the shoulder and in the centre of the road over the nearby Brynderwyns had prevented at least 20 potentially serious crashes.
The barriers are designed to "catch" the vehicle and push it back into its lane.
A transport agency spokesperson said guard rails are used as part of the Safe System approach to road safety, that while mistakes are inevitable, deaths and serious injuries are not.
"The Transport Agency is investing in improved roads and roadsides that are increasingly safer for all road users when people make mistakes."