Rotorua is set to be the scene of the latest attempt at the world's largest haka this weekend - with the aim of smashing the record with 10,000 participants.
Locals and visitors are invited to come together at Rotorua's Village Green at midday on Saturday and perform the famous haka Ka Mate in an attempt to bring the record home to New Zealand.
The official record is held by the French at 4100 people, but to beat the most recent attempt, an epic giant haka performed by thousands of school children in Masterton last year, will need more than 6200 people.
There is also another chance to get your hands on tickets to Saturday's game between the Maori All Blacks and The British & Irish Lions.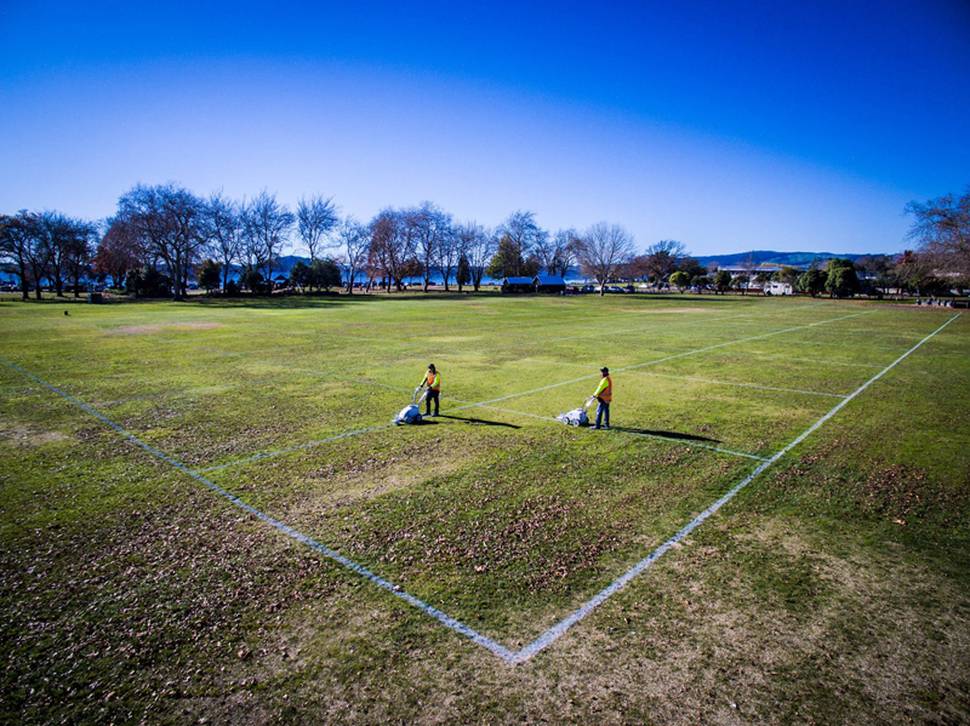 Destination Rotorua has four more tickets which will go to two 'stand-out' fans at the haka between 10.30 and midday.
There will also be trip to OGO Rotorua up for grabs for the most 'stand-out' group.

Entry to the haka arena officially opens at 10.30am with entertainment and haka practise before the formal attempt at midday. Participants are encouraged to get there early so there is plenty of time to get everyone in place.
Bay of Plenty Regional Council is providing free rides on the City Ride bus service all day Saturday.
Click here to see the full City Ride bus timetable
While everyone is gearing up for the formal attempt there will be face painting, banner and flag making in the Fan Fair area, games and competitions at the activation area, and prizes and giveaways.

The Bay of Plenty Steamers will be at the Village Green from 10.30am to 11am for a public meet and greet. Food and beverage trucks will also be available.
Last week the Village Green was painted with a grid of 100 squares which will act as markers to help count the number of participants. There is enough space to get 10,000 plus people doing the haka.
Step by step video tutorial on how to do Ka Mate below:
Video will play in
Play now
Don't auto play
Never auto play
As participants arrive they will be handed a ticket with a barcode which will be scanned. The MC on the day, Paul Hickey from The Hits radio station, will be keeping everyone updated as the numbers grow.
Two hundred volunteers from Rotorua schools will be stationed around the arena to help count the participants and to make sure everyone knows the moves and performs the haka correctly.
Check out Altitude Photography's 360 photo of the Giant Haka grid here
Leading the haka on the main stage will be kaitataki (leaders) Wetini Mitai-Ngatai and Eraia Keil together with students from Rotorua Boys' High School and Rotorua Girls' High School. The students will also be out and about in the crowd helping other participants.
The words to Ka Mate will also be shown on the large screen.
During the official attempt, volunteers will be scanning the crowd to make sure everyone is performing the haka correctly - this is an important aspect of making sure we break the record.
The official record attempt will start shortly after midday.
Ka Mate words and translation:
Ka mate! Ka mate!
Ka ora! Ka ora!
Ka mate! Ka mate!
Ka ora! Ka ora!
Tēnei te tangata pūhuruhuru
Nāna nei i tiki mai
Whakawhiti te rā
Upane! ka Upane!
Upane! ka Upane!
Whiti te rā!
Hī !!!
Translation
Will I die! Will I die!
Will I live! Will I live!
Will I die! Will I die!
I live! I live!
For it was indeed the power of a woman (te noa)
That fetched the Sun
And caused it to shine again
One upward step! Another upward step!
Further upward! And advance!
Into the sunlight!
Hī !!!
You can find more information about Ka Mate and its origins here.