The victim of a brazen carjacking was so shocked he didn't say a word for several minutes after he was dragged from his car in suburban Auckland this morning, a man who came to his aid told the Herald.
The frightening incident occurred just after a crash between a stolen car and another vehicle at the intersection of St Lukes and New North roads, in Mt Albert.
The driver of the car, believed to be wanted man Haumia Manuel, had earlier accelerated away and gone through a red light after being spotted by police.
After the crash, the driver was seen running down a line of traffic - testing doors of cars as he went, before opening one and dragging its driver out.
A man who lives nearby watched from his kitchen window as the shocking scene unfolded soon after 9am.
He and his wife had rushed to the window after hearing a bang.
"We saw these two cars almost by the intersection, kissing each other. We realised it was an accident. Next thing we saw, bang opposite our kitchen window, these two guys having a scuffle, almost a boxing match ... this guy was trying to pull the driver out so he could hijack the car."
The couple then watched as the fleeing driver smashed into their son's uninsured Toyota M2 car, which then struck and damaged their garage and the couple's Toyota Prius inside.
The front gate and a fence behind it were also destroyed by the driver, and a "gaping hole" left in the corner of their garage.
The man, who did not want to be named, was stunned by what was happening outside his home of more than two decades.
"We saw police on foot, we heard the Eagle helicopter ... we could hear sirens and see people running around. It was basically commotion - we did not know what was happening, where to look."
Then he saw the young man who had been dragged from his car, before being struck by it as the offender fled.
"Our thoughts and human nature went out to him ... we saw him shaken up. We welcomed him in."
The man, believed to be aged in his early 20s, was silent at first.
"He was in shock - lost for words."
The couple also took in a woman who had been in the car immediately behind the carjacked man.
"While we waited for the ambulance, we tried to make them comfortable. Sit down, do you want something to warm you up? Cup of coffee, tea?"
The man's jeans were torn and his knee was bleeding, and he also had an injured elbow and hip, but as his shock eased - and freshly brewed coffee hit his system - he reassured the good Samaritans.
"[He said] 'I'm okay, I'm okay'."
Inspector Jason Greenhaigh said the man suffered cuts and bruises but did not need to go to hospital, and the driver involved in the intersection crash also did not need hospital attention.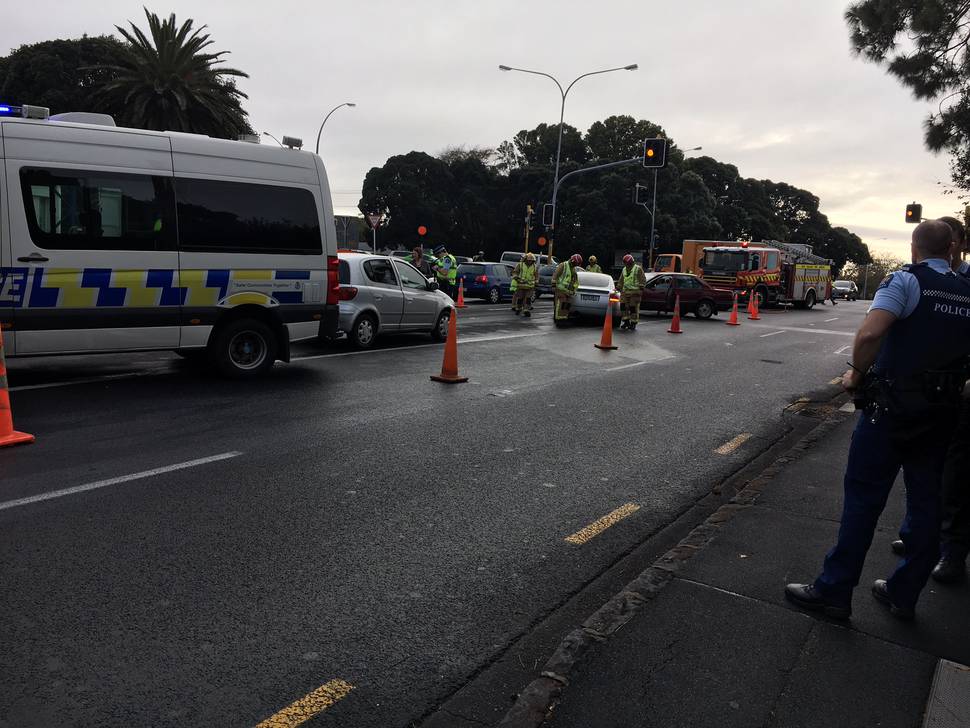 Police had tried to stop the offender using Tasers and pepper spray, but failed.
Another New North Rd neighbour, Losa Moata'ane, described seeing "police with the Taser gun screaming out ... police were Tasering him and he took off with his door open."
A woman in the car with the offender went to another neighbour's house, Moata'ane said.

"My neighbours didn't know there was a crash. They gave her a cup of tea."
A police spokeswoman said the woman was helping police.
The second stolen car was later found dumped outside a home in Harrington Rd, Henderson.
Numerous police, including dog handlers, were this afternoon swarming the area, but Manuel is yet to be found.