Winter last night arrived early for many New Zealand towns, plunging temperatures down as low as -6.5C in the Central North Island.
MetService reported that the mercury last night fell to -6.5C at Waiouru, -5.7C at Mt Cook, -4.9C at Raetihi and Arthurs Pass, -3.4C at Blenheim, -2.3C at Taupo, -2.2C at Methven, -2C at Hamilton, -1.4C at Timaru and -1C at Hokitika and Whakatane.
At Ardmore airport in Auckland, the temperature fell to 4.1C.
A major highway north from Dunedin and a stretch of State Highway 1 in the Central Plateau are closed to vehicles this morning due to snow.
Most of State Highway 87 between Sutton and Outram is shut, the NZ Transport Agency said.
The Desert Road stretch of SH1 across the Central Plateau also remains closed this morning, because of snow.
It's been closed since late yesterday afternoon.
A snow plough and other contractors were brought in to clear the road and allow trapped trucks and cars to get through.
Some made their way out without help but others had to be towed.
Heavy snow on Saturday caused major disruptions across the country, delaying flights, closing roads and making driving treacherous.
And the icy chill is not over yet.
Severe weather watches are in place for Wairarapa, including the Tararua district, until mid-morning today and in Hawke's Bay and Gisborne until mid-afternoon.
Police warned people to delay travel on the Desert Road if possible or go through Napier or New Plymouth.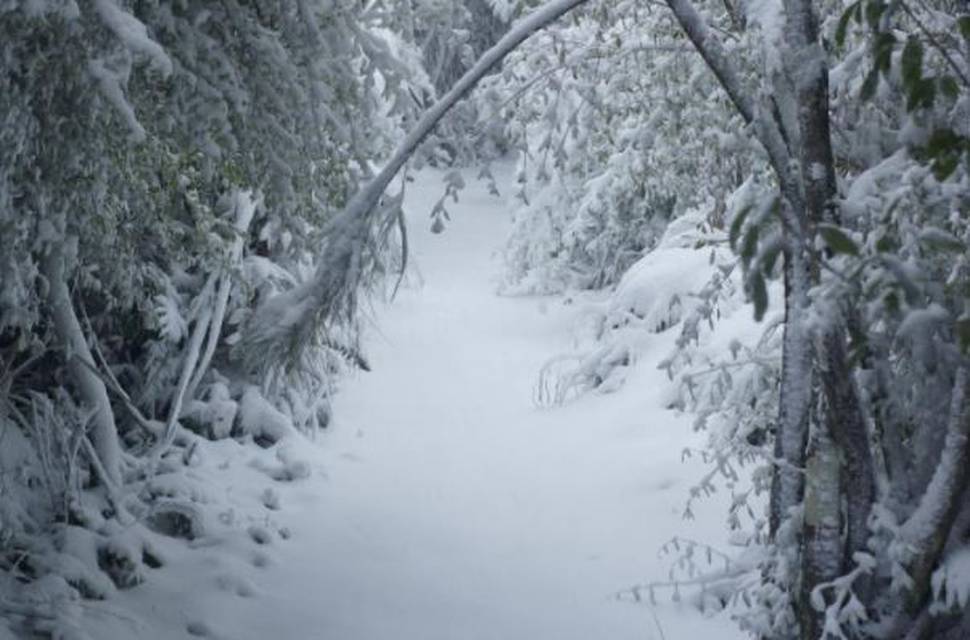 Flights in and out of Queenstown were cancelled or delayed yesterday while others were put on hold while staff worked to clear snow off the tarmac.
The heavy dumping of snow also saw the NZ Transport Agency warning drivers to take extra care on several state highways in the deep south, telling motorists chains must be carried.
Farmers were also urged to check on livestock.
But the wild weather was a promising sight for skiers with snow falling on Mt Ruapehu for the first time this year as well as further south at Coronet Peak and on the Remarkables.
If all goes to plan, Whakapapa ski field will open on June 10 and Turoa on July 1. In the South Island, Mt Hutt ski area is scheduled to open on June 9, the Remarkables the following day, and Coronet Peak on June 17.
MetService meteorologist Nicole Ranger said clear weather was on the way for most of the country as a ridge pushed on from the west, however the cold snap would continue into the week.
Icy temperatures were expected to drop even lower than last night, tonight, with the likes of Queenstown plummeting to -3C.
Frosts could even reach as far north as Northland tonight.
There's expected to be a low of 4C in Kerikeri in the Bay of Islands, which could mean a frost there.
Looking ahead:
Whangarei:
Sunday:
High 16C, low 5C. Partly cloudy with chances of showers, fine from late afternoon. Southerlies dying out.
Monday:
High 15C, low 7C. Mainly fine, possible morning frosts.
Tuesday:
High 16C, low 8C. Partly cloudy.
Auckland:
Sunday: High 14C, low 3C. Partly cloudy with chances of showers, then becoming fine. Southwesterlies dying out.
Monday: High 14C, low 5C. Fine. Possible morning frosts.
Tuesday: High 15C, low 9C. Partly cloudy.

Hamilton:
Sunday: High 12C, low -2C. Crisp, clear day with morning frosts.
Monday: High 13C, low -1C. Crisp, clear day with morning frosts.
Tuesday: High 14C, low 4C. Mostly cloudy.
Wellington:
Sunday: High 10C, low 6C. Often cloudy, chance of shower until evening. Strong southerlies gradually dying out.
Monday: High 13C. Low 10C. Mainly fine. Northerlies becoming strong later.
Tuesday: High 14C, low 9C. Mostly cloudy. Strong northerlies easing.
Christchurch:
Sunday: High 10C, low -1C. A few showers, clearing in the afternoon. Southwesterlies dying out.
Monday: High 12C, low 0C. Fine with morning frosts. Northeasterlies developing.
Tuesday: High 15C, low 2C. Fine with high cloud. Northeasterlies dying out.
Queenstown:
Sunday: High 8C, low -3C. Mainly fine with early frosts, chance of a morning shower. Southerlies dying out in the morning.
Monday: High 9C, low 1C. Fine with morning frosts. Westerlies developing in afternoon.
Tuesday: High 13C, low 3C. Cloudy periods, chance of showers. Westerlies dying out.