A cordon has been lifted on wide area of Wellington, including streets next to Parliament, following a bomb scare.
Part of Victoria University's Pipitea Campus was evacuated, and lectures cancelled.
Specialist bomb squad dogs were sent in to the area, but after a thorough search, didn't find any "items of concern".
The cordons are now being taken down, although police inquiries into the incident are continuing.
Bus services were delayed, due to the city's main interchange being inside the cordon.
Pedestrians and motorists had faced difficulty travelling, after the police cordon was extended to include cordon points on Lambton Quay and Whitmore St, Molesworth St and Hill St, and Bunny St and Waterloo Quay.
Featherston St and Whitmore St were also affected, as was Mulgrave St and Featherston St.
Metlink said services were diverted while the bus interchange was closed.
The Railway Station and trains were unaffected.
Pedestrians were still able to walk through Parliament Grounds, but were reminded to follow the instructions of police at cordon points.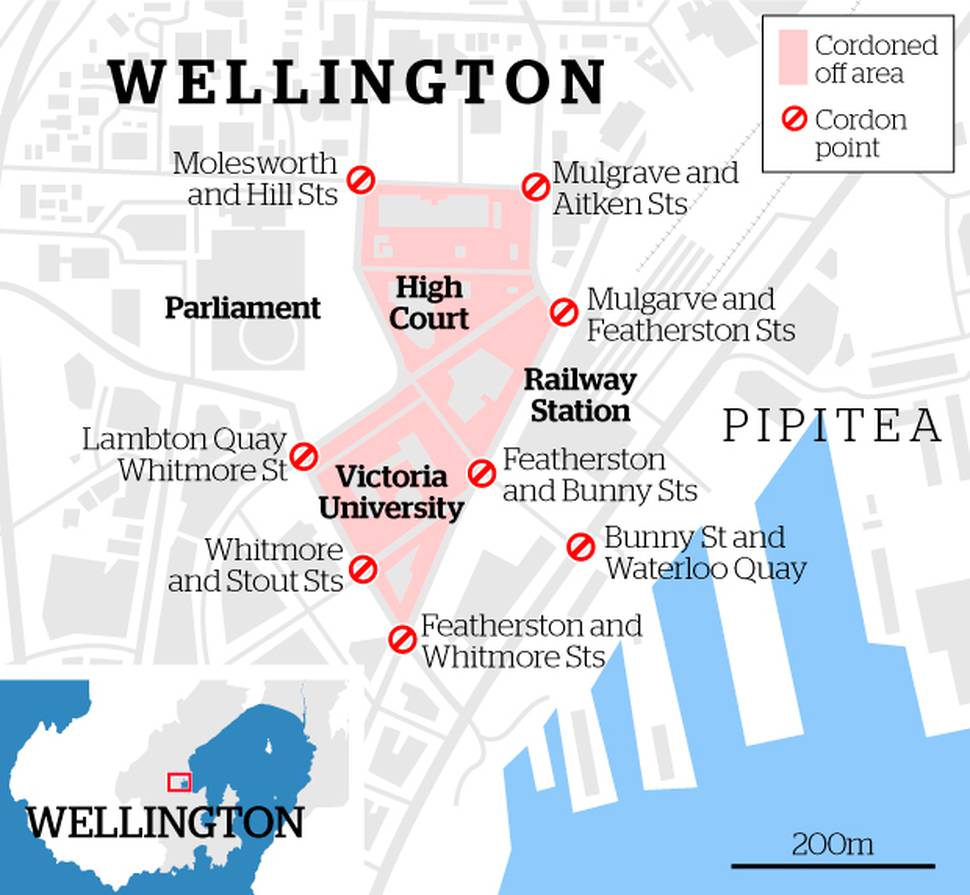 A Victoria University spokesperson said staff and students who were in Rutherford House had all been evacuated to a safe distance from the building.
Rutherford House is part of the university's Pipitea campus, near Parliament and the Wellington Railway Station.
The campus is home to the School of Management and the Schools of Government, Law, Economics and Finance, Information Management, Marketing and International Business and Accounting and Commercial Law.
All Victoria Business School lectures and tutorials have been cancelled for the rest of the day, even those being held in different buildings.
In the rush to evacuate, some students left their belongings in Rutherford House. They're being advised to keep an eye on the Victoria University Facebook page, to find out when they can get their belongings back.
Students are being offered support, with services available in the student common room on the ground floor of the Old Government Buildings.