It was a once in a lifetime moment for Wellington zookeeper Joshua Forrest - racing through the Nepal wilderness to catch a glimpse of a red panda in its natural habitat.
"There are people who have dedicated their lives to saving red pandas that haven't been as lucky as I was," he said.
It was his final day of field work in Nepal, where he was based to help the conservation group Red Panda Network, when he caught a sight of the endangered animal in the wild.
He and the other workers were split into teams trying to identify areas where the red pandas would have their habitats, when he got a message that one had been spotted.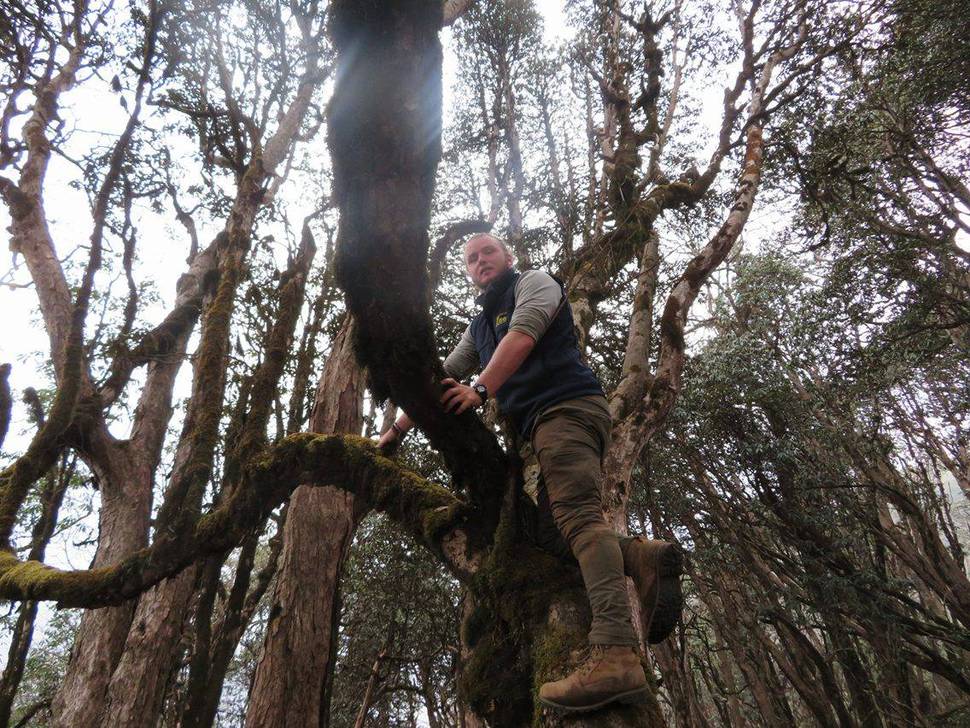 "We raced up this hill - I say raced up, I sort of waddled up as quickly as possible, the altitude was still getting to me . . . [we saw] this panda way up in the trees, slowly waking up. We just sat there watching him for a good 15 minutes or so."
Eventually the panda climbed down the tree and "did this little panda strut" down a gully and out of sight.
It's a rare thing to witness - as Forrest says, some people will spend their lifetimes working to protect the species, and never spot a red panda in the wild.
"I guess the reality of it hasn't really, it still hasn't hit home fully," he said.
He was starting to appreciate "just how special that moment was".
"Just being able to see such an endangered species in its wild habitat, words can't really describe it, I guess how much that meant and how privileged I feel."
The moment was a highlight for Forrest's time in Nepal, which was made possible by Wellington Zoo's conservation efforts.
The zoo provides staff with "conservation leave", which they can apply to take to work on their chosen conservation effort.
Staff must pick one of the zoo's conservation partners, work with the partner to figure out what would be involved, then pitch the case to the zoo's conservation manager.
Forrest's application was successful, so he was sent off on a two month trip to Nepal to work with the Red Panda Network, which was one of the zoo's newest conservation partners.
Wellington Zoo is also partnered with 21st Century Tiger (UK), Golden Lion Tamarin Association (Brazil), Cheetah Outreach (South Africa), Fauna and Flora International (Vietnam), Free The Bears (Asia), Proyecto Titi (Colombia), TRAFFIC (Southeast Asia), Kea Conservation Trust, the Jane Goodall Institute, and Save the Tasmanian Devil Program.
The main purpose of Forrest's trip was to build a relationship with Red Panda Network. His work with the group involved searching the habitats for signs of the panda to monitor their populations, as well as speaking to communities and groups.
He was based in the Taplejung and Panchthar districts.
Something Forrest said he would take away from the trip as a "personal treasure" was the opportunity to see how the local communities lived.
"It wasn't a very touristy area. I felt like I got to see a very real and very raw side of Nepal life," he said.
"Just seeing those communities that, compared to us they don't have a huge amount, but they're as happy as they could possibly be. They're still really passionate about conservation, like they're still willing to, I guess, to take on extra work, to take on extra responsibility in order to protect their natural surroundings.
"They have a real connection to the land [and] environment. They understand how everything's intertwined and how without it their own well-being is compromised. Their connection with the earth is, yeah, just absolutely astounding."
Despite the rewarding experience, Forrest said the trip was not without its struggles. The altitude was something he never got quite used to, often being 3-4000m above sea level.
"Coming from a city that's pretty much zero metres above sea level, going up that high, it took its toll."
One trek from 1700m to a hotel at 4100m took 10 hours.
"About five hours of that was me sitting down out of breath," Forrest said.
The hike was during "complete blizzard conditions" with visibility only 2 or 3m ahead.
"Hiking through the snow, you would take a step forward, it would go right up to your knee."
The average hike between towns was 14 hours, he said.
Back home in New Zealand now, Forrest has nothing but good things to say about the red panda he has spent his time tracking.
"They're just, like, adorable. You can't not look at them and see that cute side of them.
"They're just, like, an iconic animal, so it's hard not to fall in love with them."
He wanted people to know they could make a real impact on the conservation efforts for red pandas with simple actions, such as using recycled paper or buying FSC (Forest Stewardship Council) rated wood.
Even going to Wellington Zoo and booking a close encounter with the red pandas there went towards helping protect the species. Ten per cent of costs from the encounter goes to the zoo's conservation fund.
"None of this is possible without obviously the love and support of our visitors," he said.
He said he wanted to thank visitors and the zoo for the opportunity to go on a conservation trip that would stay with him for the rest of his life.