The opening ceremony of the 2017 World Masters Games has begun at Auckland's Eden Park.
Eden Park is about three-quarters full for the opening ceremony.
Those in attendance have been vocal, cheering loudly after a haka and each speaker.
Prime Minister Bill English and Auckland mayor Phil Goff have both addressed the crowd.
English has officially opened the Games.
The athletes are now taking laps of the stadium representing their sport.
Athletes and supporters in attendance were treated to a rousing haka ahead of the speeches.
A spectacular laser light show and lights set up on every seat have lit up the stadium.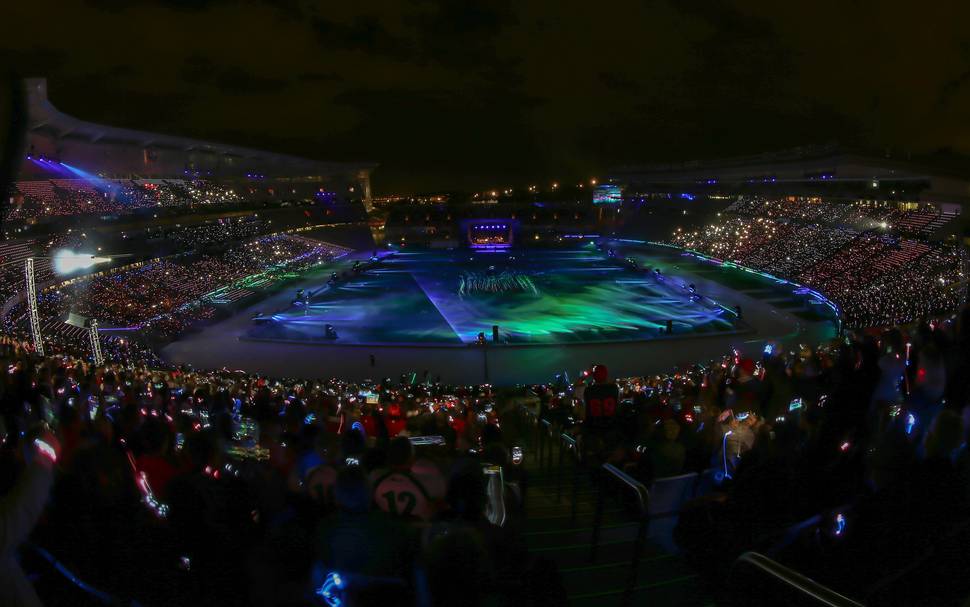 The crowd began to disperse once the athletes began making their way around the stadium during the parade.
Roads around the stadium including part of Sandringham Rd were closed during the ceremony.
About 15 buses waited on the outskirts of Eden Park to take athletes to and from the stadium.
Kingsland train station was full of ceremony attendees who were trying to make it back into the central city.
Some appeared confused as to where to go at the train station, with one Russian athlete asking where the train to Britomart was.
Despite limited English, he gave a thumbs up when asked if he enjoyed the opening ceremony.
Bars and restaurants in nearby Kingsland were thriving after the ceremony as people made their way from Eden Park.
Traffic on busy Dominion Rd was heavier then normal as punters looked to catch taxis and head back to central Auckland, but had settled down by 10pm.
The event is closed to the public.
Some of the big names competing at the Games include Victoria Cross winner Willie Apiata who will play rugby with a number of former All Blacks.
Three-time gold medallist Sir Peter Snell will be playing table tennis, having donated pieces of memorabilia to Te Papa earlier in the week.
Former Silver Fern captain Anna Stanley will play netball for the "T'Bags", named after late netball star Tania Dalton who tragically died in February.
Athletes range in age from 25 to 101-year-old Man Kaur, who has travelled from India to take part.
She will participate in the 100m, 200m, javelin and shot put.
With more athletes than the Olympics, the World Masters Games is the largest multisport event in the world. Almost 25,000 athletes from 100 countries will descend on Auckland for the 10 days of the Games, including more than 10,000 Kiwi competitors.
Beginning in 1985, the Games are held every four years, and this year's version will encompass 28 sports being contested at 48 venues across Auckland and Waikato. There is no admission charge for spectators to attend events at any of the venues.
Each of the 28 sports will offer both men's and women's competitions.
World Masters Games 2017 chief executive Jennah Wootten says Aucklanders are "in for a treat, with plenty of opportunities to be involved, even if they are not competing".
"Being great hosts and making visitors feel welcome creates a lasting impression that is great for our global reputation," she said.
"It's something the city did brilliantly during Rugby World Cup 2011. Thousands of visitors went home, raving about their experiences in our city and country.
"We're hoping the same will be true of the World Masters Games."
Age is the sole entry criteria competitors have to meet for most events.
Reaching "masters" age is different for each sport. Swimmers are considered masters at 25, but for most sports, it is 35.