In pitch darkness rescuers heard a missing 8-year-old's voice in the water after she and her father were tipped out of their dinghy while fishing.
The pair had been on a 3.6-metre dinghy, which was discovered adrift by a fisherman about 4.30pm near the number 10 port marker in the Papakura Channel, said Coastguard spokeswoman Georgie Smith.
The boat still had fishing equipment on board.
Police called the Coastguard shortly after 5pm.
"Investigations quickly confirmed that a father and his 8-year-old daughter had been out fishing and were now believed to be missing," Smith said.
Coastguard put out an urgent call to volunteers to get two rescue boats from Papakura and one from Waiuku and another from Titirangi.
All four rescue vessels started searching for the missing pair, focusing on the Papakura Channel. The girl was found at 7.22pm.
"Coastguard volunteers on Papakura Rescue One heard a voice and quickly located the 8-year-old girl, who was believed to have been separated from her father for over an hour at that stage," Smith said.
"She was recovered from the water by Coastguard volunteers, cold, exhausted, slightly confused but otherwise unharmed."
It is believed she spent at least three hours in the water after the pair's dinghy capsized. She was found about three kilometres from where the overturned dinghy was found.
"It was nightfall by then so they were operating in pitch-black conditions and there was a 15-knot breeze on the Manukau Harbour which made the water slightly choppy," said Smith.
A spokeswoman could not confirm if the girl was wearing a lifejacket.
The girl was transferred by the Auckland Airport hovercraft to a waiting ambulance at the airport. A hospital spokeswoman said the child remained in the emergency department and is in a stable condition.
Speaking to the Herald from Bottle Top Bay where the Coastguard launched its search at 8.30am today, Daniel Pearce, Coastguard northern regions operations manager, said the rescue team was still hopeful it would find the man alive.
"We're hopeful for a successful outcome, of course, our volunteers will keep searching until told otherwise by police."
The fact the young girl had been found alive was a "great outcome", Pearce said.
Today's search would continue to focus on the Papakura channel.
Coastguard air patrol, a Coastguard rescue boat, a police helicopter and the rescue helicopter were involved in today's search.
Eight volunteers were working to find the man, with more on standby, Pearce said.
It was still not known whether either of the pair were wearing life jackets.
Pearce said conditions were somewhat choppy yesterday, with a southwesterly wind of about 15 knots.
He was not able to say at this point what had caused the pair to end up in the water.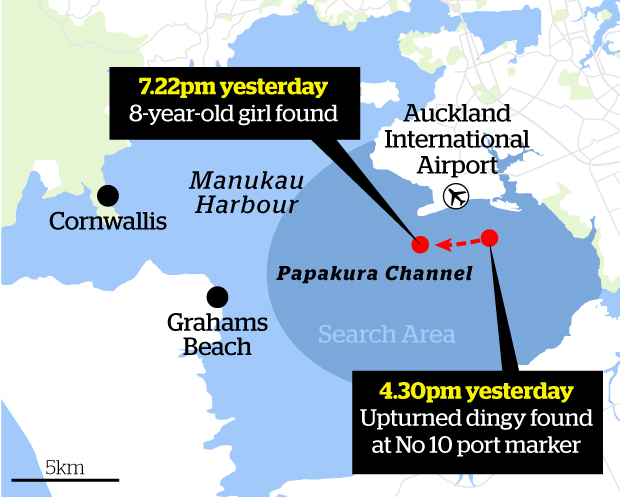 Coastguard volunteers, the Westpac Rescue Helicopter, police Eagle helicopter and airport rescuers continued to search for her father last night.
They covered about 10 nautical miles in six hours before being stood down by police shortly after 11pm.
Conditions were slightly choppy, and visibility limited last night. The channel is notorious for its strong current, which sucks boats out to sea as the tide goes out. High tide was at 3.50pm.