Major holiday routes are closed by slips and holidaymakers are being warned to stay off the roads unless it is absolutely essential.
The storm is weakening as it tracks off the east coast of the South Island, but scores of roads across eastern regions of the North Island are impassable because of trees blocking them.
Just after 6.30am a Cook Strait ferry sailing was suspended because of rough conditions.

Police say numerous roads across Hawke's Bay and Gisborne are partially or completely blocked by slips, fallen trees and flooding, and people should avoid travelling in the worst-affected regions.
Napier took a battering from Cyclone Cook this evening
This morning, key holiday highways are closed by slips, including the road across the Kaimai Ranges between Hamilton and Tauranga.
The Thames Coast Rd is closed and likely to stay shut throughout Easter.
Roads across Edgecumbe remain under water and there are a number of closures on State Highway 2 between Opotiki and Whakatane. Other roads across Bay of Plenty remain impassable from slips caused by last week's storm.
Large trees toppled in the storm were blocking the highway between Otamarakau and Matata.
The main beach highway remained closed between Opotiki and Waiotahi.
In Napier trees had fallen across the main north road but diversions were in place.
On Thursday Thames-Coromandel Civil Defence controller Garry Towler pleaded for travellers intending to holiday in the region this Easter to hold off until the council could assess the damage and provide an update.
Ford dealership in Whakatane has main windows blown in by force of cyclone
He expected more slips would have come down across highways and roads overnight.
In the South Island a large slip closed the Motueka Valley Highway about 20km north of Tapawera.
As the cyclone lay off the Kaikoura Coast bad conditions forced the Bluebridge ferry to suspend the 8am sailing from Wellington across Cook Strait. Passengers were told they would be transferred to the 1.30pm crossing.
However, sailings on the Interislander ferry were going to schedule.
List of road closures:
Auckland
• SH1 Takanini southbound traffic is congested and there are delays. Expect traffic to be heavy between 7am through to 3.30pm.
• SH1 Puhoi to Wellsford is experiencing congestion. This road is expected to be busy between 6am and 6pm today. Allow extra time for journeys and expect delays.
Waikato
• SH25 Thames to Coromandel, road is closed because of a major slip blocking both directions. Avoid this area or delay your journey if possible.
• SH29 Tauranga to Te Poi, caution advised due to a large slip covering both westbound lanes. One lane is open, but a Stop/Go system is operating.
• SH1 Huntly to Taupiri, traffic congestion is causing delays. Expect this road to be busy between 2pm and 5pm for northbound traffic and between 8am and 5.30pm for southbound traffic.
• SH2 Maramarua Eastbound, expect traffic congestion between 7am and 5.30pm.
• SH1 Ohinewai, caution advised due to flooding at the Ohinewai Interchange. The road northbound is restricted to one lane, delays possible.
• SH2 Paeroa to Waihi - the gorge is now open and under Stop/Go operation. Expect delays.
• SH25 neat to Sailors Grave Rd, Pumpkin Hill - both lanes are now open, after earlier washout, however, traffic management remains in place, and a speed restriction of 30km/h applies.
• SH29 Te Por to Tauriko closed in both directions due to slips in the area.
• SH25 between Tararu and Preece Point, road closed due to several slips along this section. The road is closed between Tararu and The 309 Rd.
Bay of Plenty
• SH34 Edgecumbe to Te Teko, the road is closed because powerlines are down. A detour is in place.
• SH2 near Pikowai camping ground on the Matata straight is closed because of a fallen tree and powerlines. This road is expected to open today. Detour is via SH30.

• SH29 Kaimai Range now has both lanes open.

• Further debris has falling on SH2 at Waimana Gorge. The road was closed because of a significant slip that required more investigation and work to bring the slip material down from top. It could be another two weeks before this is open.

• SH2 Pekatahi Bridge remains closed because of re-decking project. Some of the decking was swept away and scaffolding damaged in flood waters. This is not expected to reopen for some time.
• SH2 Napier to Wairoa, the road is closed between Petane Rd and McHardy St because of fallen trees, diversions are in place.
• SH38 Frasertown to Murupara, the road is now closed open after fallen trees were cleared.
• Old SH38 Aniwaniwa to Murupara, some sections of this road are closed because of a slip.
• SH5 Te Pohue, caution is advised on this road due to a prior slip. A temporary 30km/h speed limit is in place, motorists are advised to take extra care.
• SH2 Opotiki to Gisborne - slips in various locations from Otoko to Matawai, expect delays.
• SH5 Napier to Taupo, expect delays due to flooding.
Gisborne
• Maungawhau Rd is closed from Barron Road intersection due to washouts.
• Pa nikau Rd is closed 2km from start of road due to a gum tree across road.
• Tauwhareparae Rd at Wigan Bridge due to flooding over the deck of the bridge and on to road.
• SH53 Waihenga Bridge (Featherston to Martinborough), caution is advised due to flooding on the road caused by rising river levels. It's possible the bridge may close at 1pm.
• Upper Hutt to Featherston (Rimutaka Hill), caution is advised due to a slip in the westbound lane about halfway to the summit on the Featherston side of the Rimutaka Hill. Take extra care.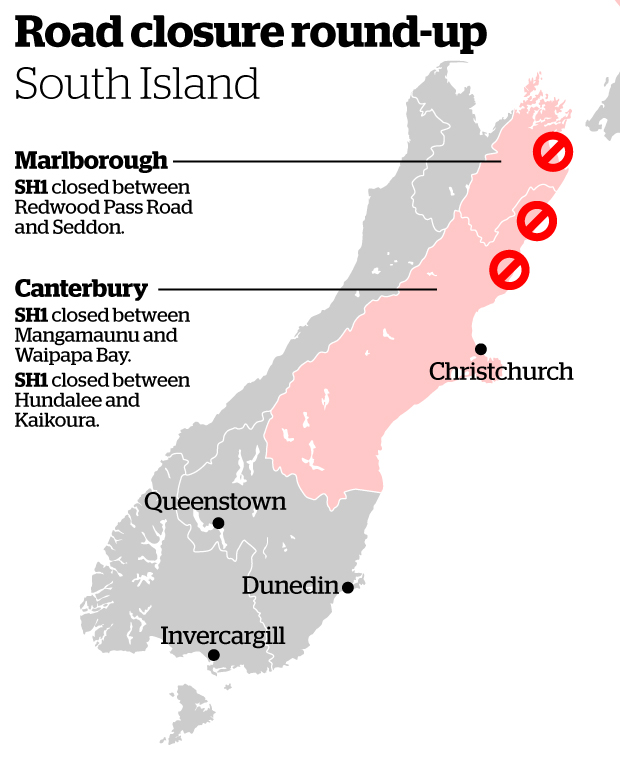 Nelson/Marlborough
• SH6 Nelson to Murchison flooding across both lanes south of the intersection of Foxhill Rd. Motorists advised to take care.
• SH1 Seddon. The road is now open between Redwood Pass Rd and Seddon, after earlier closing because of flooding. Take extra care.
• SH60 Takaka Hill. There are multiple slips on the Takaka Hill. Take extra care and drive to conditions.
Otago
• SH8 Raes Junction to Lindis Pass. Motorists advised to take care due to an increased risk of rock falls and slips in the area because of heavy rain.
• SH6 Kingston to Haast Pass. Due to heavy rain there is an increased risk of rock falls and slips in the area.