The tail end of Cyclone Debbie has left a major clean-up job in Rotorua and the surrounding region after heavy rain closed roads, trapped vehicles, caused several major slips and uprooted trees.
Major slips today have caused three roads in Rotorua to close, with crews estimating some could be closed for several days.
Contractors, emergency services and members of the public also worked to clear several trees and slips throughout the district.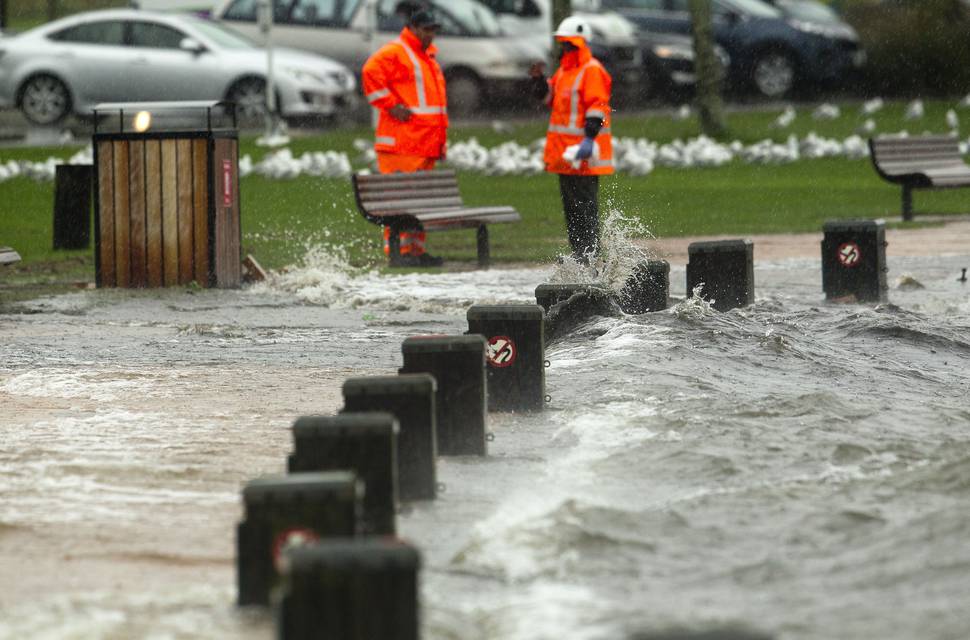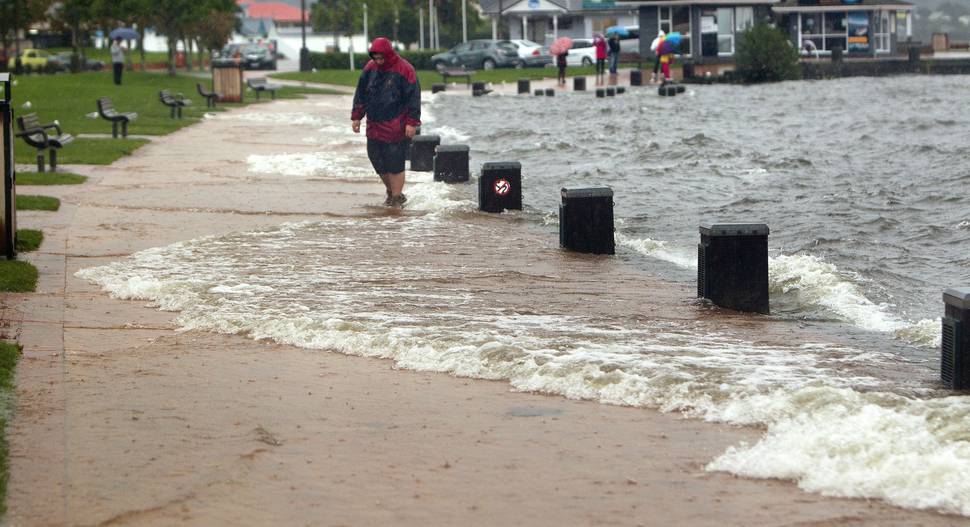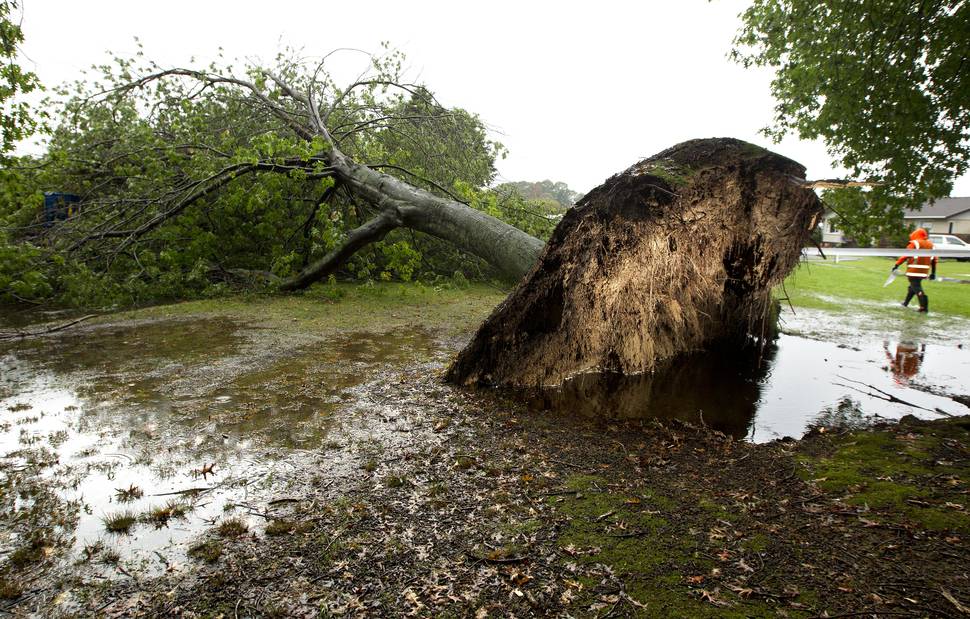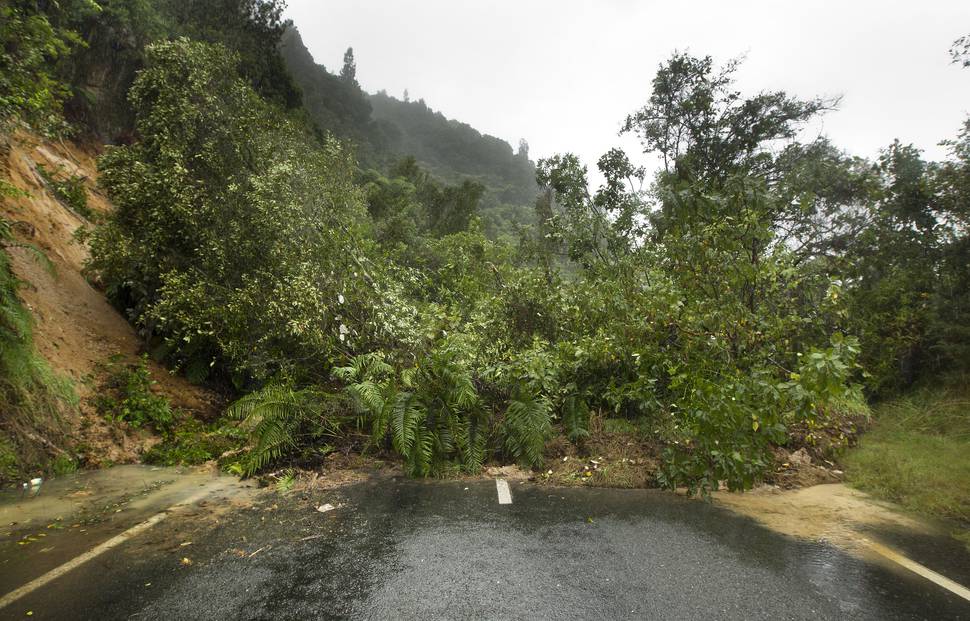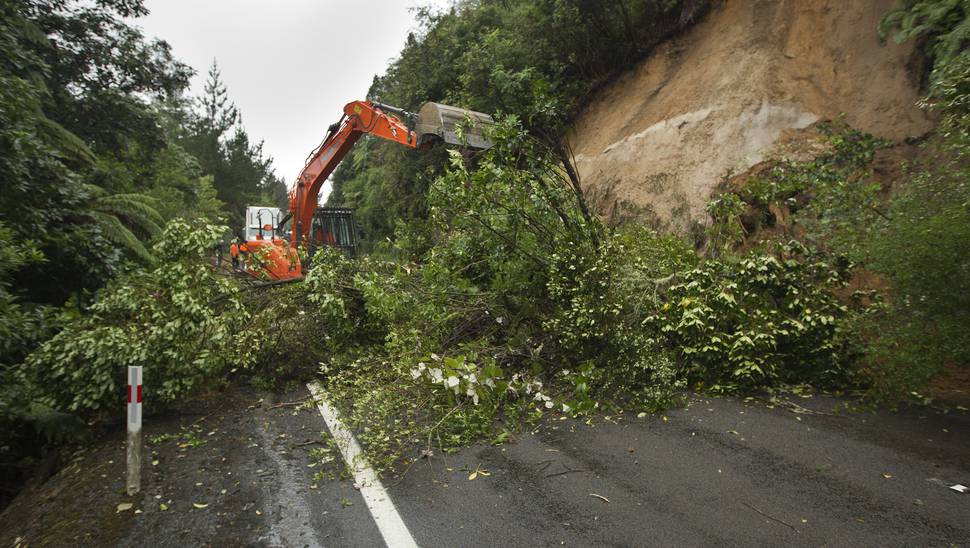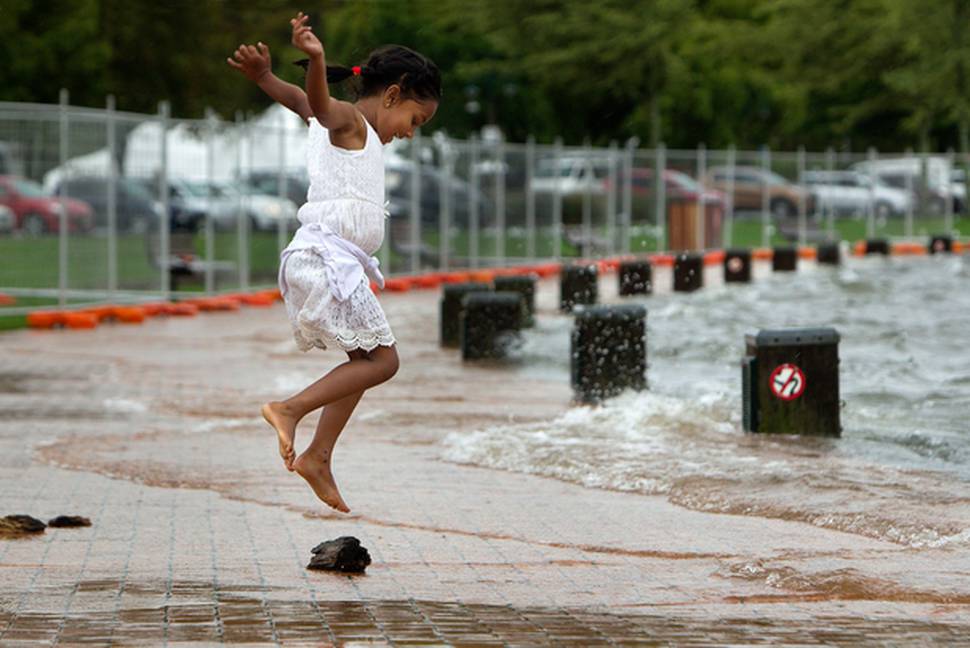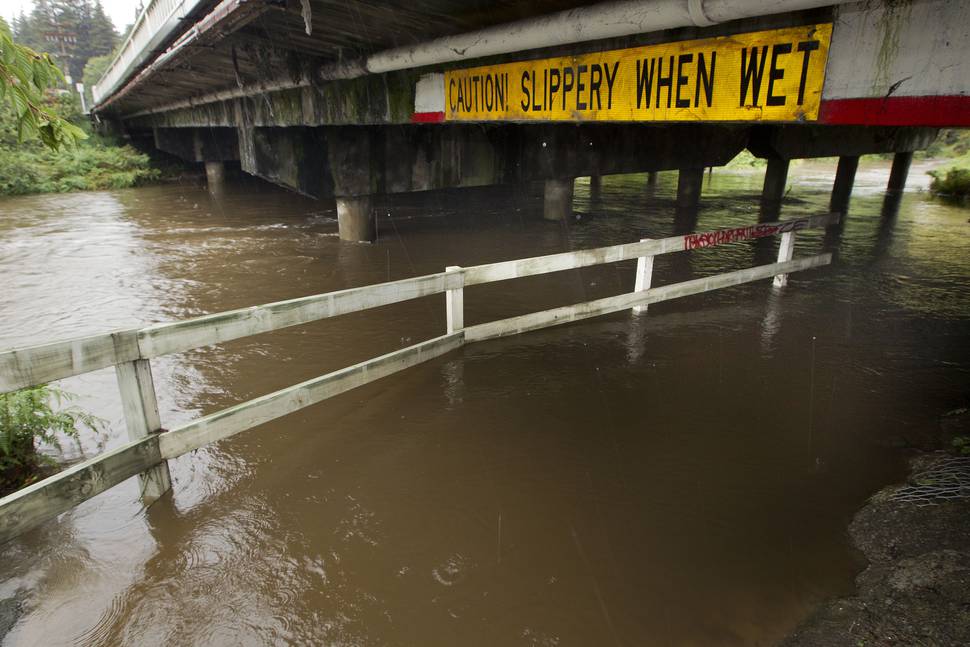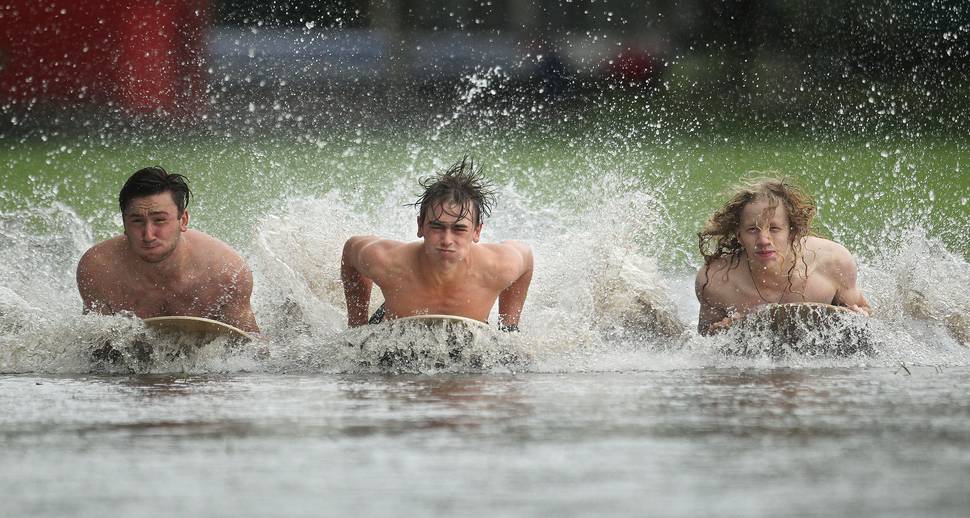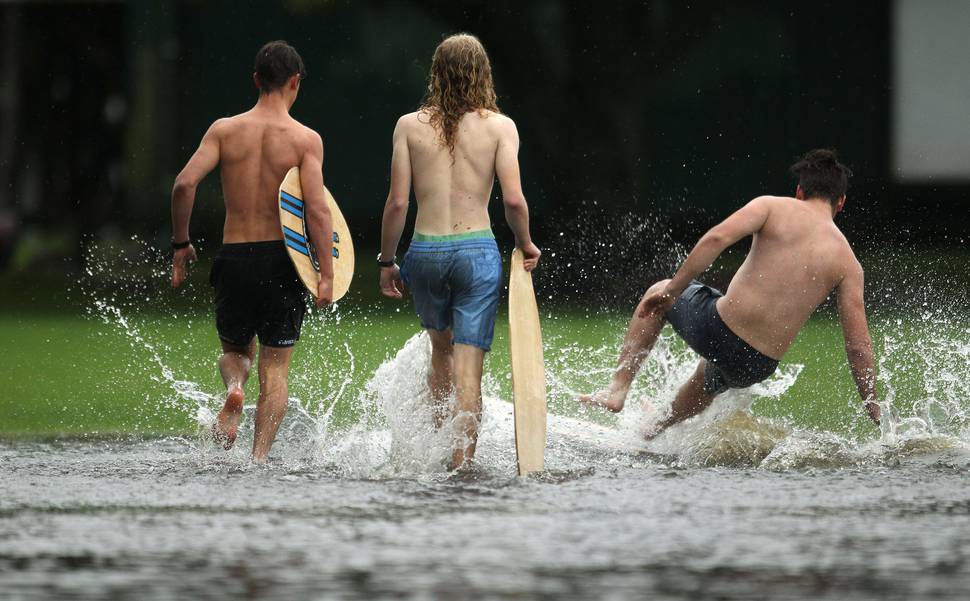 Rotorua Lakes Council issued a warning earlier today for members of the public to stay put unless they urgently need to travel. It said with more than 50 reports of flooding, members of the public should stay away from waterways, such as rivers, streams and open drains.
The region's lakes reached the highest levels seen in years, with Lake Rotorua spilling over the Lakefront, damaging the cobblestones, and the Utuhina Stream bursting its banks in parts. Jetties around the district were also under water with some locals describing the lake as being so rough and full, resembling an ocean.
Bay of Plenty Regional Council duty group controller Jono Medrum said the water level for Lake Rotorua was above the normal operating range and the Okere Gates were fully opened to lower the lake levels.
He said the regional council's duty flood manager and supporting staff were "fully activated" and would continue to monitor the situation.
Due to major slips on Hamurana Rd, State Highway 30 at Rotoma and Puaiti Rd at Waikite Valley, crews closed the roads to traffic.
Access to Rotorua through Rotoma was diverted via Manawahe Rd.
The slip on Hamurana Rd between Wilsons Bay and State Highway 33 was about 50m long and the full width of the road.
Crews assessing both Hamurana Rd and Puaiti Rd slips expect the roads to be closed for several days.
Crews from Fulton Hogan and Infracore worked tirelessly to reopen roads blocked by trees and slips and will continue to monitor areas prone to slips.
Slips on State Highway 30, which forced the road to be closed at the Whakatane turnoff, caused six vehicles to be trapped between them for a time while contractors worked quickly to clear the road.
The Te Ngae Rd underpass near the Sala St lights was also under water.
Wellington woman Melissa Pascoe, who had been at Rotoiti for an annual fishing holiday, said they wanted to get back home.
They had decided to leave Rotoiti this morning but kept getting held up by slips and closed roads.
"Rotoiti was absolutely sodden."
She said they knew they could no longer get to Wellington, with the road between Taupo and Turangi closed due to a slip at Bully Point, but they hoped to make it as far as Taupo.
Rotokawa School principal Briar Stewart told the Rotorua Daily Post when staff and pupils arrived at the school today, the grounds were flooded.
"There was a river going through the grounds from one end of the school to the other. There was a huge amount of water."
She said water was at the top of their gumboots in parts around the school. She said their biggest concern was the floodwater was going to reach their air conditioning unit outside so they set up sandbags about 9.30am to keep the water away, which worked.
A tourist shop on Fenton St faced a big cleanup after flooding overnight.
The people at the shop didn't want to talk to the Rotorua Daily Post but the shop looked visibly flooded, with soaked carpet and water pouring out from under the door.
Bay of Plenty schools closed as a result of bad weather were TKKM o Ruatoki, Tawera Bilingual School, TKKM o Matahi, Otakiri School, TKKM o Te Paroa, Waimana, Te Wharekura o Huiarau, Taneatua School, Kutarere, Galatea School, Te Kura Toitu o Te Whaiti-Nui-A-Toi, Kaingaroa School, Tarawera High School, St Joesph's (Matata) and Matariki Early Childhood Centre.
Emergency management primary controller Stavros Michael said it was not possible to clear all the roads overnight.
"Those areas that will require further cleanup will be attended to tomorrow."
Two crews will be on stand-by overnight to attend to any issues and close roads as required.
The council encouraged residents to stay home and avoid any unnecessary trips.
"Rivers, streams and culverts are at full capacity so keep clear of any waterways where water levels are likely to rise."
Drivers are also urged to take extreme care while driving.
Any urgent issues can be called through to the council's 24-hour Customer Centre on (07) 348 4199.

All sports fields were closed and will be reassessed each day for the rest of the week.
Roads closed overnight - crews to start clearing tomorrow
Hamurana Rd - large slip about 50m long
Puaiti Rd - large slip across road
Lake Okataina Rd - large slip across road at Lake end of road
Parsons Rd - large slip across road at Galatos end plus several small slips and trees
Okareka Loop Rd - large tree and slip across road below the quarry
Trees down
Cnr Tarawera and Hilton Rds
2031 State Highway 30, Horohoro
Urquhart Reserve
261 Te Ngae Rd
Waiowhero Stream behind 6 Amokura
90 Mountain Rd
Okareka Loop Rd
State Highway 5 at Waiotapu Tavern
Millar Rd
State Highway 38 between Kaingaroa and Murupara
Kaharoa Rd
Te Mu Rd
Flooding
Victoria St
Rotokawa School
30 Holden Ave
472 Campbell Rd
Galvin Rd
Tutukau Rd - just after Mangamingi Rd
56 Clayton Rd
Settlers Road bridge Reporoa
Glouster Rd
Kaharoa Rd
46 Elizabeth St
Slips
State Highway 30 near Moose Lodge, Curtis Road and Lake Okataina
State Highway 30 - Waikaukau Road near the bridge
Te Kopia Road - several slips blocking the road
Unsworth/Te Waerenga Rd
State Highway 5/State Highway 30
Dansey Rd
Hossack Rd - several small slips
NZ Cycleway
State Highway 33 - past Okere Falls
Rotoma
Okareka Loop Rd
38 Summit Rd
Mangamingi Rd
Rehi Rd
Poutakataka Rd
Totara Rd (Ngakuru)
Kaharoa Rd
Maniatutu Rd
Ridge Rd
Parsons Rd
Twist Rd
Hamurana Rd
Puaiti Rd
Okawa Bay
Tumunui Rd
Millar Rd
Lake Okataina Rd
State Highway 30 between Rotorua Landfill and the Rotorua Pound
Stoney Point
Waikite Valley Road between State Highway 5 and the hot pools
Maleme Rd
Ruato Bay
The figures:
• 105.6mm rain as at 5.30pm, forecasted 158.9mm
• Heaviest rainfall was between 8am and 10am with 24.8mm
• Lightest rainfall was between 12pm and 2pm with 4.6mm
• Forecast for tomorrow: Heavy early rain, then the odd shower. Westerlies.