Waikato Hospital's emergency department recorded its busiest day yesterday as hospitals around the country struggle to cope with an influx of patients.
Emergency department clinical director Dr John Bonning said 283 patients went through the department yesterday compared to the average of 210.

Around the country there was a trend in patients being more seriously ill when they came in and more patients coming in after hours, he said.
He believed the increase in demand came down to an ageing population and an increase in people not able to access GPs and waiting until they were so sick they needed hospital treatment.
The number of people turning up at the department had increased 20 per cent over the past five years.
Bonning said it was "pretty tough" on staff trying to deal with the extra demand and facing angry patients who had been waiting "five, six, seven, sometimes eight hours".
The extra demand had increased wait times but Bonning said staff were doing all they could to see people quickly, so asked for patience.
"We just need some understanding from patients. Sometimes there will be waits and sometimes they will be quite long."
He said the emergency department had approval to hire 10 extra full-time doctors, five of whom had already been appointed, as well as more nurses.
Hawke's Bay Hospital had also hit record numbers this year.
Hawke's Bay District Health Board chief medical and dental officer Dr John Gommans said the emergency department had seen a record number of presentations so far this year with a new daily record of 164 patients set in February.
The DHB had employed extra emergency department specialists, improved services for the elderly and was working with GPs to improve the way urgent care was provided, he said.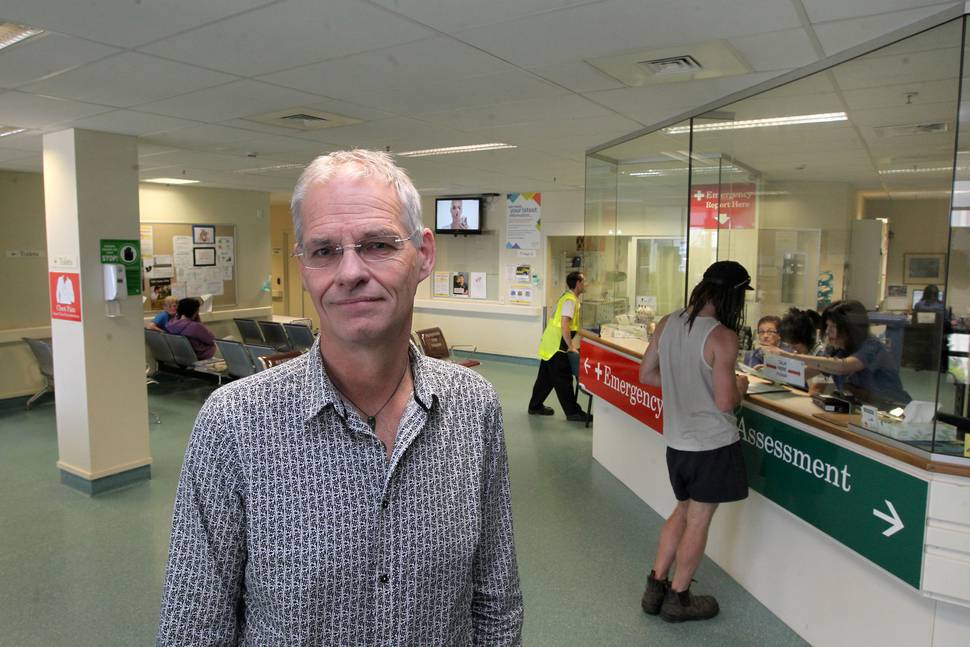 Chief Medical Officer, Capital and Coast DHB John Tait was warning patients they may have to wait longer because they too were busier.
About 180 patients were seen in the emergency department daily but on Saturday numbers reached 196 and hospital occupancy had also been consistently above 93 per cent for the past month.
"There's no single reason why we're busier, but we've noticed people coming to ED are sicker and need to be admitted," he said.
Yesterday the Herald reported Auckland City Hospital was also run off its feet with almost 200 patients coming through the emergency department every day.
Emergency department nurse Fiona Sowten said staff had been coping but were having to work hard to keep up.
"It does take a toll. We've had very strong staff members in tears recently under the pressure but they do get the support that they need."
She said all patients were getting the care they needed but those with less acute issues had to wait longer.
"I think we're all a bit concerned that if this is how busy summer is, how are we going to manage in winter?"
The Ministry of Health's chief medical officer, Dr Andrew Simpson, said all DHBs were working hard to try to "improve the flow of acute patients through their EDs".
"Most DHBs have plans in place to manage surges in ED demand and to manage any expected seasonal variation," he said.
"The importance of managing patients in EDs effectively is reflected in the Government's Shorter stays in EDs health target. Last winter more than 93 per cent of New Zealanders were admitted, discharged or transferred from the ED within six hours.
"Each year there is a seasonal campaign to encourage older people, those with long-term conditions, and pregnant women to keep well.
"Last year over 1.2 million New Zealanders were immunised against the flu and this year's campaign will begin in April.
"DHBs also encourage influenza vaccinations for their staff to help limit staff being away sick in winter and to limit the risk of them passing on illness themselves."
Auckland woman's long wait
Excruciating pain sent Shania Hussein to Auckland City Hospital's emergency department at 1.30am on Monday morning but she left two hours later without being seen by a doctor.
Hussein said she arrived at the hospital with such a severe earache, she was in tears.
There were four or five other people in the waiting room and when the nurses warned her it would be a long wait she assumed it would be an hour or so.
A nurse gave her painkillers which barely dulled the pain but by 3.30am she was starting to get fed up.
The nurses told her some of those in the waiting room had already been there for four hours. It was then that she decided to go home and wait until her GP clinic opened in the morning.
"It was so late. I was in pain all the time and there was no one to tell me what to do or even to tell me to go home and rest because there were no doctors available," she said.
What you can do:
• Get the flu vaccine
• Visit your GP rather than the hospital if it is not urgent
• Get treatment early
• Get your prescriptions filled
• Be sensible about your alcohol intake