EXCLUSIVE AUDIO: A jury today found Rhys Warren guilty of attempted murder and shooting at police officers during a 22-hour siege near Kawerau last year. Warren surrendered only after a cop later labelled a hero intervened.
"Kia ora Rhys ... Long night, eh, long night."

"Long day, too," is the reply.

"Yeah, I'll say mate ... How are you feeling boy?"

"Yeah, nah, I feel all right."
It sounds like an ordinary conversation, between two ordinary blokes. The sort of chat you might hear at the pub, or the dairy, or around the dinner table.
But this is how Inspector Warwick Morehu ended a 22-hour siege involving Rhys Warren; holed up inside his grandmother's home after a gunfight which left four police officers hurt.
The Armed Offenders Squad (AOS) members were lucky to be alive. And so was 27-year-old Warren.
Despite surviving a hail of bullets - the AOS fired 46 rounds inside the house - Warren was convinced the police would assassinate him if he surrendered.
He told the jury the background to his "mistrust and fear" of police stemmed from his belief in tino rangatiratanga, or absolute sovereignty for Maori, and the "atrocities" committed by the Crown to oppress Maori.
Police negotiators and Warren's whanau were unable to convince him to come out, until a familiar face offered to help.
Morehu was on duty in Taupo, where he is the area commander, but knew Warren's family from his time stationed at Kawerau.
The siege started around 10am on March 9, 2016.
Morehu made contact with one of Warren's relatives around 10pm, then spoke with Warren's mother shortly after midnight, before making the two-hour trip to Onepu.
He was the only one Warren would trust.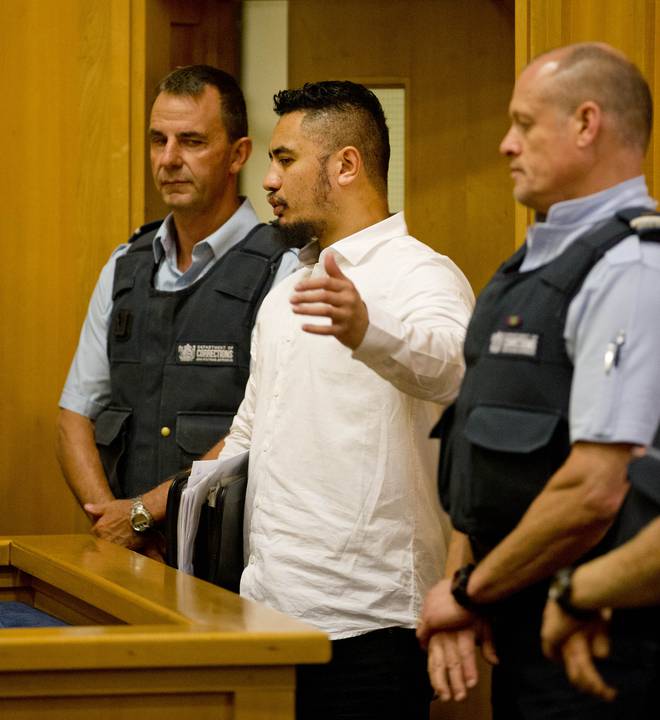 Morehu: "Hey look, good to be talking with you Rhys. Long time since our last conversation, eh."

Warren: "F***, I didn't even mean for anything to happen, eh."

Morehu: "Yeah, what's done is done ... Rest assured we all want you to come out safe mate, regardless of what's happened boy."
The saga started as a police plane circled above Onepu Spring Rd, near Kawerau, looking for cannabis as part of a routine operation.
Shots were apparently fired near the plane, scrambling Armed Offenders Squads (AOS) from Tauranga and Rotorua.
No one was exactly sure who fired, or where from.
The house at 160 Onepu Spring Rd was cleared, before the police turned their attention to the neighbouring property.
No one had answered the landline, or reacted to the "karaoke" style loudhailer, or rocks thrown on the roof of the house before the AOS decided to break in.
Dressed in black, masked and armed with M4 semi-automatic rifles, Constables Regan Mauheni and Damian White were the first of six AOS members clearing the property at 158 Onepu Springs Rd.
As White's rifle poked around the hallway corner, Rhys Warren fired his grandfather's Anfield hunting rifle.
White remembered a "massive flash" and a "really loud bang".
"It was like in the movies when you see that someone near an explosion loses their hearing and then it slowly comes back. It was exactly like that," White told the jury in Warren's trial in the High Court at Hamilton.
The bullet struck the scope of the rifle, shattering it. Shrapnel hit White, while the same bullet ricocheted into Mauheni, splitting his skull and filling his eyes with blood.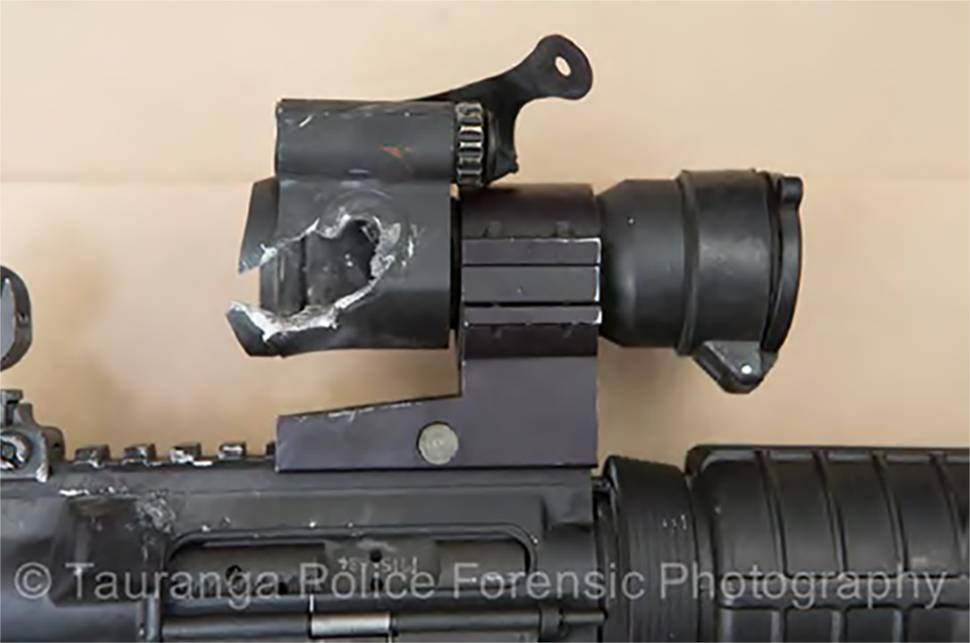 He dropped like a "big kauri tree", as White recalled it, and also dropped his Glock pistol.
His colleagues laid down covering fire by shooting through walls, allowing Constable Martyn Roe to drag the 115kg Mauheni to safety.
Despite firing an incredible total of 46 rounds, the police missed.
Warren shot back, with shrapnel hitting Constable Andrew Flinn in the knee and thigh.
The six-man team retreated and AOS officers surrounded the house.
Sergeant Logan Marsh trained his weapon on the back door, while hunkered in a shallow fire pit no more than 30 metres from the house.
He was looking through his scope when he heard another bang.
"I remember my hand getting blown off the gun," he told the jury. "My right-hand glove had holes in it and there was a lot of blood coming up."
The bullet struck him in the middle finger of his right hand, travelled through the hand and finally lodged in the magazine of the rifle.
The weapon?
The police-issue Glock dropped inside the house, according to the Crown case, which Warren denied.
"Don't you think the police would ever admit to shooting one of their mates by accident, when they could put the blame on me?"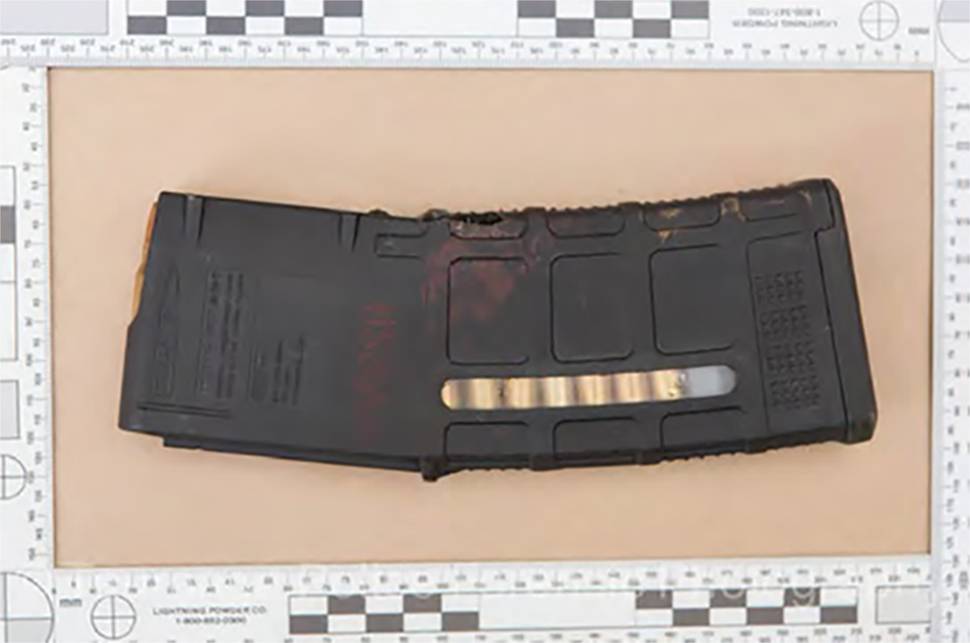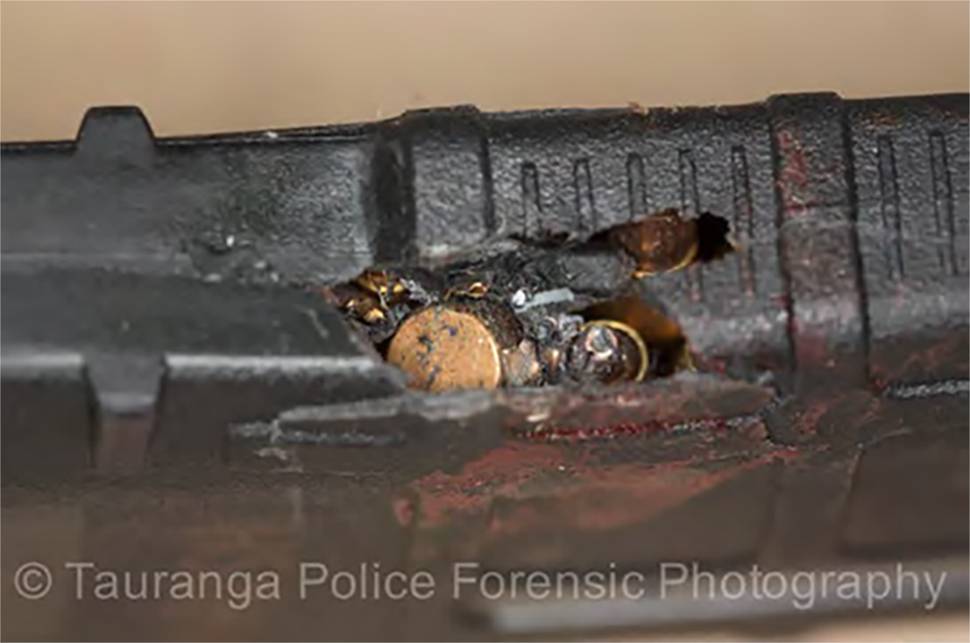 Morehu: "Those four fellas are all my mates, bro. But what's happened has happened.

"But the good thing about it, they're looking okay now. All right? They're looking okay mate. So I just want to leave that one with you now, so we can focus on other things.

"For us, and I'm talking about everyone who's in there, watching the whare, everyone wants this to come to a peaceful end."

Warren: "I didn't want any of this to happen, eh."

Morehu: "Yeah, I know mate, I know. For us now mate, it's about how we bring you out safely."
For his part, Warren admitted firing three shots inside the house but told the jury he never intended to hurt anyone.
He said he was asleep in the home when he was woken by the loudspeaker and the sounds of smashing windows.
"I thought I was dreaming. I jumped out of my skin, I was frightened."
He grabbed his grandfather's hunting rifle from under the bed and loaded it.
"Next thing, I saw a rifle aiming up the hallway, so I shot the gun.
"Bullets came from every direction. The 46 rounds fired by the AOS officers felt like hundreds," said Warren.
"I reloaded and put the gun around the corner, I didn't see anyone, and fired just to scare them out of the house.
"I was scared, I thought l was going to die. It was never my intention for someone to get hurt. I was scared."
Warren's explanation that he was unaware he was shooting at police officers was met with scorn by Crown prosecutor Aaron Perkins.
"You can't be serious," the Queen's Counsel said in cross-examination.
Warren: "I am being serious. They were wearing ski masks. They were fully blacked out. I did not know who they were."
Perkins: "You have never heard of the AOS or seen them on TV?"
Warren: "No."
In closing the Crown case to the jury, Perkins said the idea Warren was acting in self-defence should be ignored.
"The force he used can only be described as lethal force. Discharging a gun at a man's face is the ultimate in lethal force. It does not get any higher than that."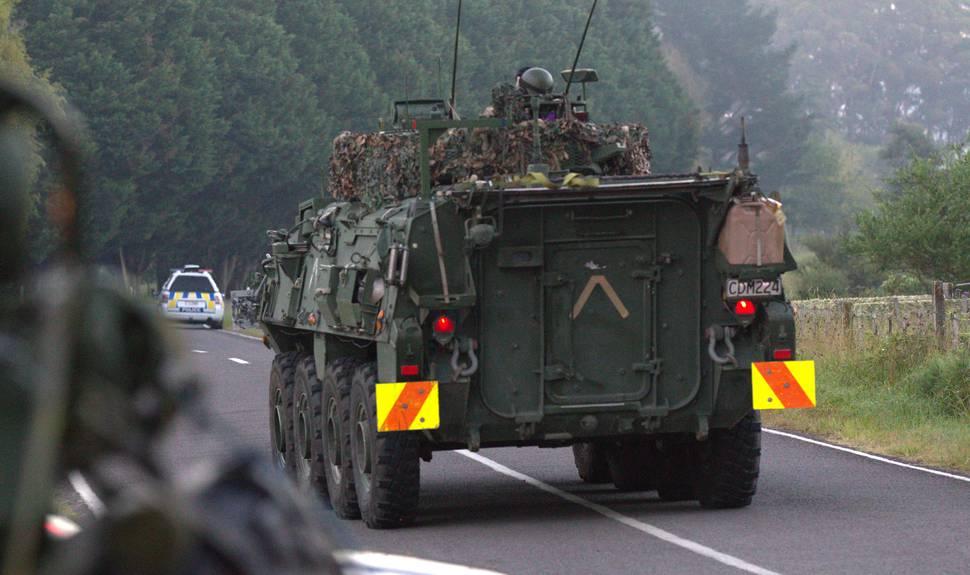 Warren: "I know I'm in the shit either way, that's why it's pretty hard."

Morehu: "It's not a good looking picture at the moment, but we don't want it to get worse boy ...

"Don't be scared. Don't be scared boy. These fellas don't want to harm you, they want to get you out safely ...

"Leave everything inside, come outside slowly with your hands up and listen to the voice. They'll look after you boy, they'll look after you."
After a three-week trial, the easiest conclusion to make was that it was a miracle no one was killed at 158 Onepu Spring Rd.
The jury also came to another conclusion: That Rhys Richard Ngahiwi Warren was guilty of two counts of attempted murder, which carries a maximum sentence of 14 years in prison.
He was also convicted of three counts of using a firearm against a law enforcement officer, and guilty of wounding with intent to cause grievous bodily harm.