Key Points:
The weather outside was frightful... But Kiwis made the most of early-autumn rain. Some people who ventured outdoors during the heavy rainfall over the weekend found the deluge had created some theme park-level water features.
Mean bombs
Kids in Maungawhau made the most of some surface flooding by doing some mean bombs off a chilly bin.
Look how happy these people are!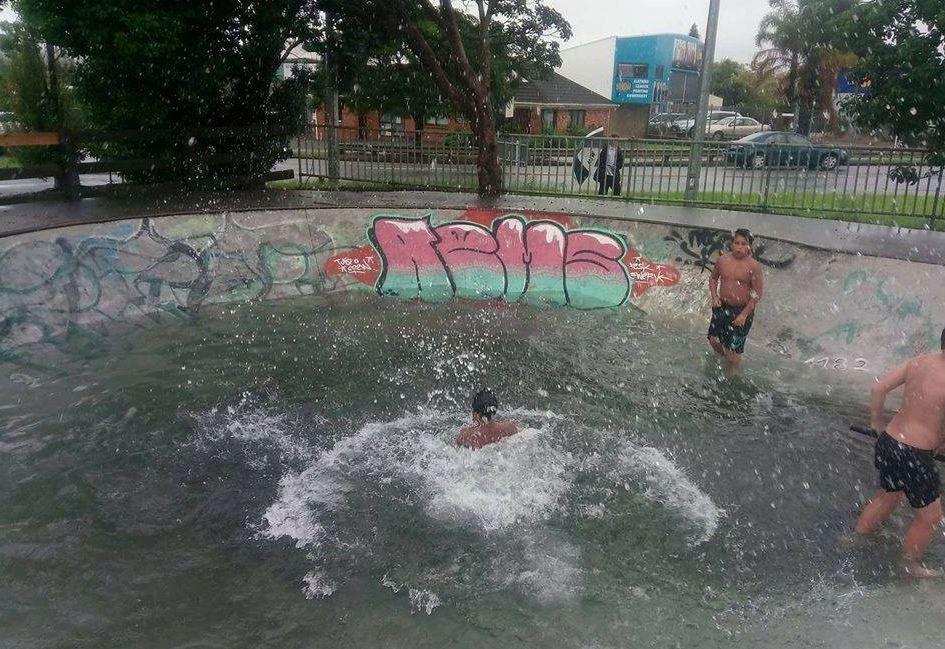 It might not be the cleanest pool, but when the rain turned Keri skatepark into a place to swim the locals were stoked. Photo / Kelly Archer
Too far?!
Maybe it seemed like a good idea at the time, but most people are unimpressed by this man's antics. Abseiling into a catchment area of the Nihotipu dam during flooding isn't the best move. Jumping on to a ring and floating down surging dam waters isn't any better. One Facebook user referred to this guy as a w****r... You be the judge.
Old mate heads downstream
Rather than battle wet weather traffic, these jokers got the old kayak out. Nothing like a bit of Kiwi ingenuity to help when dealing with rush hour.