A young volunteer firefighter working up to his neck in water to unblock a drain has been credited with saving Kaeo's biggest bowling tournament of the year.
Kaeo dodged the worst of the weekend's rain but a downpour higher up in the catchment sent huge volumes of water downstream, leaving the low-lying Kaeo Bowling Club greens under at least half a metre of water.
The timing couldn't have been worse because the club is due to host its biggest event of the year this weekend, the Leslie Family Tournament, with up to 20 clubs expected from as far away as Mangawhai.
Club treasurer Barrie Johnstone and a few other club members on Saturday attempted to unblock the culvert under State Highway 10, which drains the area around the club and Whangaroa College, but the water was so deep it would have been over Mr Johnstone's head.
By Sunday the water still hadn't moved and the club was getting nervous about the upcoming tournament, so Mr Johnstone asked Kaeo Fire Brigade for help.
"One of the young fellows from the fire brigade, he'd be about 6 foot, jumped in up to his neck and got to work with a shovel. Next thing, the water's going out at I don't know how many thousands of litres a minute," he said.
When he checked again at 7am on Monday the greens were above water and being dried nicely by sun and breeze. If they had stayed under water for another day or two it would have been a struggle to get them dry in time, Mr Johnstone said.
The problem was the size of the culvert, about 30cm, under the highway. It needed to be three times that size or at least have a grate to catch debris but the council and NZTA both said it was the other's responsibility, he said.
Among the hundreds of Northlanders still cleaning up is Steve McMillan, whose 270ha beef farm beside the Pipiwai Stream suffered "pretty substantial damage".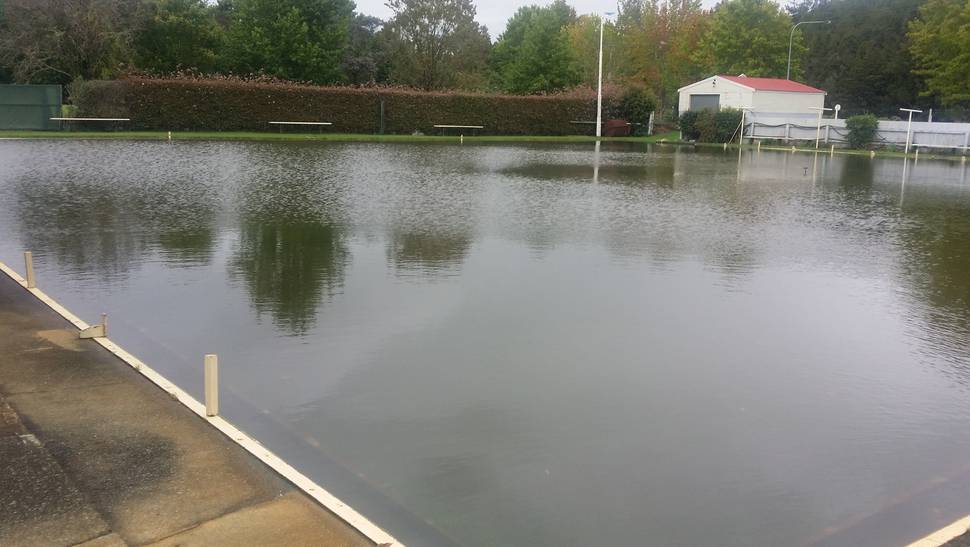 He spent the weekend repairing fences, replacing posts pulled out by the flood and clearing debris from the river flats. He expected to give up a few more weekends to finish the clean up.
"We often get hammered up this valley, it's just such a big catchment," he said.
Meanwhile, the weather forecast for the rest of the week is good news for the bowling club and anyone else still needing to dry out.
Meteorologist Philippa Murdoch said Northlanders could expect a few isolated showers today with the weather mainly fine for the rest of the week. The odd shower was possible on Friday but Saturday was looking dry with a few cloudy periods.
The highs were expected to be in the early 20s with overnight lows of 12-13C with the wind shifting to a moderate southeasterly from tomorrow.