Downpours drenching the upper North Island this afternoon are just the beginning of a wet and wild week, MetService warns.
With weather watches and warnings in place for much of the North Island, people should brace themselves for heavy rain overnight and into tomorrow morning, said meteorologist Lisa Murray.
"This is only the start of it - this is the first wave," she said.
"If you drew a line from Taranaki to Hawke's Bay - everywhere north of that is on warning or watch at the moment."
For Aucklanders a rosy pink sunrise made way for and afternoon of grey skies with some suburbs seeing as much as 20mm of rainfall between 3 and 4pm.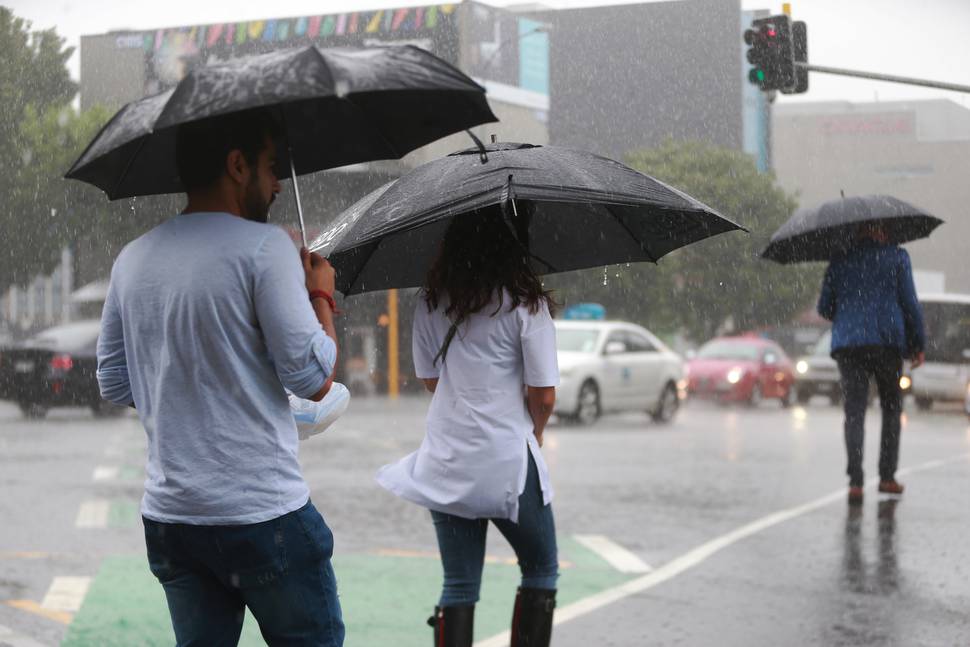 Meanwhile the Waikato, Coromandel Peninsula and Bay of Plenty are expected to receive 100mm in the next 24 hours.
And thunderstorms were possible south of Manukau Harbour and north of Hamilton across to and including Tauranga and the Coromandel Peninsular.
Heavy rains were forecast for the rest of the week and while the wet weather would be welcomed by gardeners and farmers, the sudden downpours also meant risk of flooding.
"Because it's so dry, [the rain] doesn't soak into the ground, it just runs off the surface and that can cause a lot of pooling of water and floods," Murray said.
Early this evening northern fire communications manager Megan Ruru said the fire service had only been called out twice because of the rain and in both cases it was not serious.
Murray said as well as surface flooding people should watch out while driving and take care on the roads.
MetService said a low pressure system was the cause of the rain.
The system was expected to stay at the top of the country dragging humid air down from the subtropics and bringing rain across northern regions.
MetService updated its weather warnings and watches in a tweet this evening.
It said the heaviest falls were likely to be in Waikato, Coromandel Peninsula and Bay of Plenty, where a Heavy Rain Warning is in place.
Up to 150mm of rain could accumulate in a relatively brief period, with localised thundery downpours.
A watch is in force for significant heavy rain for Northland, Auckland, Waitomo, Taranaki, Taumarunui, Taupo, Gisborne and northern Hawkes Bay.
Further rain is expected during Thursday and Friday.
Rainfall of this intensity can produce flash flooding and cause rivers and streams to rise rapidly.
Today's forecast
•Whangarei: Showers developing, chance heavy evening rain. 25C
•Auckland: Rain developing in afternoon, chance heavy. 24C
•Tauranga: Evening rain, chance heavy. 24C
•Wellington: Afternoon southerly change brings rain. 21C
•Christchurch: Showers, then fine. 17C